FAA Pilot WW2
Elan13 Miniatures, 1/24 scale
Reviewed by Brett Green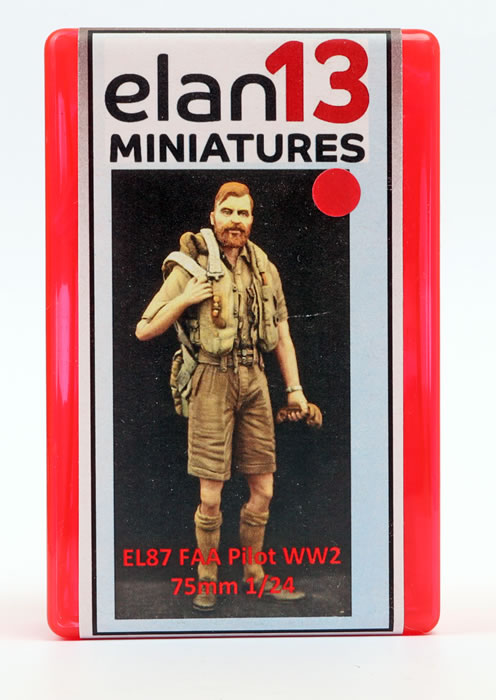 Summary
| | |
| --- | --- |
| Title: | Elan13 Miniatures Item No. EL87 - FAA Pilot WW2 |
| Media and Contents: | 4 parts in grey resin |
| Price: | £20 plus shipping available online from Elan13 Miniatures |
| Review Type: | FirstLook |
| Advantages: | Excellent sculpting and casting; natural pose; minimal cleanup required. |
| Disadvantages: | None noted |
| Recommendation: | Elan13's 1/24 scale FAA Pilot WW2 will be a striking figure in its own right or in combination with Airfix's 1/24 scale Hellcat. |

FirstLook
I recently bought the big beautiful Airfix 1/24 scale Grumman F6F-5 Hellcat after receiving samples of Aerocraft Models' brass landing gear, resin wheels and late-war FAA decals. Sometimes free samples can turn out to be very expensive!
I usually like to display a figure with large aircraft to convey a sense of scale so I turned to the Internet to see what was available. A few minutes with Google uncovered this lovely WWII Fleet Air Arm pilot figure from Elan 13 Miniatures. I bought it straight away.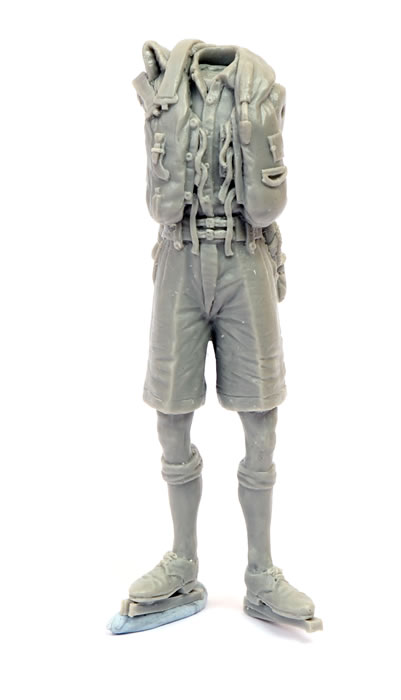 Elan13 is a new name to me but they have a growing range of figures in scales from as small as 1/48 to as large as 1/24. These include some interesting and unique scales and subjects such as 65mm English Civil War figures.
Other 1/24 scale subjects include Luftwaffe, RAF, USN/Marine and WWI German pilots.
You're in luck if you are a 1/32 scale aircraft aficionado too as Elan13 offers 39 varied subjects in that range.
Back to the product at hand though, Elan13's 1/24 scale FAA Pilot WW2 is packed in a small, stout plastic box with the parts snugly immobilised inside by foam peanuts.
The figure comprises four parts in grey coloured resin.
The figure comprises four parts in grey coloured resin. He is dressed in tropical uniform that will be appropriate for Mediterranean or Pacific theatres.
Casting quality is excellent and clean-up required will be minimal.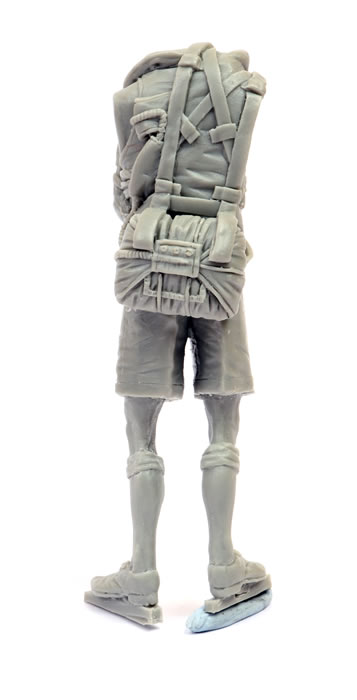 Sculpting is just gorgeous. The figure is appropriately skinny, the pose is natural and detail is beautifully done. Facial features are fine with the hair and the beard being particularly well done.
This one will be a lot of fun to paint. At 50% larger than a 1/32 scale figure, there is much more potential to pick out details such as eyes and hair than on smaller scale figures.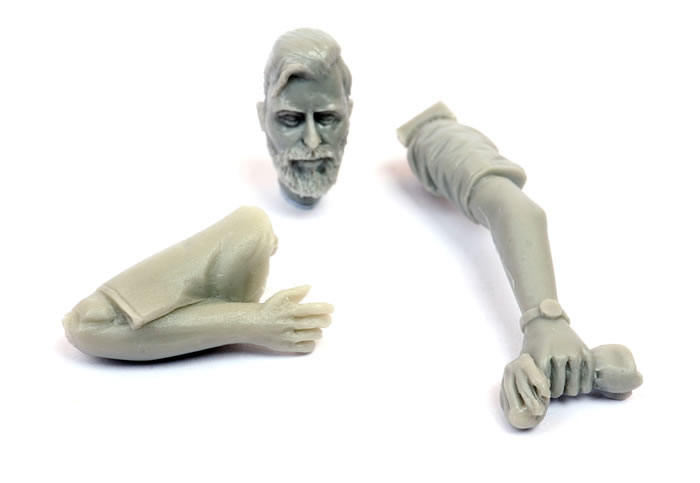 Elan13's 1/24 scale FAA Pilot WW2 will be a striking figure in its own right or in combination with the Airfix 1/24 scale Hellcat.
I think I'll be building and painting the pilot before I even start the model!
Purchased from Elan13 Miniatures by the reviewer www.elan13.co.uk
Text and Images by Brett Green
Page Created 17 January, 2021
Page Last Updated 17 January, 2021