Stalin & Co
ICM, 1/35 scale
Reviewed by Cookie Sewell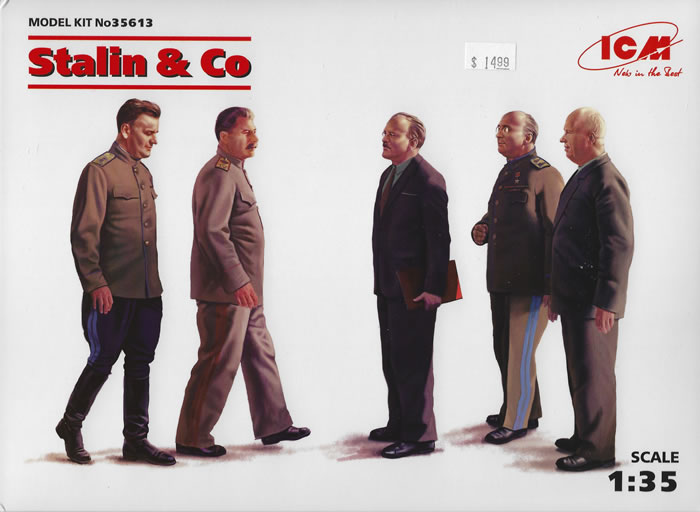 Summary
| | |
| --- | --- |
| Title: | ICM Kit No. 35613 - Stalin & Co. |
| Scale: | 1/35 |
| Media and Contents: | 49 parts in tan styrene. |
| Price: | Retail price US$14.99 |
| Review Type: | FirstLook |
| Advantages: | Nicely done figures of five top Soviet apparatchiks from spring 1945; choice of bare headed or with hats is an excellent idea! |
| Disadvantages: | Somewhat static positions, no glasses for Beria. |
| Recommendation: | Highly Recommended for all Soviet late war fans. |

FirstLook
I recently got to see "Death of Stalin", which is a masterful black comedy of Stalin's last days in March 1953 and how the members of the Politburo dealt with his demise. They played a little fast and loose with some things (Beria's demise is as comic as Stalin's) but overall it was a fun watch.
This kit parallels the movie in some respects (I don't think ICM meant it to!) and provides five key figures from that period of the war: Nikolay Vlasik, general and commander of Stalin's personal body guards; Lavrenti Beria, head of the NKVD and one of the most vicious men in the USSR; Vlacheslav Molotov, foreign minister; Nikita S. Khrushchev, Politbuo member from Ukraine; and of course Iosef Vissarionivich himself.
Each one comes in at least seven parts (legs, arms, torso front and back, and head) but it offers the nice touch of a separate bare head as well as the type of head gear they would have worn; peaked caps for Vlasik, Beria and Stalin and civilian Homburg-style hats for Molotov and Khrushchev who are shown in that period of the war wearing suits. The peaked caps come in two parts, visor and headband and cap. Molotov comes with a portfolio in hand.
The sculpting is excellent and under a view details of faces are sharp and clear. The only niggles are that they are rather static (Vlasik is the only one shown in motion) and there are no glasses for Beria, who needed them full time.
Box art provides the painting colors for all five men, but black and white callouts are on the back of the directions. Keep in mind Soviet suits were VERY drab in those days.
Overall this is a nice kit and should compliment the Packard sedan produced by one of the companies for Stalin's use.
Text and Images by Brett Green
Page Created 13 July, 2019
Page Last Updated 13 July, 2019