Home > Reviews > Figures > Modelling Fallschirmjager Figures, by Jaume Ortiz Forns & Daniel Alfonsea Romero, Osprey Publishing Ltd
Modelling Fallschirmjager Figures
Reviewed by John Prigent

Summary
| | |
| --- | --- |
| Publisher and Title | Osprey Modelling 31, Modelling Fallschirmjager Figures, by Jaume Ortiz Forns & Daniel Alfonsea Romero, Osprey Publishing Ltd |
FirstRead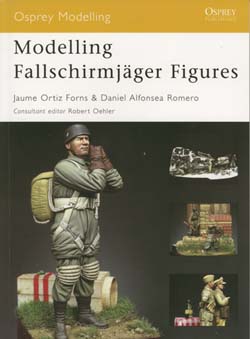 The authors are very good figure modellers, and here they use four Fallschirmjager figures to demonstrate painting techniques and figure modification at several scales.
The first figure is Verlinden's 120mm early Fallschirmjager, modelled as preparing for the Crete operation in 1941. The large scale makes it a good demonstrator for their techniques in blending Vallejo acrylic paint on flesh and clothing, which are well illustrated.
Next are the pair of Alpine's 1/35 German Para with Panzerschreck and German Paratrooper, used to demonstrate how to paint camouflage uniforms. Vallejo paints are used again, and a colour chart provides recommended colours and mixes for the two main camouflage patterns.

The third model is again a pair, this time Elisena's 54mm German Paratropper 1941 and Afrikakorps Private 1942 and used to demonstrate the remodelling of them into two proud recipients of the Iron Cross 2nd Class, posing for a camera. The remodelling is quite extensive but clearly described, including the often-overlooked need to raise a shoulder when the arm attached to it is raised. Another colour chart gives colours and mixes for a third type of camouflage clothing.
Finally there's a diorama using DML's 1/35 sets 2nd Fallschirmjaeger Division Kirovgrad and 5cm Pak with Fallschirmjagers. Here is extensive figure remodelling, including the reworking of a horse form Esci's Supply Wagon set. The results, for me, fall flat because the poor horse is straining to tow a gun that has nothing to stop its trail spades digging into the ground.
Recommended for Figure Modellers

Thanks to Osprey Publishing for the review sample
---