Home > Reviews > Figures > Modelling Panzer Crewmen of the Heer, by Mark J Bannerman, Osprey Publishing Ltd
Modelling Panzer Crewmen of the Heer
Reviewed by John Prigent

Summary
| | |
| --- | --- |
| Publisher and Title | Osprey Modelling 8, Modelling Panzer Crewmen of the Heer, by Mark J Bannerman, Osprey Publishing Ltd |
FirstRead

Here is a handy book for all of us who need to paint Panzer figures.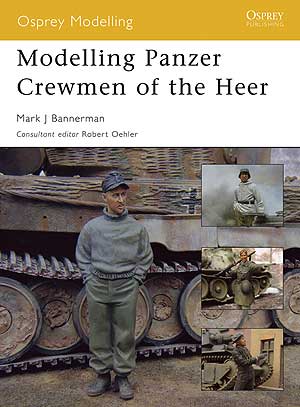 After short sections on tools and materials and on choosing a figure it launches straight into the way to paint black Panzer uniforms – something which gives many of us problems. Next come Afrika Korps uniforms (just as good for Italy and even Southern Russia) and finally the reed-green summer uniform issued from 1942. All excellent, and just what Panzer modellers wanted – but there's more! The next chapter deals with sculpting your own figure, maybe not something many of us have dared to try but here's how to do it, and using the available head, hand and boot sets will take most of the terror out of it. Then there's a chapter devoted to painting 1/48 scale figures, using different techniques to those for the earlier chapters. This gives even more opportunity to try differing methods and see which ones suit you best! Special Techniques chapters then show the painting of faces and other bare flesh areas, painting "tan-water" (or "marsh") pattern camouflage clothing, using oil paints for Panzer black uniforms, and realistic weathering techniques for clothing. Finally there are chapters listing the websites of the main good figure manufacturers and suggested further reading in books and on websites, as well as colour swatches for suggested colour mixes.

This book has something for all levels of figure painting, from those who just want basic, simple figures to give scale to their models to those who want to produce Gold Medal winners.
Highly Recommended.
Thanks to Osprey Publishing for the review sample
---