Wehrmacht Unteroffizier 1944
by Mark Bannerman
Summary
Stock Number and Description
S&T Products - Resin Figure Kit
Kit # 16028 - Wehrmacht Unteroffizer 1944
Scale:
120mm
Media and Contents:
Resin
Price:
Available thought S&T Products
Review Type:
First Look
Advantages:
Minimal flash; no mold seams; great attention to detail; natural pose
Disadvantages:
Recommendation:
Highly Recommended to all German late war fans
FirstLook

I have just received my first figure from one of S&T Products' latest releases of a Wehrmacht Unteroffizer (STP-16023) in 1/16th scale.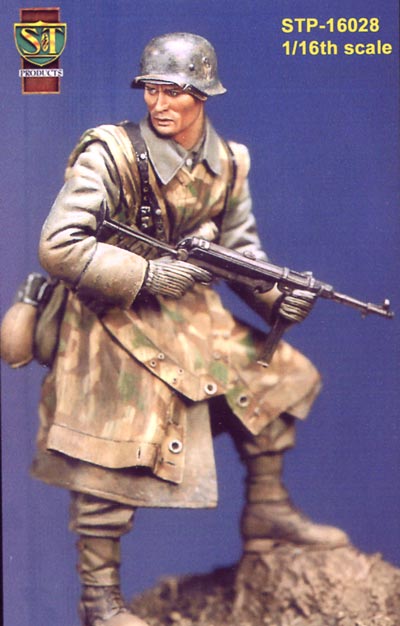 The figure was sculpted by John Rosengrant and comes in full yellow-coloured resin with a smart looking base also in resin. The figure's torso is two parts, with separate arms, helmet, and the gloved hands are separate from the arms but firmly attached to the MP-40.
The detail on this figure is remarkable and truly exquisite with nicely sculpted folds, minimal flash and I see can find no evidence of mold seams anywhere.

The head is really well done with nicely executed character detail in the face. One can only really judge a resin head when it is primed so I lightly sprayed the head and the detail is superb, The eye sockets are symmetrical with ample room to add eye details, with very pronounced cheek bones. Creases on cheeks, lips, details around nose and eyes are superb.

The uniform and attention to detail is really top-notch on this figure with realistically placed folds and accurately placed button-holes and tie-down ring studs on the zeltbahn coverall. The accessories attached to the figure's belt and the boots are well proportioned (always a thorny issue for me). The MP-40 is very nicely done and represents the standard German 9mm submachine. The MP-40 was the first gun to have a legitimate folding stock and the stock has been casted separately so that it can be glued in an open or closed manner. The molded-on hand with resting finger on the trigger is a superb touch.

I particularly like the natural pose of this figure and while it's not a "high action" stance, the pose allows the figure to be more easily presented as a self-standing figure with his raised left foot resting on any number of objects. Moreover, this figure would be an excellent choice for anyone looking to build a 1/16 scale vehicle and wanted to add a human element to the presentation (the 1/16th scale T-34 comes to mind ).

The high quality of the sculpting throughout makes this a very desirable figure. One cannot expect anything less from Mr. Rosengrant. Packed in a stout little box with a superbly painted rendition of the figure on the box art, this is an excellent figure and I rate as one of the best 1/16th scale figures I have yet come across.
Highly Recommended


Text by Mark Bannerman
Page Created 16 February, 2006
Page Last Updated 16 February, 2006