Polish Figures 1939
Scibor Miniatures, 1/35 scale
Reviewed by Peter Brown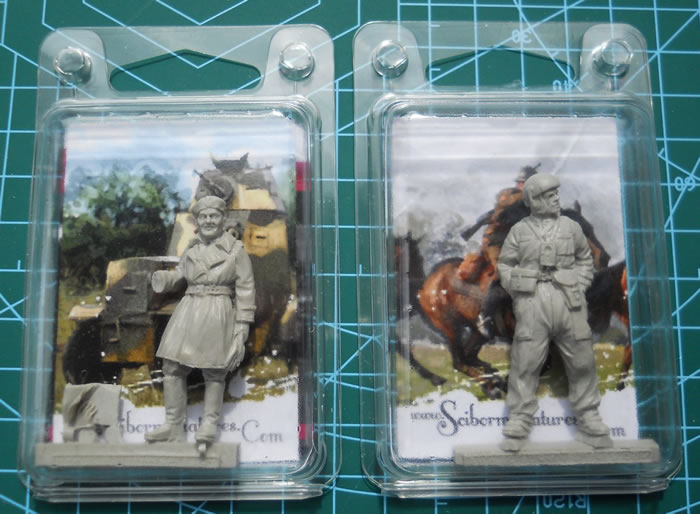 Summary

F i r s t L o o k
My friend Tomek in Poland put me on Sciborminiatures who are a new company to me. They offer several ranges of resin figures in various scales. These include 15mm and 28mm wargaming figures of ancient armies, dwarves, elves and other fantasy characters and one of "Polish Historical Miniatures". These include 1/72nd scale infantry, weapon crews, mounted lancers, a pilot and crews for various vehicles. They have a set of pilots 1/48th as well as several 1/35th figures which is my main area of interest.
Included are a number of figures from the 1944 Warsaw Uprising and AFV crew figures from 1939 including some of commanders who distinguished themselves in action against the invading Germans. I ordered two of these, both come in stout clear plastic boxes packed in bubble wrap in a small cardboard box. Ordering online was straightforward and they arrived in a couple of weeks.
35MH0015 is General Stanislaw Maczek who commanded the 10th Motorized Cavalry Brigade in 1939 and would later lead the 1st Polish Armoured Division in North-West Europe. A small card in the packet gives his details in Polish. He is depicted in beret, knee-length leather coat and boots. His right hand is separate and holds a map. Both parts will need to be carefully separated from the casting block and assembled. Cost was 7.12 Euro.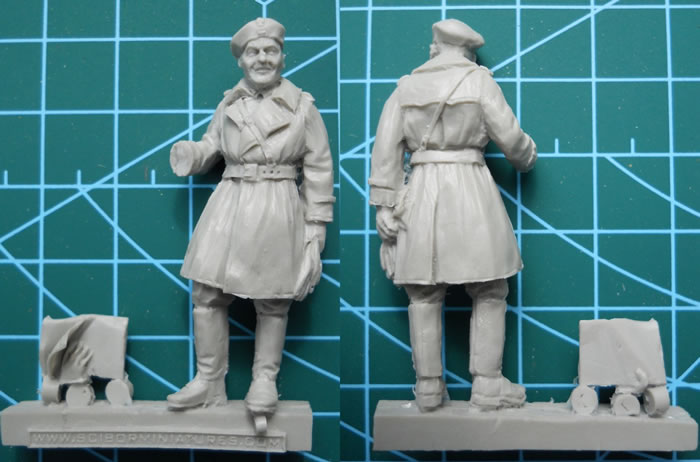 35MH0045 is a standing figure of a 7TP commander. He is cast in one piece, wears a helmet and overalls and stands relaxed with his hands in his pockets. He has an intercom control box on his chest, binocular case and pistol holster on his belt and a gas mask bag on his back. Price 9.50 Euro.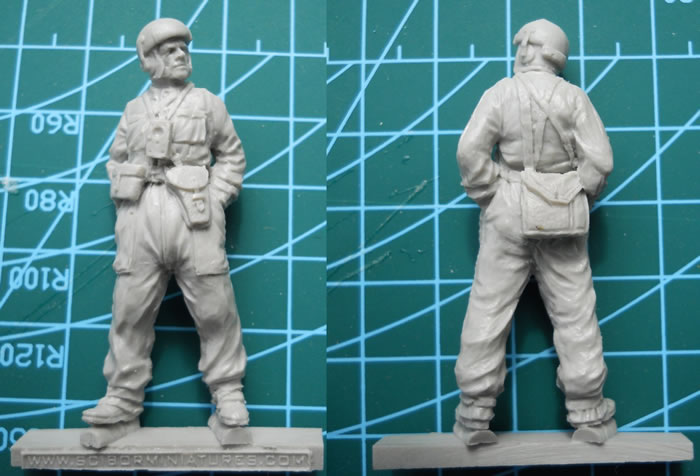 Also available are other full figures of crewmen in different poses and half figures to go inside hatches.
Casting is to a high standard with only a few light seam lines to clean off. No colour details are included so you will need to check your reference books or search online. A small card came in the box which thanks me for my purchase and says "Our sculptures are handmade. We do not use 3D printers"
I am impressed with both figures and would recommend both to those who have an interest in this era. See their website for their full range, prices and ordering details.
Text and Images by Peter Brown
Page Created 3 September, 2023
Page Last Updated 3 September, 2023