Summary
FirstLook

Warriors has been busy as usual with new releases.
This latest pair of 1/35 scale figures are both packaged in the new re-sealable transparent plastic boxes, with parts superbly cast in pale yellow resin. All Warriors figures also feature locating holes in the shoulders to precisely locate arms, and deep recesses. for the heads:
WA 35594 OIF LAV Crew Pt.2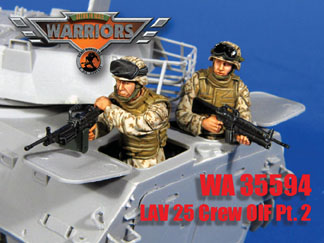 This set can be used on their own or with the recently released "OIF LAV Crew #1". The set comprises two full figures, both standing in "at readiness" poses.
---
WA 35609 British Comet Crew
This set includes three half-figures - a driver (from the chest up), a Commander and a Loader (both full-torso figures appropriate for upper hatches).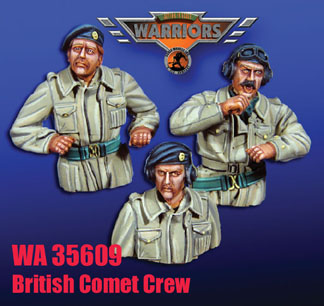 These figures will be certainly be suitable for the recent Bronco Comet, but also for any British or Commonwealth armoured vehicle in NW Europe, 1944/45.

Text by Brett Green
Page Created 15 October, 2006
Page Last Updated 14 October, 2006