Home > Reviews > German > German Motorcycles - A Visual History Part 1 by David Doyle. Ampersand Publishing
German Motorcycles - A Visual History Part 1
Reviewed by Luke Pitt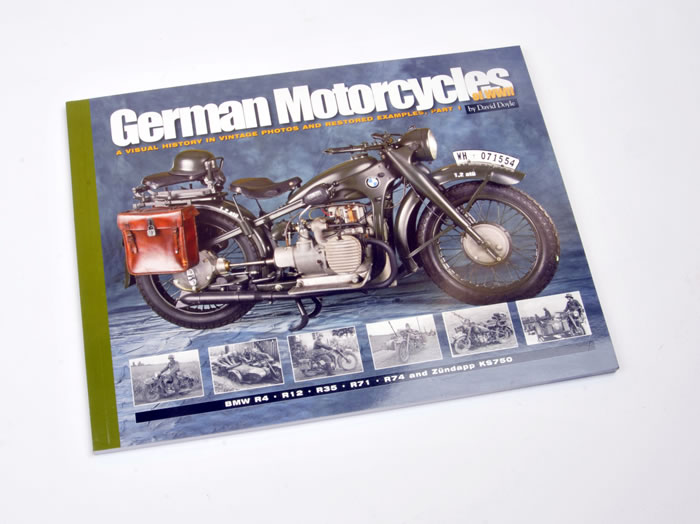 Summary

FirstRead

Motorcycles have been going to war since their inception. The German's lightning war required machines of high calibre and variety, as a result of this the German military was the largest employer of motorcycles during the Second World War.
During the campaigns that spread across Europe and into the Soviet Union, motorcycle's served in a variety of functions including chauffeuring officers, delivering dispatches, point vehicles and taking the brunt of battle. By 1938, some 200,000 motorcycles were produced annually and the adjacent areas Germany had annexed. The principal manufacturers were BMW, DKW, NSU, Triumph (under German license), Victoria, and Zundapp.
The Ampersand Publishing "Visual History" books are intended to be the inexpensive reference source on the subject they cover. This reference work is part one of what I would imagine to be a series on German motorcycles.
The BMW R series machines are covered in sequence with the R4 coming first followed by the R12, and then the 35,71 and lastly the R74.
The Zundapp KS750 is then covered in addition to the small "IF8 Trailer " often used in conjunction with the heavy versions of the BMW and Zundapp.
Comprising 117 pages with 66 period black and white and 214 colour walk around photos, the book is comprehensive in its presentation. The format generally starts with the period black and white photos followed by the detailed colour walk around photos of the featured motorcycle.
Some of the black and white photographs will be familiar while others may not. What I like here is how the black and white photos have been reproduced in such a way that they are both large and crystal clear to the viewer. The colour photos are in the form of a detailed walk around format and cover almost all the in exterior details
This book is a welcome addition to the growing collection of reference material pertaining to German Military Motorcycles.
Highly Recommended
Thanks to Ampersand Publishing for the sample