Archer Fine Decals - Various
Reviewed by Cookie Sewell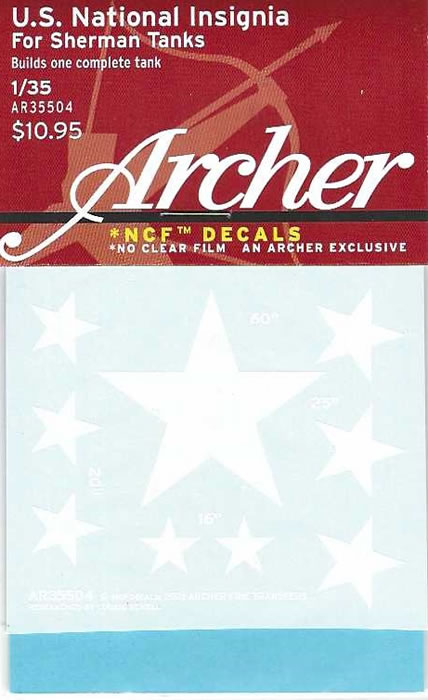 Summary
Stock Number, Scale, Description & Price

Archer Fine Transfers new series waterslide decal sets:

AR35500B 1/35 Scale Afrika Korps (DAK) Insignia – Nano Film Decals; price US$8.95

AR355004 1/35 Scale U.S. National Insignia for Sherman Tanks – NCF (No Clear Film) Decals; price US$10.95

AR88007 1/35, 1/48 and 1/72 Scale Resin Casting Marks - Armor Casting Symbols and Markings – Resin Surface Details; price US$10.95

AR99020 1/35 Scale British Rank Insignia Patches – includes all enlisted ranks and warrant officers - Fabric Texture Applique; price US$17.95

Media and Contents:
Decals
Review Type:
First Look
Advantages:
Probably the best in the world for what they offer; sharpest and best printed decals of their subjects.
Disadvantages:
Recommendation:
Highly Recommended for all modelers dependent upon subjects chosen
FirstLook

I have had a good relationship with Woody Vondracek for many years now since I first contacted him about making markings for armored vehicles. He started Archer Fine Transfers to make marking for aircraft but many of those modelers apparently did not like the idea of dry transfers as they had a lot of curved surfaces and panel lines to deal with that did not assimilate dry markings very well.
Over the years Woody had built up a tremendous line of markings of all sorts for just about every nation that used armored vehicles and most of the markings provided were dry transfers (also known as "rub-on" markings). They lived up to their advertising and were a great option for most of us (prior to Woody's entering the market there were a few mediocre sheets from Microscale in 1/35 and sheets of 1/76 scale markings from Almark and other British companies).
But technology changes and so must we. While I have used Woody's sheets for years they do have finite limits and some of the older ones – even when stored flat in a cool dry place – start to break up when rubbed onto the subject. As a result the older dry transfers are now being discontinued to the dismay of some fans.
A few years ago Woody introduced several new waterslide markings ("decals" to most of us) for subjects like rank insignia and the "Easy Eyes" for those who hate trying to paint eyes on figures. He followed that with his first series of raised resin weld beads, rivets and casting markings for use on armored vehicles and eventually on model buildings and trains. While the first generation items were not so good, the "Gen 2.0" and later ones (current catalogue items) were magnificent and have been copied by his competitors albeit with lesser success.
Archer Fine Transfers now has three new series of waterslide markings for sale along with their resin series. Here are some of the new offerings.
First off are the Nano Film Decals which use an absolute minimum of decal film for the subject, usually those which have open spaces in the characters or markings. These are applied by cutting a bit of extra material to one side and then using tweezers to hold it once wet so that the subject can gently be slid into place. Sheet 35500B has 98 subjects in several different varies in black. (AR35000W is the white equivalent).
Next is their new line of NCF – No Clear Film – line of waterslide transfers. These are solid subjects that now have no overlapping decal film to cause "silvering" or other problems on the subject. Sheet 35504 is one I researched for Woody years ago when he began his dry transfer line as a set for one US Sherman tank with all stars in place and contains nine white US stars from 16" to 60" in diameter.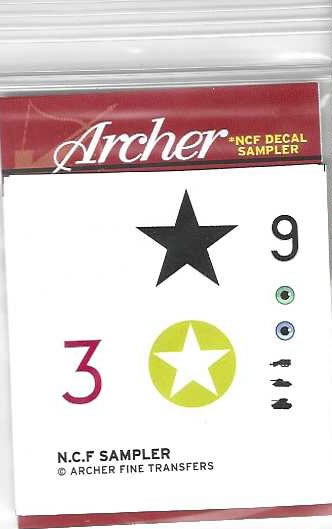 The next one is their Fabric Texture Applique line which upgrades sew-on rank and divisional patches to have a more 3-D effect. The "Gen 1.0" ones were very good and went on very well if the surface was prepared (e.g. coated with a gloss acrylic base like Future floor wax!) but were nearly two-dimensional. These ones, in this case sheet 99020, have a raised surface that looks the part and provides all basic British WWII ranks – lance corporal, corporal, sergeant, staff sergeant and warrant officers 1 and 2.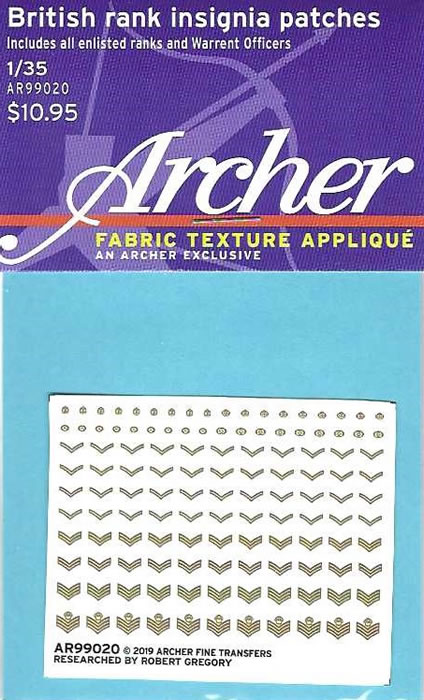 Finally is the latest version of their Resin Surface Details. These are best applied over a coat of gloss paint or acrylic finish before painting a model, and then given a wash and dry brushing to make them really pop out. This set, 88007, is very complex but includes items like General Steel Casting markings, SOMUA nameplates, and specific casting numbers for a lot of American items such as turrets, transmission covers, bogie frames, etc.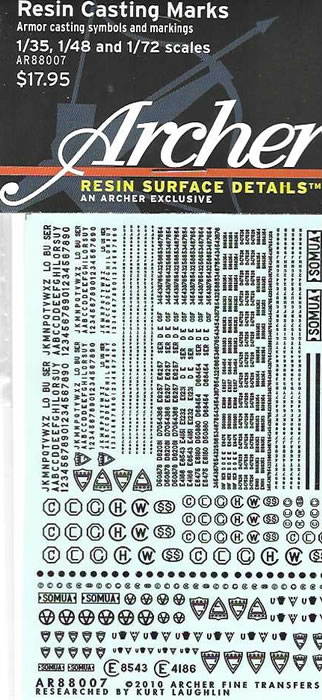 All of the decals adapt well to surfaces and with a bit of decal setter will snug down and adapt to shapes such as joint lines or louvers. They also have a sampler sheet to practice on with their NCF line of decal markings.
In conclusion, these are great products and if not yet available as compared to the dry transfer line they will be converted over as time goes on. While they may seem expensive if you are going to spend tens of hours on a model and want a first-rate result why waste your money on second rate decals? (NOTE: This is not meant to deprecate Woody's competitors but if one has ever tried to use ESCI decals or kit ones from a Revell/Monogram kit made in the last 15 years you can understand this statement!)
Thanks to Woody Vondracek for the review samples.
Text and Images by Cookie Sewell
Page Created 21 February, 2021
Page Last Updated 21 February, 2021