Home > Reviews > German > Ecehlon Panzerkampfwagen V Ausf.D & Ausf.A Panther, Markings of Panzer-Lehr Div. & 4./SS-Pz.Rgt.2. 2.SS-Pz.Div. "Das Reich" (AXT351010)
Panzerkampfwagen V Ausf.D & Ausf.A Panther,
Markings of Panzer-Lehr Div. & 4./SS-Pz.Rgt.2. 2.SS-Pz.Div. "Das Reich"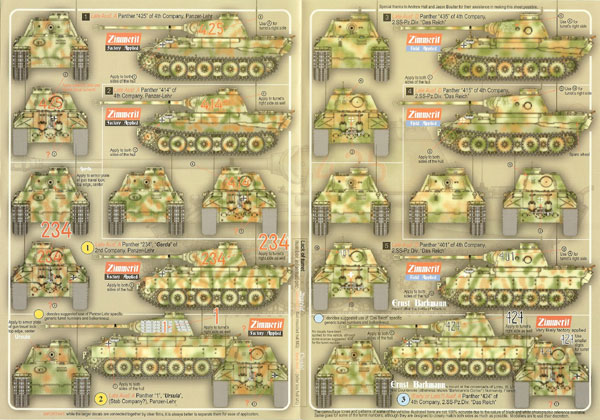 Reviewed by Frank De Sisto
Summary
Stock Number and Description
Echelon Fine Details AXT351010, Panzerkampfwagen V Ausf.D & Ausf.A Panther, Markings of Panzer-Lehr Div. & 4./SS-Pz.Rgt.2. 2.SS-Pz.Div. "Das Reich"
Scale:
1/35
Media and Contents:
Water slide decals
Price:
USD$14.00 includes shipping
Review Type:
First Look
Advantages:
Beautifully printed; large selection of interesting markings; excellent instructions
Disadvantages:
Recommendation:
Highly Recommended
FirstLook

The Panther medium tank has always been popular with both modelers and manufacturers. Between Tamiya and DML, one can model every major and some minor variations. So, tailored decal sheets should prove to be a useful and desirable commodity.

Markings are provided for a total of nine Panthers as follows:
Ausf.A, 425, Panzer-Lehr.

Ausf.A, 414, Panzer-Lehr.

Ausf.A, 234, "Gerda", Panzer-Lehr.

Ausf.A, 1, "Ursula", Panzer-Lehr.

Ausf.A, 244, Panzer-Lehr.

Ausf.D, 435, Das Reich.

Ausf.D, 415, Das Reich.

Ausf.D, 401, Das Reich.

Ausf.A, 424, Das Reich.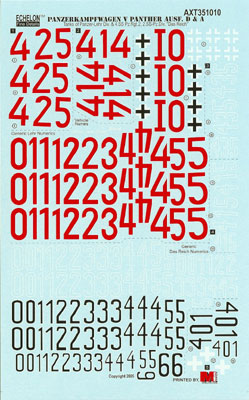 The vehicles given include three Das Reich Panthers used in the Soviet Union as well as one (Ernst Barkmann's "424" depicted as seen at "Barkmann's Corner") used in Normandy. The five Panthers from Panzer-Lehr are all from Normandy. Details as to which type of Panther is to be used as well as pointers regarding the factory- or field-applied use of Zimmerit for specific vehicles is also provided. There are also generic numbers to be used as the modeler sees fit, which will allow for quite a bit of variety. Other nice additions are specific names for vehicles for which the sheet's creators have only sketchy information. These include "Ingrid" and "Christel". There are also a variety of styles of Balkenkreuz national insignia included.
The decals are printed by Microscale in the USA and are typical of the high quality one expects from them. All details are crisply rendered, color saturation is excellent and registration is "spot-on". These decals are very thin, so care must be exercised in their use. As a user of water-slide decals exclusively, I heartily recommend that the modeler use the Microscale system, which instructs him to gloss-coat the surface and use Micro-Sol and Micro-Set solutions for best results. Seal these with a dull coat and they will look great for years. The instructions are in full color and are, in my opinion, among the best of their kind in the industry. Each Panther is pictured in three views in a size large enough to be easily used. Where the designer's are un-sure of a specific detail, they say so, or they provide an alternative. This is quite commendable. References are given as are color notes and notes on detail differences between the sheet's subjects. For those who work on other scales, these markings are available in 1/72nd, 1/48th and 1/16th-scales, so don't feel "left out".

This is simply an outstanding product. Panther lovers: "get some"!

Highly recommended
---
Echelon Fine Details are available from retail and mail-order shops, or direct through their website at: http://pachome1.pacific.net.sg/kriegsketten/ , e-mail: kreigsketten@pacific.net.sg

Text and Images by Frank V. De Sisto
Page Created 28 January, 2006
Page Last Updated 27 January, 2006