Home > Reviews > Germany >
Bronco 1:35 Versuchsflakwagen 8.8cm Flak 41 auf Sonderfahrgestell (Pz.Sfl.IVc). Kit No.CB-35062
Versuchsflakwagen 8.8cm Flak 41 auf Sonderfahrgestell (Pz.Sfl.IVc)
Bronco, 1/35 scale
by Alex Dutt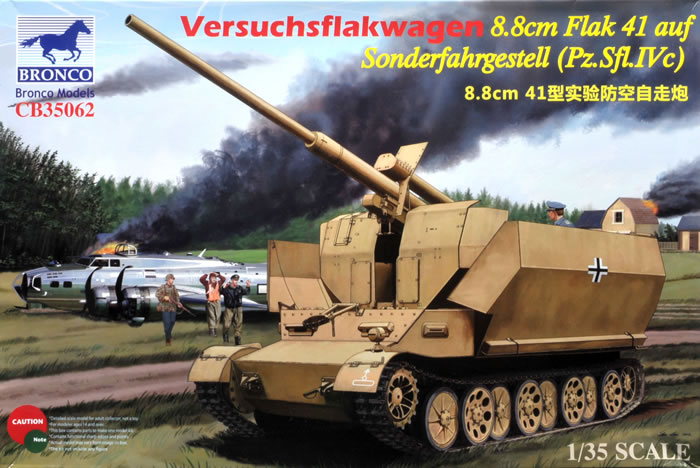 Summary
Stock Number and Description:

Bronco 1:35 Versuchsflakwagen 8.8cm Flak 41 auf Sonderfahrgestell (Pz.Sfl.IVc). Kit No.CB-35062

Contents:

64 sprues, two etched frets; link and length tracks; markings for one vehicle.

Scale:
1/35
Price:

TBA

Review Type:
First Look
Advantages:

Superb detail; high quality moulding, first time this type is available as an injection moulded kit

Disadvantages:

Complex breakdown and some delicate parts

Recommendation:
Highly Recommended for experienced modellers.


FirstLook
I have been intrigued by the Versuchsflakwagen Sonderfahrgestell for as long as I can remember, having yearned for the Cromwell Models 1:35 resin kit ever since spotting it within a modelling magazine. Alas, I never did lay my hands on the aforementioned kit, but fortunately Bronco has come to the rescue with a stunning 1:35 plastic rendition of this rare and unique vehicle.
Reference material on the Versuchsflakwagen Sonderfahrgestell is not exactly in abundance. However, the varying reference sources that I came across state that either 2 or 3 of these vehicles were completed and tested by the Germans during the war. The vehicle utilised a heavily modified Panzer IV chassis, and suspension components of the Sd.Kfz.9 'FAMO'. The Versuchsflakwagen Sonderfahrgestell was originally conceived to carry the 8.8cm FLAK 37 anti-aircraft gun, but during design the armament was changed to the 8.8cm FLAK 41 (as per the configuration of the Bronco kit).
Period photos prove that at least one version of Versuchsflakwagen 8.8cm FLAK 41 auf Sonderfahrgestell was completed, however current reference suggests that this particular vehicle did not see combat, although further photographic evidence indicates that another Versuchsflakwagen Sonderfahrgestell was completed. This second version was fitted with an 8.8cm FLAK 37 and sent to the front lines in Italy, serving with the 26th Panzer Division. Hopefully we'll see this particular vehicle kitted by Bronco too.
The kit comes in a large box full to the brim with grey, brown, tan, and clear plastic sprues.
Also included are two small photo-etched brass frets, and a decal sheet. Aside from the obligatory instructions, the kit also comes complete with a colour printout of the box top artwork.
This is a comprehensive kit, and when looking through the kit's 64 sprues it becomes readily apparent that this really is akin to two kits in one; firstly the vehicle itself, and secondly the imposing 8.8cm FLAK 41.
The vehicle hull is supplied as a single piece in tub shape, which forms the base for a very finely reproduced running gear. Suspension arm/torsion bar units are moulded separately to the hull, and once attached will form a rudimentary interior to the hull floor. Aside from this feature, no further interior detail is included within the very confined hull. The rear deck engine grills are well done and include fine mesh screens in photo-etched brass. Some delicately reproduced OVM tools with photo-etched brackets round out the hull details.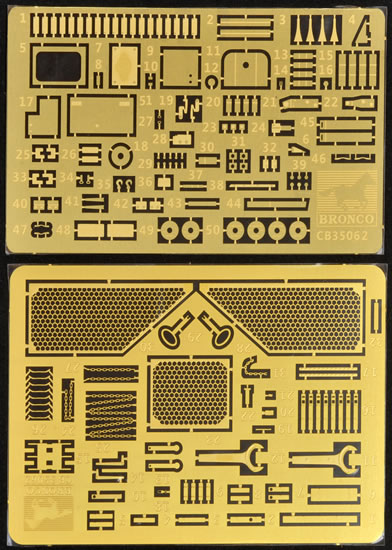 The large fighting compartment sidewalls are supplied as one piece mouldings, and include some nice touches such as KAR 98K rifles with separately moulded firing pins.
Moving onto the 8.8cm FLAK 41, this component of the kit is particularly impressive and features an abundance of detail throughout the entire gun. Inside the gun cradle walls, fuse setters, crew seating, traverse wheels, gun breech, etc are all very nicely reproduced via a multitude of fine parts. The gun barrel is supplied as two slide-moulded cylindrical components for easy assembly and clean-up. I found the very thinly moulded gun shields to be the standout feature of the FLAK 41.
The kit includes individual track-links moulded in brown plastic over 31 sprues. The links are very nicely detailed, include open guide horns, and are free of any ejector marks. Each link connects to the next via fine plastic pins enabling them to remain workable upon completion. There's certainly no need for aftermarket tracks with this kit.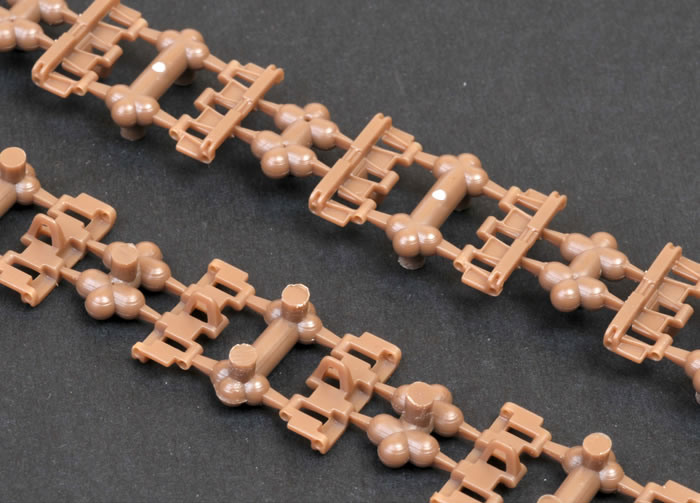 Also included within the kit box are some great little accessories, such as kit for the crew, a rolled tarp, and a very nice R36 rangefinder and storage container. Topping off the accessories are some excellent 8.8 cm ammunition rounds, one piece hollow ammo tubes, and ammo crates with finely reproduced woodgrain effect.
Decals are supplied to depict the vehicle as it appeared during firing trials in Oxbol Denmark in 1944, finished in an overall dark yellow paint scheme. The decal sheet also includes dials for the 8.8cm FLAK 41, and stencilling for the ammunition tubes and crates.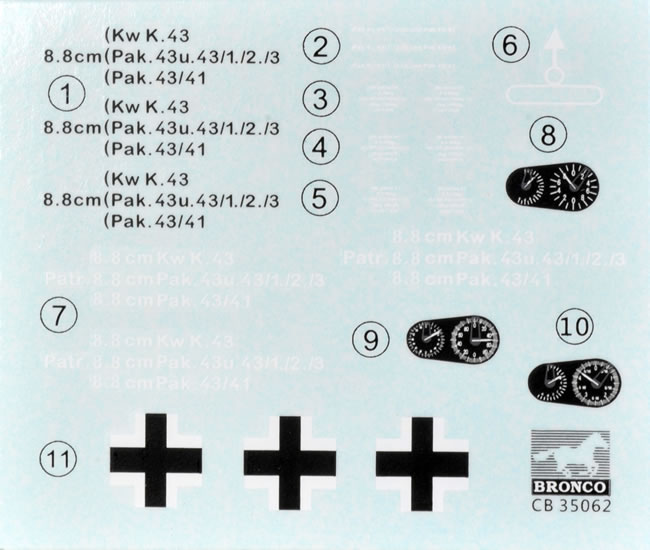 In conclusion, this is a very impressive and well-executed kit. Nice moulding, excellent detail, and well thought out use of extras such as photo-etch. This vehicle will certainly make a unique addition to any collection, and I look forward to seeing how the kit goes together.
Highly Recommended.
Thanks to Bronco for the sample www.bronco-model.com/


Text by Alex Dutt
Images by Brett Green
Page Created 3 March, 2013
Page Last Updated 30 June, 2013