Home > Reviews > German > cyber-hobby.com (Dragon Models Limited) 1/35 Scale Kit No. 13 ('39-'45 Series Kit No. 6382); Pz.Kpfw. V Ausf. F Sd.Kfz. 171 Panther F 2-in-1 Kit (Prototype and Production Type)
Pz.Kpfw. V Ausf. F Sd.Kfz. 171 Panther F 2-in-1 Kit
(Prototype and Production Type)
Reviewed by Jay Laverty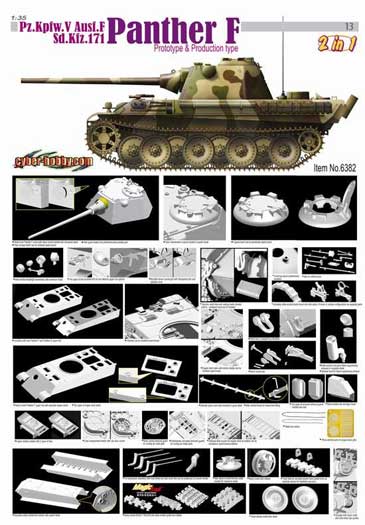 Summary
Stock Number and Description
cyber-hobby.com (Dragon Models Limited) 1/35 Scale Kit No. 13 ('39-'45 Series Kit No. 6382); Pz.Kpfw. V Ausf. F Sd.Kfz. 171 Panther F 2-in-1 Kit (Prototype and Production Type)
Scale:
1/35
Media and Contents:
861 parts (532 in grey styrene, 170 "Magic Track" links, 142 etched brass, 14 clear styrene, 1 turned aluminum, 1 pre-bent brass, 1 brass tube)
Price:
Will be available online from Mission Models
Review Type:
First Look
Advantages:
Well detailed; best magic tracks yet; great photo-etched detail included; improvements introduced since most recent Panther releases; excellent decals from Cartograf
Disadvantages:
Recommendation:
Highly Recommended
FirstLook

Dragon certainly is pushing the boat out with every progressive release and this release from Cyber Hobby is a great example of what can be done with injection moulded plastic at the moment. Hidden within the tight confines of the understated box is a plethora of superbly detailed plastic that impresses straight away. Complimenting the well moulded sprues are usual trimmings that we have come to expect from new Dragon kits in the form of etched, metal wire and "magic track.

As a closer examination of the contents of the kit soon makes apparent, there is little that has not been overlooked, although the only notable omission thus far would have been the welcome addition of the infra red equipment from the "Night Fighting Panther" release from a few years back. Considering it was a technology that the Germans were developing at the time, and the fact that Allied air superiority was forcing the Germans to favour night operations, it is reasonable to theorise that the "what-if?" schemes in this kit would utilise this technology. But I digress.

I mentioned there were "Magic Track" included with this kit, and after several attempts and some less than spectacular renditions (the Tiger Magic Tracks were not all that "Magic" if you ask me) these are the best I have seen yet, as they include the openings in the guide-horns. The only drawback I can note on them is the pair of ejector pin marks and the sprue gate located at the centre of the back of each link, which will be somewhat awkward to clean up. I think the careful use of a diamond file will be required here. However, due to the fact that they are between the guide-horns it would be interesting to see if they will be invisible on the finished model, and thus not require cleaning up at all.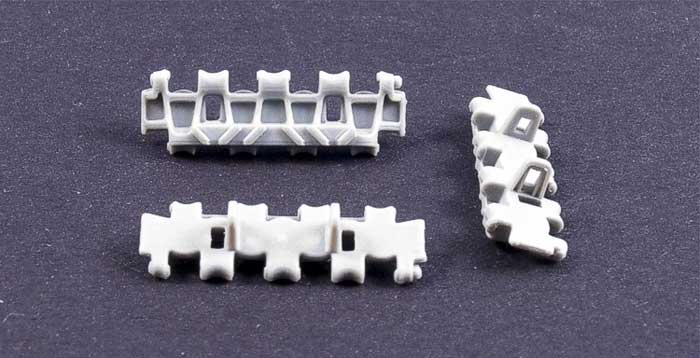 Click the thumbnails below to view larger images:
---
As the model incorporates a majority of parts from the impressive G series of Panthers from Dragon the detail and accuracy of the parts are second to none. Progressively we are seeing the level of detail represented with the photo-etched detail set included with these Dragon kits expanding at an exponential rate. Whereas when Dragon first began including etch parts they were little more than grilles and perhaps tie down in the Jagdtiger, however now they are extensive enough to include options like open or closed chains on the travel lock. Which are 6 part etched assemblies incidentally. In fact this kit incorporates more etched parts "out of the box" than any other injection kit I have seen yet. However, if you are put off by photo-etched parts fear not, as there are injection moulded alternative parts included in the kit.

When it comes to the injection moulded parts, Dragon does not simply allow the etched parts do all of the enhancing, as the level of detail rendered on subjects like the tools is quite impressive. Easily the best I have personally seen to date, there is nothing more that could be expected of them in 35th scale, aside from the latches being operational, which to me is a fair bit superfluous.

The inclusion of clear parts has also become a standard item in Dragon releases, and where it used to include only the periscopes, they now incorporate the headlights, complete with pattern, which for me is a major bonus.

Another part of the model that obviously had some improving done to it since I made the impressive "D" model a while back is the engine deck, as they have included the fan and radiator detail that would be visible through the mesh screening much the same as they did with the recent Tiger releases. Consisting of a four or five part assembly for the crew compartment hating unit, and two types of access hatch variations, it is apparent that there is not going to be any portions of this model that are overlooked when it comes to the attention to detail.

The new sprue to this kit is obviously the one containing the "Schmallturm" or narrow turret as it is called by English speakers. Rather than simply including the older and less accurate one from the previous releases of the Panther F, Dragon has taken the time to correct and further detail this sprue, as well as include the appropriate version of hull along with it.

Printed by a personal favourite decal producer; Cartograf, the decal sheet is in perfect register and offers almost limitless options of vehicle as the numbers are provided in three styles and duplicates of five different digits.

Overall this is a very impressive release despite the fact that it is a "speculative" design and the markings options entirely fictional. At $95.00 US from Dragon USA, this will not be the cheapest kit you get this year, but I would say that it is good value for money considering that it does not really need anything adding to it in order to make something very special.

Recommended
Thanks to cyber-hobby.com for the sample

---