Home > Reviews > German > cyber-hobby.com 1/35 Scale Kit No. 20 (Dragon Models Limited 1/35 Scale '39-'45 Series Kit No. 6419); Pz.Beob.Wg. V Ausf. D
Pz.Beob.Wg. V Ausf. D
Reviewed by Cookie Sewell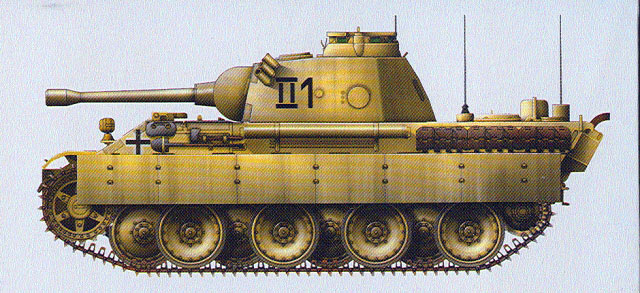 Summary
Stock Number and Description
cyber-hobby.com 1/35 Scale Kit No. 20 (Dragon Models Limited 1/35 Scale '39-'45 Series Kit No. 6419); Pz.Beob.Wg. V Ausf. D
Scale:
1/35
Media and Contents:
846 parts (469 in grey styrene, 170 "Magic Track" links, 175 etched brass, 14 clear styrene, 12 etched nickel, 2 turned brass, 2 preformed etched brass, 1 length of copper chain, 1 length of twisted steel cable)
Price:
retail price (via DragonUSA mail order) US $41.99
Review Type:
First Look
Advantages:
First kit of this particular variant as a plastic kit; mix and match sprues add to the parts box
Disadvantages:
"Boutique" kits have limited distribution
Recommendation:
Highly Recommended for all German and Panther fans
FirstLook

There are always offbeat versions of production vehicles beloved by modelers, and for years one of the most popular derivatives of the Panther tank was the armored observation vehicle variant – "Panzerbeobactungswagen" in German. Built mostly from redundant Ausf. D Panthers, the observation variant was designed as an armored forward artillery observer and fire coordination vehicle. But apparently (at least according to information from Tom Jentz) only one prototype was built and fielded (other numbers say 41, but Tom usually has his numbers correct.)

The vehicle had the gun removed and the mantelet was replaced with one mounting a dummy gun and a ball mount for a machine gun. The now roomy turret was fitted with a map plotting table and extra artillery band radio sets supplied for coordination of fires.

Until today the only way to get a model of this vehicle was to get an early model Panther kit (A or D) and a conversion kit from a company like Chesapeake Model Designs and do it the hard way. Dragon's niche modeling cohort cyber-hobby.com has now released a limited run kit of this vehicle with all of the parts in situ to make one from a kit.

This kit uses mostly the sprue sets from the older A and D kits with some upgrade parts from the "Premium Series" kits, one sprue from the Ausf. G "Smart Kit" and a number of odds and ends from other DML German kits combined with one new sprue of parts specifically for the Beobachtungswagen turret and dummy gun.

As it is a cyber-hobby.com kit and not a "Smart Kit" it comes with a wealth of etched brass and metal parts. The etched brass covers a wealth of extra detail, from the normally expected (in this day at least) grille covers for the engine deck through the skirt brackets, but installation of all of these metal parts is unfortunately once again shown in rather busy drawings next to color photos of the model components after assembly. This is not the best way to do it, as while color photos are fine, it would be better to leave them unpainted so the modeler could see exactly where the parts are supposed to go and not have to guess which are plastic and which are metal from the photo.

The model comes with some nice touches, such a choice of wheel hubs for the drivers and eight specially molded track links with separate guide teeth (all of which are hollow molded, including the "Magic Track") for "wrapping" around the drivers.

The kit comes with many extra parts (such as a complete Ausf. A/D turret, which could be used to make a "Panzerstellung" for the cost of a single kit!) and for once is not priced at ridiculous levels. No turned barrel is provided (the new one is also "slide molded" for a hollow bore) but that should not be a problem.

The travel lock – a chain affair – comes with two sets of five etched brass parts each for either open or closed, as does the turned aluminum barrel and the three-piece muzzle brake for it specifically (an old-fashioned two-piece "Flex-i-File" special is also included on the parts trees.)

One finishing scheme is provided – "Unidentified Unit" – in the late war sand yellow color.

Overall, this is another "boutique" kit but a more popular and less obscure one.
---

Sprue Breakdown
A 25 D upper hull
B 43 D/A sponson liners and details
B 53 G turret details and cupola
C 1 lower hull
D 43x2 D/A gun and details
E 33 D/A mantelet and back plate
F 11 Beobacthungswagen turret and mantelet
F 10 "Rabbit Ears" periscopic binoculars and tripod
g 4 "Crow's Foot" antenna
H 1 G cast cupola
J 40 D turret
J 8 MG34 ball mount machine gun
K 10 x 4 D road wheels
K 14 German OVM (cable heads, tools
L 14 D/A clear styrene
L 2 Panther antenna
M 3 D/A muzzle brake
N 2 Panther antenna
P 20x2 D/A suspension arms
Q 24x2 D track with separate guide horns
CG 4 German jack
WC 4 MG-34
Magic 170 Magic Track links
MA 159 etched brass
MB 16 etched brass
MC 2 preformed brass
MC 2 turned brass
MC 1 length of copper chain
MD 12 etched nickel
ME 1 length of twisted steel wire
Thanks to Freddie Leung for the review sample.

---