Home > Reviews > German > cyber-hobby.com 1/35 scale Upgrade Package No. 3878; 1/35 scale OVM Tool Set for Tiger I
OVM Tool Set for Tiger I
Reviewed by Cookie Sewell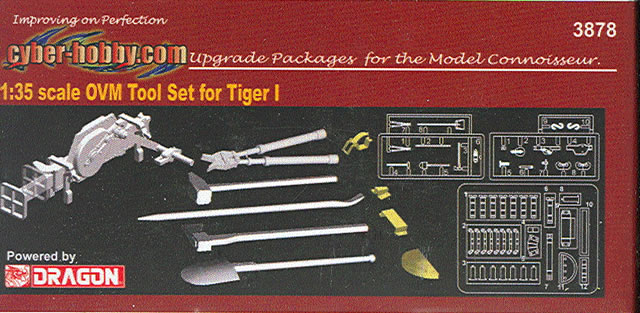 Summary
| | |
| --- | --- |
| Stock Number, Scale, Price and Description | cyber-hobby.com 1/35 scale Upgrade Package No. 3878; 1/35 scale OVM Tool Set for Tiger I; 50 parts (31 etched brass, 19 in grey styrene); retail price US$8.95 |
| Review Type: | First Look |
| Advantages: | upgrades any manufacturer's older Tiger I kit |
| Disadvantages: | |
| Recommendation: | Highly Recommendedfor Tiger fans with older kits or those from another manufacturer |

FirstLook

Just the other day I was talking with some friends and the consensus option was that with the plethora of DML kits out there, why don't they offer upgrades for kits that they already sold?

This is pretty much what cyber-hobby.com, DML's "boutique" affiliate, is doing. For example, here is another of their sets which upgrades the OVM for a Tiger I. What they provide is a set of relatively generic tools with all of their attachments in etched brass. Ergo, if you have a Tamiya or Academy Tiger I with stick-on tools you can easily upgrade them with this set to separate fastenings.

Ditto offerings of DS Plastic tracks also on offer from cyber-hobby.com and previously reviewed.

Overall this is a smart idea – if you long for a nicer model but don't want to shell out another $50 or even $100, the upgrades are the way to go.
---


Sprue layout:

TA 8 German OVM tool set: shovels, sledge, wire cutters, fire extinguisher
TB 11 German OVM tool set: jack, tow hooks
MA 31 Etched brass

Thanks to Freddie Leung for the review sample.
Text and Images by Cookie Sewell
Page Created 28 March, 2009
Page Last Updated 28 March, 2009