Home > Reviews > German > Dragon Models Limited/cyber-hobby.com 1/35 Scale '39-'45 Series Kit No. 6263; Pz.Kpfw. II Ausf. F
Panzer II Ausf. F
Reviewed by Cookie Sewell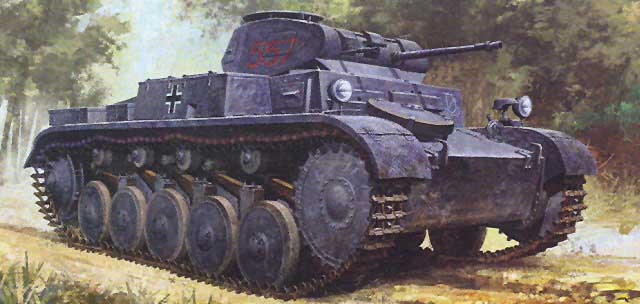 Summary
Stock Number and Description
Dragon Models Limited/cyber-hobby.com 1/35 Scale '39-'45 Series Kit No. 6263; Pz.Kpfw. II Ausf. F
Scale:
1/35
Media and Contents:
745 parts (401 in grey styrene, 200 "Magic Track" links, 90 etched brass, 51 clear styrene, 3 pre-bent wire)
Price:
estimated price US $39
Review Type:
First Look
Advantages:
Nice, new ground-up version of this little German tank; very complete interior and selection of optional opening parts and hatches
Disadvantages:
Some modelers disappointed by selection of later variant; daunting number of parts for a relatively small vehicle
Recommendation:
Highly Recommended to all German armor fans
FirstLook
Back in 1971 when I was on my honeymoon in New York City, I showed my wife a taste of what she was in for when we walked from 51st Street down to Polk's Hobbies and I picked up the newest kit in town, the 1/35 scale Tamiya Pzkw. II with Afrika Korps infantry. At the time I thought it was a neat kit with the five figures and the easy to deal with Panzer II. It didn't take too long before a few good references and a change in sophistication showed what a dog the kit really was with its "motoritis" problems, one-sided tracks and lack of accurate details.

Of all of the German tanks, for some reason I've always had a soft spot for the Panzer II, and when DML released a brand-new kit of the Marder II in June 2006 I looked at the kit sprues and said to myself there has to be a series of Panzer II coming behind this puppy. Sure enough, a bit later than expected, DML and cyber-hobby.com have now released a wide-release version of the Ausf. F version of the tank as its first kit in this series.

The Panzer II was the first "real" tank built by the Germans, and when it came out in May 1936 it was a state-of-the-art light tank. Armed with a 2 cm gun and a 7.92mm machine gun, its armament was little different from its contemporaries and ahead of many of them. The vehicle rapidly evolved through the Ausf. a, b, and c pre-series to the Ausf. A, B and C series production models, with over 1,100 of them being built between 1937 and 1940. There was a short flirtation with large road wheels with the Ausf. D and E, but they soon returned to the five small road wheel variant chassis with the Ausf. F. This was the first "wartime" model as it came into production in early 1941 and remained there until December 1942. However, only 524 were built before the chassis began to be used exclusively for self-propelled guns like the Wespe and aforementioned Marder II.

But by that time the Pzkw. II was inferior to many light tanks, with US and Soviet models carrying 37mm or 45mm guns with much more power. Its thin armor of 15 to 30mm could not resist even those modest weapons, and as a combat vehicle the Pzkw. II was pretty much regulated to rear area security or occasional reconnaissance functions.

While some modelers were disappointed that DML did not release an A/B/C variant of the tank, the Ausf. F did use the same basic hull as the Marder II so the two shared more common parts. The new kit uses a great deal of the work done for the No. 6262 Marder II kit but adds all of the necessary components for the Ausf. F.

Unlike the Pzkw. I series kits which took until the latest release to provide one with a full interior, this kit comes with it right out of the gate. The lower hull of the Marder had most of the interior parts needed by the Panzer II there, so this kit only needed a few bits to provide for the essential changes needed to yield the line tank variant. A new firewall and related parts (J sprue, one of alas many with that letter in this kit!) provides the different bits.

The running gear is pretty much that from the Marder II, which has brought some complaint about the springs being the heavier models for the SP guns and not the line tank versions. Most modelers are unlikely to quibble as the suspension is nicely detailed where it can be seen, and most of the springs will be concealed behind the road wheels when installed. (It's not like the springs mess up the "sit" of the tank like the old Tamiya M48/M60 kits which rode about 4" in scale higher than they normally would due to being empty, and the ride height appears about right with this tank.)

All of the hatches and ports on the hull and turret, and the stowage bin as well (!), are optional open/closed, which provides some modicum of view of the interior. At least the Panzer II is bigger than the I so there is more to see!

The turret is packed to the gills with parts, which is surprising when one considers how small it really is. The 2 cm is complete and the model uses a complete MG-34 from the generic German weapons sets. This comes with the ground mount for the bipod and ground sights, which appear to be removed prior to installation and that makes sense. Alas, the directions do not indicate making that adjustment, so anyone who fails to do so will have a major problem in assembly. There are 72 parts in this assembly alone!

Technical assistance on this project was provided by Ed Kusiak, Tom Cockle and Gary Edmundson.

A total of seven finishing options are provided: 2 Btn/5th Panzer Regiment (L), 5th Panzer Division (L), Libya 1941 (sand over grey); 1 Btn/5th Panzer Regiment (L), 5th Panzer Division (L), Libya 1941 (sand over grey); 9./202nd Panzer Regiment, 22nd Panzer Division, Stalingrad 1942 (sand over grey); Pz.Abt. 103, 3rd Infantry Division (Mot), Southern Russia 1941 (sand over grey); 5./1st SS Panzer Regiment, 1st SS Panzergrenadier Division "LAH", Kharkov 1943 (grey); 5./1st SS Panzer Regiment, 1st SS Panzergrenadier Division "LAH", Kharkov 1943 (whitewash); 7th Panzer Regiment, 10th Panzer Division, Tunisia 1943 (sand). A very nice sheet of Cartograf decals covers these markings and generic markings as well.

This is the "missing link" in the DML WWII German panzer program and one can now built models of all of the major German combat vehicles from Pkzw. I to the Maus. It is likely that the prewar A/B/C variants will follow sometime in the future.
---

Sprue Breakdown
A 58 Pzkw. II Ausf. F - upper hull and details
B 52 Pzkw. II Ausf. F - turret and armament
C 113 Marder II - interior parts and engine
D 6x2 Pzkw II - road wheels
E 9x2 Pzkw II - drivers/idlers
F 14x2 Pzkw II - road wheel backing and details
G 9 Pzkw II - final drives
H 5x2 Pzkw II - bump stops
J 38 Generic German tools and lights
J 38 Pzkw. II - interior parts
J 10 Clear styrene
K 6 Pzkw II - spring stiffeners
L 100 "Magic Track" links - left
P 7 Clear styrene
R 100 "Magic Track" links - right
W 12 Clear styrene
X 22 Clear styrene
Z 1 hull
RD 14 German Radio Generic - radio sets
WC 4 MG-34 machine gun
MA 89 Etched brass
MB 3 preformed bent wire
MB 1 preformed etched brass

Thanks to Freddie Leung for the review sample.

---