Home > Reviews > German > Dragon Models Limited 1/35 Scale '39-'45 Series Kit No. 6290; Pz.Kpfw. 38(t) Ausf. G w/Interior - Smart Kit
Pz.Kpfw. 38(t) Ausf. G w/Interior - Smart Kit
Reviewed by Cookie Sewell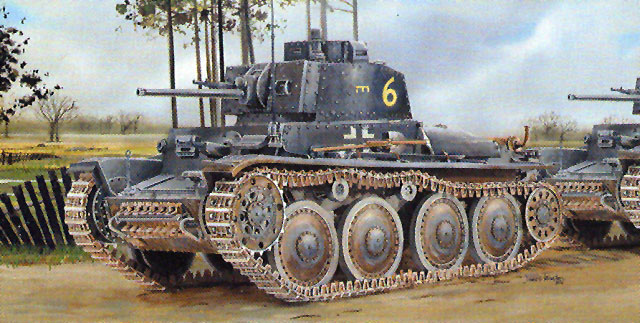 Summary
Stock Number and Description
Dragon Models Limited 1/35 Scale '39-'45 Series Kit No. 6290; Pz.Kpfw. 38(t) Ausf. G w/Interior - Smart Kit
Scale:
1/35
Media and Contents:
681 parts (319 parts in grey stryene, 240 "Magic Track" links, 113 etched brass, 9 clear styrene)
Price:
price estimated at US $45.00. Will be available online from Mission Models
Review Type:
First Look
Advantages:
DML's "Smart Kit" line continues with this offering; interior is a nice addition to a good kit; appears easier to assemble than competing kit
Disadvantages:
Fighting and control compartment interior will be very hard to see
Recommendation:
Highly Recommended for all THNP series fans and German modelers
FirstLook

DML continues to "do battle" with the very well done Tristar kits by offering a "Smart Kit" version of the Praga-built Pzkw. 38(t) Ausf. G with the added bonus of a full interior.

The DML version is a "Smart Kit" with most of the details molded into the parts using "slide molding techniques" rather than the use of built-up styrene or etched brass parts, and in comparison with the Tristar kit (without interior) it does have more parts to it (568 stryene and 113 brass versus 492 styrene and 51brass) but it should be kept in mind that Tristar has advertised an interior for their kit as well.

The kit follows on the heels of DML's Marder III "Smart Kit" and borrows most of the "below the fenders" sprues from that kit. The new one provides 97 new parts that provide the turret race and upper hull, turret decking, turret, interior and engine parts. Most of the interior parts (e.g. transmission, drive line, control compartment details, etc.) already came with the Marder III kit as they were exposed so the turret interior and engine are about the only major items which needed to be added to the original kit.

The kit provides the correct drive wheels with the excellent suspension as well as different springs for the bogie assemblies. Assembly follows the earlier kit and is pretty straightforward. However, the back plate (part B40) is one piece so the access cover cannot be shown open or removed, as in performing maintenance on the engine.

One area in which DML was "dinged" on the Marder III kit was the fenders. I have to say that having sat down with a number of photos of the TNHP tanks and a straightedge most of them seem to have come out of the factory with dead straight fenders. But once in service, whether it is crew use or track slap or something else, the front of the fenders from the center of the vehicle onward appear to take on a slight bend upward from the rear section. It took me a good ten minutes with this kit as I had to take out the fenders and check them but they appear to have a one or two degree up angle molded into them (and are specifically flagged as from DML Kit No. 6396, so would bet more kits will be forthcoming). However, the mounting flanges for the fenders on the sides of the hull are arrow straight so no idea how this will work on the model.

Tracks are the DML "Magic Track" links, which are identical so do not have to be "handed" as with other kits. These even have casting data molded into them, but in my case it took a 10x jeweler's loupe to confirm it!

The interior is pretty much complete as near as can be seen, but the warning needs to be given that due to the small hatches (commander's and radio operator's) it will be very difficult to see the details even with an "IPMS Death Ray" (penlight). The engine compartment is much more accessible as the hatches may be opened up on the deck cover. However, again DML doesn't bother to indicate that you have optional choices in the directions, a disconcerting flaw that I have encountered more and more frequently. Many modelers will realize this going in, but it is not fun to have to put parts together in one step and then not install them until five or six steps later and then realize you have just sealed up all the details you worked on in between. DML should do more to clear this up and emphasize in their directions where and when you have to make choices.

The details are very nicely done and should be given foreground attention. Both of the machine guns have belts of ammo provided for them and are better done than the ones in the Tristar kit, albeit neither kit seems to have the angled handles seen on preserved guns.

The kit offers six different finishing options backed up with a colorful set of Cartograf decals. The options include: 6/Pz.Rgt. 25, Eastern Front 1941 (grey); 4./Pz.Rgt. 404, 22nd Panzer Division, Russia 1942 (grey); Unidentified unit. Bohemia 1945 (tricolor mottled pattern); Pz.Rgt. 21, 20th Panzer Division, Russia 1942 (grey); 30th Armor Regiment, 1st Field Armored Division, Hungarian Army, Hungary 1942; Slovakian LT-38, Slovak National Uprising, 1944 (sand with Slovak badges).

Overall this is a well-done kit, and the main factor still comes down to the preference of the builder as to whether he wants this kit, which is easier to assemble, or its competitor; both are very nicely done and it is up to the modeler for his preferences, but the interior of this kit permits more detailing for about the same initial cost. With the lack of visibility of the forward two-thirds of the tank and the engine access being the best feature if used well, it also tends to lend itself to "MIG" style depiction of the vehicle as "destroyed" which does at least show off all of those details.
---

Sprue Layout
A 70 Pzkw. 38(t) wheels and suspension
B 70 Pzkw. 38(t) Ausf. G fenders and hull components
C 34 Pzkw. 38(t) Turret and Turret Race
D 58 Pzkw. 38(t) interior and transmission components
E 1 Pzkw. 38(t) Hull
F 8 Pzkw. 38(t) Turret Cupola and Interior
F 15x2 Pzkw. 38(t) Turret Ammo Racks and Interior
F 4 x 2 Pzkw. 38(t) Turret Sights and Details
J 9 clear styrene vision blocks
K 18 Pzkw. 38(t) OVM
N 5 cleaning rods and accessories
P 17 Engine and accessories
Y 240 Magic Track
MA 113 etched brass

Thanks to Freddie Leung for the review sample.

---