Home > Reviews > German >

Dragon Models Limited 1/35 Scale '39-'45 Series Kit No. 6411; German s. 10 cm Kanone 18 - Smart Kit
German s. 10 cm Kanone 18 - Smart Kit
Reviewed by Cookie Sewell


Summary
Stock Number and Description

Dragon Models Limited 1/35 Scale '39-'45 Series Kit No. 6411; German s. 10 cm Kanone 18 - Smart Kit

Scale:

1/35

Media and Contents:

239 parts (228 in grey styrene, 3 clear styrene, 2 etched brass, 2 etched nickel, 2 brass tubing, 1 turned aluminum)

Price:

Estimated to be USD$39.95

Review Type:

First Look

Advantages:

First kit in this scale of this artillery piece; limber included for either in action or march order display

Disadvantages:

No crew; stingy supply of ammunition

Recommendation:
Highly Recommended for all German and "Redleg" fans


FirstLook
During the 1930s the creation of "duo" or even "trio" gun programs were popular with all of the developed countries. The concept was to develop a single sturdy carriage and then swap barrels to meet specific purposes, using a gun for long range firing and a heavier howitzer for short range engagements. Some worked well such as the US Army's M1 155mm gun and M115 8" howitzer or the Soviet Br-2 152mm gun and B-4 203mm howitzer. The Germans developed their "duo" of guns in the 1920s by Krupp with one common carriage created for a 10 cm Kanone 18 field gun or the 15 cm schwere Feldhaubitze 18 field howitzer.

While a good idea, the 10 cm gun proved to be too light a caliber for the heavy carriage, so the main production version was the sFH 18 howitzer. Weighting about six metric tons, the s.10 cm was mostly deployed in battalions of three batteries of four guns each towed by the eight-ton Sd.Kfz. 7 halftrack fitted with lockers for the 10 cm ammunition.

Whereas the s.FH 18 could fire a 43.5 kilogram HE-FRAG round to a maximum range of 13,325 meters, the 10 cm only fired a 15.5 kg projectile to a bit over 18,000. numbers. As they were considered insufficient in firepower for their size, most were eventually relegated to coast defense.

Three years ago DML produced an excellent kit of the s.FH 18 and announced they would follow it with the s. 10 cm. Noting that 50 years ago ROCO made this "duo" in 1/87th scale with both the 10 cm and 15 cm barrels, as well as the Sd.Kfz. 7 prime mover, by now DML also makes a excellent Sd.Kfz. 7 prime mover for both guns.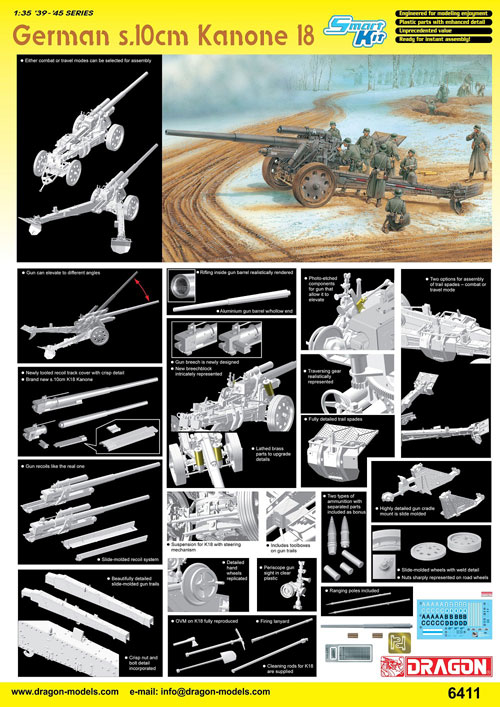 As with the earlier kit - with which as it should the 10 cm shares nearly its entire carriage - DML has pulled out all of its tricks to get a very nicely done result. The heavy rubber tired disk wheels are "slide molded" with the injection mold points at the top rim of the wheel, to ensure fast and easy cleanup while molding all of the grooves in place. The same goes for the much thinner limber wheels. The trails are hollow molded using similar techniques.

The gun proper consists of the complete barrel in turned aluminum and a 13-piece styrene breech assembly. Two of the brass parts, the tubes, are used for the elevation cylinders. The nickel parts cover the gun's data plate and the stamped metal firing table placed in front of the gunner's position. The two etched brass parts are the linkages on the parking brakes. Note that while the gun tube has a rifled muzzle cut into the twist is amazingly high - I am not sure of what the actual gun used but here it is about 1 turn in 6 calibers which seems far too tight.

The gun has an incredible amount of detail to it and even the limber consists of no less than 30 parts. The spades are optional position and the kit is designed so that the gun may be left assembled with a friction fit so it may be displayed either in march order (racked up, trails on the limber) or in firing position. This may not work quite as well as the directions indicate, but it is nice to know you may have a longer time frame to make a selection on towed or firing displays.

The gun comes with but three rounds: one AP, one HE-FRAG and one ammunition tube. This is a bit stingy for a gun this size and also limits what can be done with it. (I do not know if DML plans to released a dedicated crew with ammo supply for this gun or not.)

The sights are clear styrene parts, which seems to be popular but still have to be painted.

A sheet of generic artillery decals from Cartograf is included along with "kill" rings and generic ammunition placards for the packing and rounds. Five finishing schemes (three grey, one sand and one tricolor camouflage) are provided but no units or locations.

Technical assistance on this project came from Tom Cockle and Gary Edmundson, and the project director was Hirohisa Takada.

Overall while this is a nice kit and captures its subject well it lacks something comparted to the excellent 15 cm "Big Brother" kit.

---
Sprue Layout:

A 66 Gun cradle, trails and breech assemblies
B 29 Fittings and cleaning rods
C 26 Lower mount and axle details
D 33x2 Main wheels, limber wheels, trail spades
E 21 Limber components
F 2 Gun trails
J 18 s. 10 cm ammunition, gun breech
K 3 Clear styrene
MA 2 etched brass
MB 2 etched nickel
MC 1 turned aluminum
MC 2 brass tubing

Thanks to Freddie Leung for the review sample.
---