Home > Reviews > German >

cyber-hobby.com 1/35 scale kit No. 47 (Dragon Models Limited 1/35 Scale '39-'45 Series Kit No. 6422); Pz.Kpfw. III Ausf. L Vorpanzer - Smart Kit
Pz.Kpfw. III Ausf. L Vorpanzer - Smart Kit
Reviewed by Cookie Sewell


Summary
Stock Number and Description

cyber-hobby.com 1/35 scale kit No. 47 (Dragon Models Limited 1/35 Scale '39-'45 Series Kit No. 6422); Pz.Kpfw. III Ausf. L Vorpanzer - Smart Kit

Scale:

1/35

Media and Contents:

754 parts (491 in grey styrene, 216 "Magic Track" links, 26 etched brass, 19 clear styrene, 2 preformed steel wire)

Price:

pre-order price US$49.95 via Dragon USA Online

Review Type:

First Look

Advantages:

Basically production version of Ausf. L; "Smart Kit" minimizes the amount of etched brass required

Disadvantages:

Kit changes out but one sprue from Kit 6587; does not come with DS tracks, which will disappoint a few modelers

Recommendation:
Recommended


FirstLook
While the Pzkw. III Ausf. L was a product-improved model of the Ausf. J, it took a while for the modifications to be firmly placed into production so that early Ls looked basically like the J model. With over 650 built, I admit I do not have the specific references to say where the changeover took place.

(Note that I suspect that DML is flagging anything with applique armor as "Vorpanzer" whereas it would appear that term only applied to a few assault variants produced early in the war. I could be wrong, but as these were standard production vehicles and I have not seen the term used in the past think it more flash than bang.)

This kit is essentially the earlier Pzkw. III Ausf. L Tp kit (cyber-hobby.com No. 47, DML No. 6587) but with the later production standardized engine deck components from the StuG III vice the earlier Ausf. J parts. As with its 2009 predecessor kit, it only changes out a single sprue covering the engine deck parts, but it does add two pre-formed steel wires to the kit. Like previous kits of this line, it shares four sprues and the "Magic Track" links with the StuG kit and also borrows a few sprues from the Pzkw. IV Ausf. F "Smart Kit" as well (mostly the cupola and clear ones.)

The hull pan is similar to that from the StuG but has the side hatches and other detail changes. It retains the full torsion bar suspension from the other kit and the detailed suspension components and muffler assembly. As with the StuG all hatches are separate with some interior details and can be positioned as the modeler chooses. All engine deck ventilators are spaced and mounted on separate frames to get the correct appearance and "lift" needed to give an accurate representation of the original.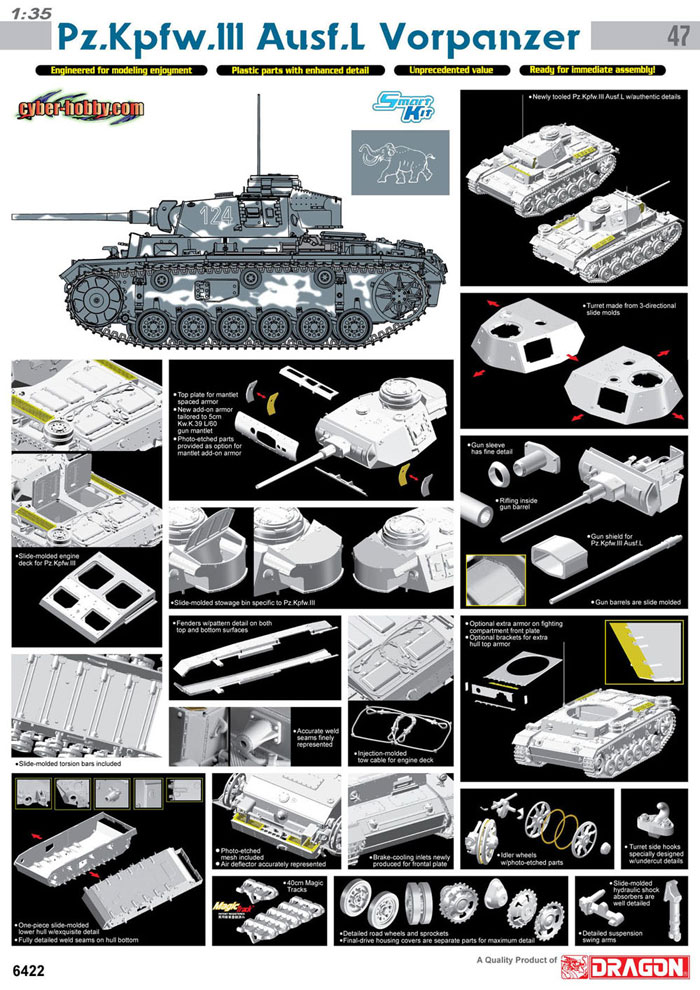 The kit provides a number of options to include the complete spaced armor array but in this molding only provides the L/60 gun. The barrel is "slide molded" with hollow bore. Options also include blackout or clear headlight lenses and the "kugel" mount for the bow machine gun. All viewports and viewers may be positioned open or closed as well.

The kit includes the rudiments of an interior, but unlike many Russian or Ukrainian kits the details they provide are highly accurate as far as they go. This should please the "after market boys" as there is more than enough room for a nice resin interior here and enough ports and hatches to see it.

Once again the kit comes with "Magic Track" single links. I recently saw someone ask why I list that as a disadvantage to the kit. It is not wrong, and the DML "Magic Track" links are quite popular with many modelers. But most modelers have found out that assembly of single link track is quite repetitive and tedious. I gather from comments on line that whereas most Allied vehicle modelers are happy for the changeover (especially with M4 series tanks and their previously nasty three-piece single link tracks) the German fans prefer the "Magic Tracks" so will not be disappointed.

Technical support was provided by Tom Cockle and Gary Edmundson.

As it now reflects the later production variants, the kit now provides markings and finishing options for no less than eight different vehicles: s.Pz.Abt. 502, Eastern Front 1942 (whitewash over panzer grey, white 101); s.Pz.Abt. 502, Eastern Front 1942 (whitewash over panzer grey, white 124); Pz.Rgt. "Hermann Goering", Germany 1943 (panzer grey, either red 21 or red 32); 4./SS Pz.Rgt.1, 1st SS Panzer Division LAH, Russia 1943 (whitewash, red 061); 10th Panzer Division, Tunisia 1943 (sand, red 7); 10th Panzer Division, Tunisia 1943 (sand, runic black 3); 16th Panzergrenadier Division, Russia 1943 (green over sand mottle, white 03); Pz.Rgt. 18, 18th Panzer Division, Russia 1942 (sand, white 200 with divisional markings). All decals are provided by Cartograf.

Overall this is a nice revision to the first kit but I am surprised it is a cyber-hobby.com offering and not a mainstream DML one.
---
Sprue Layout:

A 91 Pzkw III J hull details and turret mounting
A 61x2 StuG III Wheels and torsion bars (7 mini-sprues connected)
B 14 Pzkw III J upper hull and fenders
B 46 StuG III Road wheel arms and lower hull details
C 41 Pzkw III J applique armor and details
D 34 Pzkw III J gun and 5 cm L/60 barrel
D 32 StuG III upper glacis, engine deck and details
E 15 Pzkw III J turret and mantelet details
F 15 Pzkw IV F - turret cupola
G 52 Pzkw IV F - turret and hull details
G 20 StuG III OVM and light components
H 1 Lower hull pan
J 8 Machine guns and muzzles
L 108 Magic Track - Left
15 Pzkw IV F Clear styrene
P 4 Clear styrene
R 108 Magic Track - Right
MA 26 Etched brass
MB 2 Preformed steel wire.
Thanks to Freddie Leung for the review sample.
---