Home > Reviews > German > cyber-hobby.com 1/35 scale Kit No. 23 (Dragon Models Limited '39-'45 Series Kit No. 6437); Raketenwerfer auf Fahrgestelle Pz.Kpfw. IV
Raketenwerfer auf Fahrgestelle Pz.Kpfw. IV
Reviewed by Cookie Sewell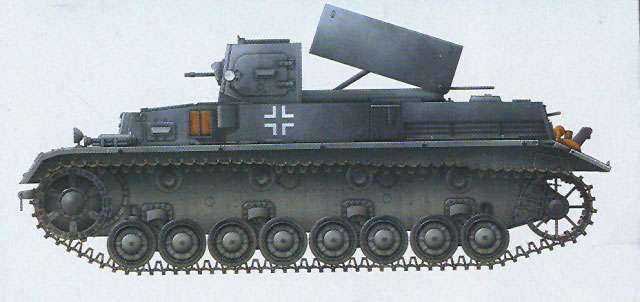 Summary
Stock Number and Description
cyber-hobby.com 1/35 scale Kit No. 23 (Dragon Models Limited '39-'45 Series Kit No. 6437); Raketenwerfer auf Fahrgestelle Pz.Kpfw. IV
Scale:
1/35
Media and Contents:
1,339 parts (728 parts in grey styrene, 293 etched brass, 288 "Magic Track" track links, 25 clear styrene, 4 pre-bent brass, 1 twisted steel wire)
Price:
estimated price US $41.99
Review Type:
First Look
Advantages:
One-off German prototype gets the full treatment
Disadvantages:
DML Ausf. B to E chassis very detailed and fussy to assemble, lots and lots of etched brass
Recommendation:
Highly Recommended to fans of the Panzer IV and advanced German modelers
FirstLook
Dragon Models Limited's affiliate cyber-hobby.com continues with its series of boutique kits of German prototype vehicles with this one-off based on a Pzkw. IV Ausf. C chassis.

The Germans discovered that heavy high-explosive rockets made great short-range infantry suppression weapons, and as such used them on halftrack chassis as well as a number of lesser known chassis. This one, of which a single prototype was built, would have provided better protection for an assault crew to get close enough to deliver the rockets to their target (generally infantry in buildings or field fortifications where the high-explosives would be devastating at close range.) Other than it was built, history of this particular vehicle is short.

It should be noted the concept is not a bad one – today the Russians now have the TOS-1 "Buratino" (Pinocchio) in service for the same purpose, but it mounts 24 heavy 220mm rockets on a modified T-72 chassis.

The kit consists of the entire DML Pzkw. IV Ausf. C kit intact with two new sprues of 31 parts to cover the plastic elements of the rocket launcher installation. There are also another 112 etched brass parts, and as this is a cyber-hobby.com kit they are essential to its construction. This is fair warning as this is a pure kit for advanced modelers, and there are few of the usual DML options for with or without etched brass parts. The rocket rack is styrene but all of the packenkiste launcher are totally brass, as an example.

The kit provides a new turret base and the launcher housing in styrene. As the casemate section of the launcher was built using Pzkw. IV Ausf. C parts, the kit, in sheer overkill, provides two hull sprues for the Ausf. C to include the hatches and turret details needed. It also provides a new hull upper glacis less machine gun port and new applique armor as seen on the prototype.

The rest of the kit uses most of the new parts creatred for the Ausf. D kit and the cyber-hobby.com Ausf. B "boutique" kit. In regard to the latter, it uses nearly all of the new sprues and only changes a few of the parts out, namely the mantelet and associated parts (Sprue Y).

The running gear is quite detailed, but reportedly very fiddly to assemble. For example, the drivers assemble nearly in the same manner as the original: core sections, toothed rings with 12 separate bolts each, and caps and spindles – each one requires 31 parts and a LOT of patience. Bogie assemblies still consist of 18 parts each. The same "Magic Track" with 144 links per side of snap-together tracks are provided, but as I noted with that kit they are "handed" with the pin heads on the inside and the "keepers" on the outside. They are bagged separately (left track on the left side, right track on the right!) A jig for setting "droop" is also included. One-piece "slide molded" idlers are again included, as well as the normal two-piece kind.

Only generic white Balkenkreuze are included and the only finish offered is grey.

Overall this is a very offbeat kit, and cyber-hobby.com has done their best to make it as complete and close to the original as possible. But it is not for the faint of heart or unsure of skills.
---

Sprue Breakdown
(NOTE: about 300 parts are left over when done!)

A 12+12 IV (drivers and rollers)
A 33 x 2 IV D driver rings (NEW)
A 73 x 2 IV (wheels and suspension elements) (REDO)
B 24 IV (bow section)
B 32 IV (armored final drives)
C 23 Raketenwerfer conversion parts
D 90 IV (fenders and details) (REDO)
E 54x2 IV (hull top) (REDO)
H 55 (OVM)
J 55 IV Specific Parts (NEW)
L 2 (one-piece idlers)
K 144 Magic Track left side track
M 144 Magic track right side track
N 12 (Jerry cans)
34 IV (tires)
P 25 IV (Clear) (REDO)
S 2 IV (fenders)
U 8x2 28 cm rocket projectiles
W 47 IV B (upper hull)
X 1 IV (lower hull)
Y 3 IV C turret details
Z 1 twisted steel wire
MA 144 (etched) 6297
MB 32 (etched) 6297
MC 4 (etched) 6265
MD 112 etched brass 6437
ME 1 pre-bent etched brass
ME 4 pre-bent wire
Thanks to Freddie Leung for the review sample.

---