Home > Reviews > German > Dragon Models Limited 1/35 scale '39-'45 Series Kit No. 6439; Heuschreke IVb "Grasshopper" 10.5 cm le.F.H. 18/6 (Sf.) auf Geschuetzwagen III/IV
Heuschreke IVb "Grasshopper"
Reviewed by Cookie Sewell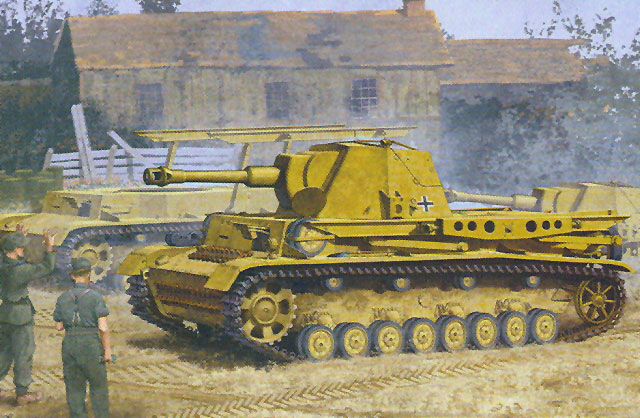 Summary
Stock Number and Description
Dragon Models Limited 1/35 scale '39-'45 Series Kit No. 6439; Heuschreke IVb "Grasshopper" 10.5 cm le.F.H. 18/6 (Sf.) auf Geschuetzwagen III/IV
Scale:
1/35
Media and Contents:
957 parts (677 in grey styrene, 216 "Magic Track" links, 53 etched brass, 11 clear styrene)
Price:
estimated price US $45
Review Type:
First Look
Advantages:
First new kit of this vehicle to reach the market; good mixture of extant and new moldings; very complete kit providing numerous options for construction and display
Disadvantages:
Towing bar apparently missing from the kit; many leftover parts
Recommendation:
Highly Recommended for German armor and artillery fans
FirstLook

There are occasionally concepts that probably seemed good at the time they were conceived but in execution leave a lot to be desired. The concept of semi-self-propelled artillery – mounts that carried a complete field gun or howitzer with carriage and the ability to mount and dismount the gun at will – were tried in WWI and found wanting. The consensus opinion then was permanently mounted guns had more advantages overall and made better sense.

For some reason – I have never figured out exactly why – the Germans returned to this concept in WWII with several different prototypes, most of which were dubbed "Heuschreke" or "Grasshopper" followed by a suffix to indicate which was which. One of them which used the successful Gw III/IV composite Pzkw. III/Pzkw. IV derived hull from the Hummel and Hornisse/Nashorn self-propelled weapons was the Heuschreke 10, which mounted the sturdy 10.5 cm liechte Feldhaubitze 18 in a dismountable arrangement. Prototypes of two different concepts, one by Krupp and one by Rheinmetall-Borsig, were built in 1942.

The latter used a complete le FH 18/40 (10.5 cm howitzer on the 7.5 cm PaK 40 carriage) and simply removed the trails and wheels to mount it in a fixed casemate. The Krupp version used a purpose-built mount with the le FH 18/1 mounted in a StuH mounting in a fully rotating open-topped turret. The difference was that the entire turret could be removed by built-in crane rails on the sides of the hull and moved to an easily assembled square platform; the turret then had wheels attached to its sides and a towing lunette to the muzzle of the gun. The gun could be emplaced as a fixed ground mount or fired from the chassis.

Three prototypes were built and tested. Apparently somebody finally realized that this was a waste of the chassis and the concept of fixed artillery on the Eastern front was not too clever, for the Soviets were very good at counterbattery artillery fire and if the gun could not displace it would soon be "suppressed." The Germans then returned to more conventional designs for self-propelled weapons.

Over 30 years ago one of the Japanese companies – I want to say Bandai – had a kit of this unique vehicle in 1/30 scale but it was not very good, even though the entire kit "worked" and the gun could be shown as the turret, being removed, and emplaced on its mounting. Now both DML and Trumpeter are releasing new kits of this beastie, with the DML kit apparently being the first to market (the Trumpeter one is forecast for late November/early December.) This appears to be a repeat of the "dueling" Dicker Max kits, so time will tell which is the more popular.

Be that as it may, DML has done a nice job of using some of its newer kits with a number of new sprues combined with generic German components and elements from their Pzkw. IV 'Smart Kits," the StuG III "Smart Kits," and the premium versions of the Hummel and Nashorn. This is smart to some degree on their part – once molds are cut the sprues cost only pennies to manufacture – but on the other hand it leaves the modeler with a large number of leftover or spare parts from each kit; this one looks to have at least 200 leftover grey and clear parts when the model is completed.

DML starts out with a newly molded specific hull for the Heuschreke with "slide molded" details. The suspension comes from a combination of the IV "Smart Kits" and the Hummel sprues, and as noted in the reviews of the "Smart Kits" has fixed tires on each road wheel. The interior provides lockers and access for the ammunition and batteries, and all of them have optional covers over them. Tracks are the 40 cm version of the "Magic Track" single-link track and as noted they are handed – left hand side of the header card is Left and right hand side is Right, which makes it easier to sort out when preparing for assembly.

The hull has specific parts with the unique lower hull rear with dual exhausts and the upper rear plate with winch mounts. DML cites "early" and "late" production NOTEK tail lights, but as only three prototypes were built this is probably more like a retrofitted part later in its test life. While optional position hatches are provided, there is no interior in the driver's/radio operator's compartment.

The ground mount is quite busy, with each of the four beams requiring at least six inserts to be added to it including the ground stake mounts. Nicely detailed "spoke" wheels and mounts go at the rear of the hull for the wheel stowage.

The frame rails for the offloading crane are very involved as DML has designed them to operate. If you loved Aurora kits with the "caps" that had to be cemented over every wheel set, then you should be able to enjoy putting this assembly together! Note that the beams for the ground mount either have to mount on the hull or on the ground, so this feature seems odd to have as a "working" one.

The turret uses the gun mount from the StuG III and the breech details but the rest is new, with a new barrel and muzzle brake for this version of the leFH 18. The turret flaps come with separate hinges and may be posed closed or open. A foul-weather canvas frame is provided but no canvas, which is not a bad thing as tarpaulins are difficult to do right in injected molded plastic.

The gun may be assembled in the turret or in the ground mount, and the wheels may be placed on their racks at the rear of the hull or mounted to the sides of the turret. Surprisingly, the one element missing from the kit is the towing lunette which clamps onto the gun barrel. This makes putting the turret on its beam mount with wheels somewhat silly, as it will not sit correctly nor can it be emplaced with the wheels on it. I am surprised DML left this feature out of the kit.

As these were only prototypes one finish –basic sand with generic crosses – is provided along with a small sheet of Cartograf decals.

Research for this kit was provided by Thomas Anderson, Tom Cockle and Gary Edmundson.

Overall it is nice to see a new kit of this popular if oddball German vehicle, and time will tell which kit is more popular with modelers.
---

Sprue Breakdown
A 91x2 IV Smart Kit - wheels and bogies
A 37x2 IV Smart Kit - drive wheels and return rollers
A 31x2 Nashorn/Hummel - drive wheels and hull details
B 27 Heuschreke - fenders, rear and front plates, rails
C 23 Heuschreke - upper hull and interior components
D 80x2 Heuschreke - 10.5 cm components and interior details, trail wheels
E 4 Heuschreke - turret travel/ground base beams
F 16 Stug III Smart Kit - gun barrel and mantelet
G 24 German OVM
H 36 Heuschreke - turret, 10.5 cm gun and mounting
J 11 Clear styrene (flagged as "I" sprue in directions)
K 14 German OVM
L 108 "Magic Track" left side
R 108 "Magic Track" right side
X 1 Heuschreke - hull pan
GA 64 German generic kit - helmets, mess kits, canteens, gas masks
MA 52 Etched brass
MB 1 Etched brass
Thanks to Freddie Leung for the review sample.

---