Home > Reviews > German > Dragon Models Limited 1/35 Scale '39-'45 Series Kit No. 6458; Jagdpanther Sd.Kfz. 173 Ausf. G1 Early Production - Smart Kit
Jagdpanther Sd.Kfz. 173 Ausf. G1 Early Production
Reviewed by Cookie Sewell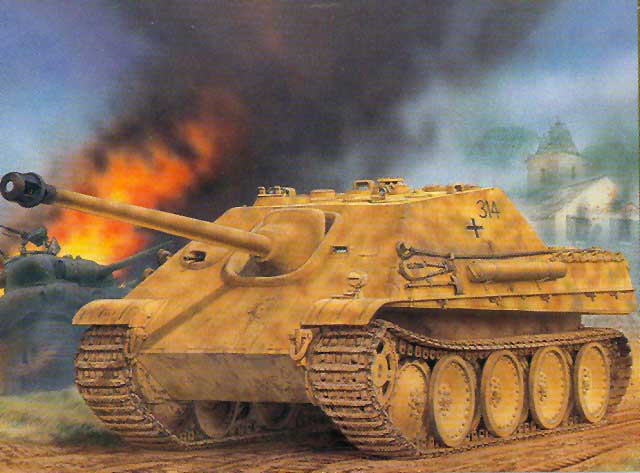 Summary
Stock Number and Description
Dragon Models Limited 1/35 Scale '39-'45 Series Kit No. 6458; Jagdpanther Sd.Kfz. 173 Ausf. G1 Early Production - Smart Kit
Scale:
1/35
Media and Contents:
548 parts in grey styrene, 170 "Magic Track" links, 9 clear styrene, 6 etched brass, 2 twisted steel wires
Price:
estimated price US $42.00 - 45.00
Review Type:
First Look
Advantages:
"Smart Kit" of a very popular vehicle should make many modelers happy; redone parts in many areas something of a surprise
Disadvantages:
No zimmerit on the early production model version does not appear to be correct; some modelers will be disappointed about lack of brass parts
Recommendation:
Highly Recommended for all German armor and Panther fans in particular
FirstLook
When it became apparent to the Germans that the Soviets were able to figure out how to defeat the Tiger and Panther, a solution had to be created to give the advantage back to the German army. Since the Panther, even with its large size, was not able to mount the heavy 8.8 cm L/71 gun in its turret, a simple conversion to use a casemate with a limited traverse weapon solved the problem. The new vehicle, dubbed the "Jagdpanther" to indicate its tank destroyer function, entered production in January 1944 in time to go up against the new Soviet IS-2 and T-34-85 tanks. But only 392 of these heavy tank destroyers were built, as opposed to more than 4,500 IS-2s.

The sleek Jagdpanther has always been a modeler's favorite, and now DML has added a "Smart Kit" version of the vehicle to their line of Panther kits. Following the original "Smart Kit" (No. 6268) by 18 months, the new kit changes out a surprising number of parts from the original Ausf. G kit for the new variant. Some 209 parts have been replaced or added to the original kit basis.

Like previous "Smart Kits" it makes more use of "slide molding" than previous DML kit, and the goal seems to be to permit modelers to get "multimedia" kit finish and part definition with a minimum of actual multimedia parts – here being but six brass parts, mostly grilles for the engine deck, and two steel tow cables (large and small).

The lower hull remains a one-piece "slide mold" part with all of the torsion bars complete and separate parts. Fine details such as "bump stops", "pin knockers" and braces are all separate. As it is deems an "Ausf. G1" early production the kit provides the rubber tired road wheels, the cast mounting collar and the monobloc gun barrel. The model may be built with or without the small return roller wheel on the final drives, and both types are provided in the kit.

The hull rear plate comes with the four-pipe exhaust, but most of the other options from the G kit are now gone.

A totally new engine deck is provided with mostly new radiators, radiator fans, screens, louvers and separate access ports and lids. All grilles replicate full castings and are separate parts as well. No engine or deep interior parts are provided.

The hull side trim is all plastic, but comes with "slide molded" mounts and access holes for pins or attachment in order to permit track links to be hung in a prototypical fashion on their racks. The same goes for the tools and OVM.

The hull comes with a separate roof plate and details, with all hatches save the left from sliding plate as separate parts. The commander's hatch may have the "rabbit ears" periscope installed if the modeler desires, and al of the hatches are positionable as is the close in defense weapon. However, only a very minimalist gun breech for the 8.8 cm gun is provided. Since the rear gun access hatch is also provided separately, it does limit the modeler's options to show this hatch open as there is little to see inside the casemate.

Two finishing options are provided: 3./s.Pz.Jg.Abt. 654, France 1944 (three color patches, black 314), or 2./s.Pz.Jg.Abt. 654, France 1944 (sand overall with no numbers.) A small sheet of Cartograf decals covers these options.

Overall, this should be a popular kit, but surprisingly as this variant seems to have been normally given a complete coating of "zimmerit" paste and DML has been doing some great work with providing this finish it is a bit of a disappointment that they did not do it to this particular version of the Jagdpanther.
Highly Recommended
---

Sprue Breakdown
A 52x2 Engine deck details and fine details
C 60 Hull details and sponsons
E 47x4 Road wheels, torsion bars, individual "wrap" track links, wingnuts
F 3 Mantelets
G 37 Drivers, final drives, steel wheel sets
H 33 Jagdpanther engine deck details and sponson liners
J 8 MG-34 bow gun
K 30 Tools and OVM
L 1 Jagdpanther upper hull
M 27 Jadgpanther casemate roof and exhaust parts
N 42 Jagdpanther rear hull, radiators and hatch details
Q 11 Jagdpanzer 8.8 cm gun components
R 1 twisted steel wire
S 9 clear styrene
T 26 Jagdpanther mantelet and gun barrel
X 1 Lower hull
Y 170 "Magic Track" links
Z 1 twisted steel wire
M 6 Etched brass
TG 3 Close in defense weapon
Thanks to Freddie Leung for the review sample.

---