Home > Reviews > German >

Dragon Models Limited 1/35 Scale '39-'45 Series Kit No. 6465; Sd.Kfz. 184 Elefant Kursk 1943 - Premium Edition
Sd.Kfz. 184 Elefant Kursk 1943 - Premium Edition
Dragon Models Limited '39-'45 Series, 1/35 Scale
Reviewed by Cookie Sewell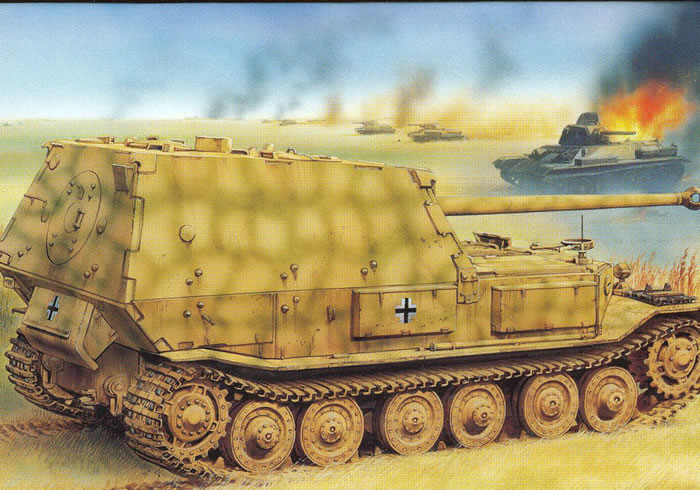 Summary
Stock Number and Description

Dragon Models Limited 1/35 Scale '39-'45 Series Kit No. 6465; Sd.Kfz. 184 Elefant Kursk 1943 - Premium Edition

Scale:

1/35

Media and Contents:

665 parts (250 in grey styrene, 240 "Magic Track" snap-together links, 153 etched brass, 16 clear styrene, 4 white metal shackles, 4 turned aluminum pins, 1 length of twisted steel wire, 2 pre-bent steel wire, 1 turned aluminum barrel, 1 length of copper chain)

Price:
Pre-order price US$49.95 via Dragon USA Online

Review Type:

First Look

Advantages:

Some mold improvements from previous kits

Disadvantages:

If you bought any of the first six releases now you have to make a choice to keep them or get this one

Recommendation:
Highly Recommended for all German and "Tiger" fans


FirstLook
For reasons best known to their marketeers – probably due to the fact that Tamiya has released a new mold kit of this vehicle – Dragon has released its seventh take on the big Porsche tank destroyer. To wit:

6126 Sd.Kfz. 184 Elefant (Late Model) (1999)
6133 Sd.Kfz. 184 "Ferdinand" (Early Version) (2001)
6311 Sd.Kfz. 184 Elefant - Premium Edition (2006)
6317 Sd.Kfz. 184 Ferdinand - Premium Edition (2008)
6436 cyber-hobby.com - Ferdinand Fahrgestelle Nr. 150100 (2007)
6465 Sd.Kfz. 184 Elefant w/Zimmerit (2009)
6495 Sd.Kfz. 184 Ferdinand Kursk 1943 - Premium Edition (2012)

While they have mixed the early (Ferdinand) and late (Elefant) variants in this listing, they are still basically variants of the same vehicle. As noted this is the third "Premium" go at the vehicle which means extra metal parts.

From the earlier versions of this kit, it has a very involved and detailed engine deck, providing the covered gratings via separate external grilles and an inner former with grillework cut into it. This compares well with the photos of the APG Elefant during its assessment for restoration, which appeared in Museum Ordnance Special Number 4: Elefant Panzerjaeger Tiger (P) by Tom Jentz and Jeff McKaughan. The screening on the cooling vent over the rear electric motors (part B9) is still solid, which is odd considering how much etched brass has been added to the kit.

The hull comes in a number of pieces – nine, to be exact: hull with sponsons, rear sides, rear plate and bottom rear of hull, bow plate and glacis, rear backing plate to glacis, glacis with ball mount, engine and forward compartment deck, and casemate. All are nicely detailed and appropriate for the early Ferdinand at Kursk (e.g. no zimmerit). Parts placement is by small raised lines, which some modelers find annoying.

The suspension is totally new, and each one of the six bogies consists of nine parts, which do not move as the Italeri ones did. Installing the tracks once the wheels are in place is cagey though, as the hull comes with the sponsons molded in place which makes access to the top run difficult. DML recommends installing the tracks before the fenders (parts B1 and B2) but most modelers will probably want to try and avoid this for painting and finishing reasons. If you have problems with this sort of thing, perhaps a set of Fruilmodel tracks would be advisable, as they can be "snaked" through in this situation.

This kit provides both styrene and a complete etched brass set of fenders, leaving which one to use up to the modeler.

This kit returns to"Magic Tracks" packed in "left" and "right" bags They are much easier to install after painting than the original kit's tracks.

The kit also includes parts for the 8.8 cm L/71 gun to include a basic mount, recoil cylinders, and guards at the rear of the breech. The gun mount (parts C14 and C15) appears to cement in place, which limits traverse of the weapon once installed, but it would seem from the entirety of the gun mount and its components that it could be left loose to also provide the minimal traverse this big gun had in real life. The mantlet alone comprises five parts, so that the massive bolt heads on the joining plates can be accurately reproduced.

A choice of metal or styrene shackles is provided, as well as this time the kit comes with the two tow cables and metal cable for them. The kit comes with standard DML German tool sets TA (pioneer tools), TB (jacks and fire extinguishers) and TC (tow cable heads).

Technical assistance is credited to Steven Van Beveren, Tom Cockle and Gary Edmundson.

In a change from past kits, two general finishing options are offered: either S.Pz.Jg.Abt. 653 or S.Pz.Jg.Abt. 654. The former uses green blotches over sand, whereas the later uses green stripes over sand. A very nice and complete Cartograf decal sheet lets the modeler choose which vehicle from these two battalions he wishes to model and provides appropriate numbers and markings for them.

Overall DML has done a nice job of keeping this kit current, albeit whether or not a seventh version of the same basic vehicle was needed is debatable.
---
Sprue Layout:
A 39 Ferdinand - upper deck and hatch details
a 3 8.8 cm L/71 muzzle brake
B 30 Elefant - fenders
C 29 Elefant - 8.8 cm gun
E 35x2 Elefant - drivers/idlers and details
F 18x3 Elefant - road wheels
G 1 Lower hull pan
H 1 Casemate
L 120 Magic Track links - left
R 120 Magic Track links - right
S 12 clear styrene
Z 1 length twisted steel wire
MA 120 etched brass
MB 14 Etched brass (fenders and tool bins)
MC 1 Length copper chain
MD 1 one-piece turned aluminum barrel
MD 2 prebent steel wire
MD 4 pins
MD 4 towing shackles
ME 29 Etched Brass
TA 8 German Generic - pioneer tools
TB 11 German Generic - jack and OVM
TC 4 German Generic - cable heads
Thanks to Freddie Leung for the review sample.
---