Home > Reviews > German > Dragon Models Limited 1/35 scale '39-'45 Series Kit No. 6475; Pz.Sfl. IVb, 10.5 cm le.FH. 18/1 Sd.Kfz. 165/1 Ausf. A - Smart Kit
Pz.Sfl. IVb, 10.5 cm le.FH. 18/1 Sd.Kfz. 165/1 Ausf. A - Smart Kit
Reviewed by Cookie Sewell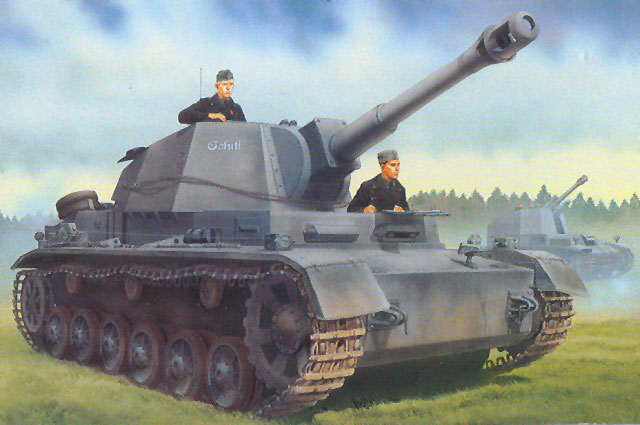 Summary
Stock Number and Description

Dragon Models Limited 1/35 scale '39-'45 Series Kit No. 6475; Pz.Sfl. IVb, 10.5 cm le.FH. 18/1 Sd.Kfz. 165/1 Ausf. A - Smart Kit

Scale:
1/35
Media and Contents:
904 parts (603 parts in grey styrene, 260 "Magic Track" links, 26 etched brass, 14 clear styrene, 1 length of twisted steel wire)
Price:
pre-order price US$41.99 from Dragon Online USA
Review Type:
First Look
Advantages:

Apparently correct size and scale to kit; nicely done features and options built in

Disadvantages:
Tremendous amount of effort for relatively obscure vehicle
Recommendation:
Highly Recommended for all German Panzer IV fans and artillery fans
FirstLook

The Germans appear to have done more experimentation with self-propelled artillery weapons than any other nation in WWII, and a number of their prototypes were produced in sufficient quantities to perform what the Soviets called "troop testing" under fire. This relatively obscure vehicle, appearing like a "sports" model of the larger and better known "Heuschreke" vehicle, was part of a series of 8 vehicle built by Krupp in November 1942. Albeit the prototypes were underpowered, production models would have been more powerful and mobile. Its one limitation was a turret which did not offer all-around traverse. Alas, the military decided they were going to switch to designs like the Heuschreke and abandoned it. But as they badly needed SP guns, a proposal to mount the 105mm howitzer on redundant Pzkw. II chassis was accepted, resulting in the Wespe.

One old addage is that if you are going to bring a dog to a dogfight, ensure that you bring enough dog. Trumpeter recently released a kit of this same vehicle in order to beat DML to the market, but unfortunately mis-estimated the size of the vehicle based on its wheels and as a result put out a kit which was badly underscale (a matter of being about 20mm too short in length, or nearly three feet in real life.) DML did catch that fact, and rough measurements on my part of an unassembled kit show it to be very close to scale.

Considering most companies now cut molds based on shared sprues and improved amortization of costs, this kit uses only a few of the numerous Pzkw. IV family items from DML and instead requires no less than eight new sprues and a new hull – 53% of the parts in the box are new.

Construction follows most of the other DML Pzkw. IV kits, with the exception of replacement of Pzkw. IV components by Pz.Sfl. IV b parts where necessary. The larger wheels need enlarged bogies (included) but most of the remaining parts are from Pzkw. IV stocks. Most of the details reflect its early 1942 design with smoke candles at the rear of the hull and other such details.

The interior is more complete than some of recent vintage, as it comes with numerous shot and propellant lockers and 16 separate projectiles. The projectiles may be stored in racks or left out at the builder's choice. Needless to say the interior is pretty full! However there is no interior for the driver's compartment other than the view blocks.

The hull is completely different from any Pzkw. IV variant and is nicely detailed with the same approach taken with other "smart kits."

While it undoubtedly owes its genesis to other DML kits, the 10.5 cm howitzer is new and dedicated to this kit alone. It uses slide molding technology to hollow mold the gun barrel with only a cap for the muzzle brake. The turret interior is also relatively complete, with radio sets, fire extinguishers, and kit from the generic equipment sprues to fill it up. Note that while the turret is left "loose" it only had a limited traverse so be careful when displaying the model (e.g. no "over the back deck" positioning.)

Technical assistance on this project was provided by Thomas Anderson, Tom Cockle and Gary Edmundson.

Two finishing options are provided, both for Panzerartillerieregiment 16, 16th Panzer Division, Eastern Front 1943: gray finish, either gun "Schill" or gun "Zeithen".

Overall this is an attractive little beast if nothing else and will make a good companion piece to the much larger Heuschreke.

---

Sprue Layout:

A 93x2 Pzkw. IV suspension
A 37x2 Pzkw. IV drive wheels and details
B 27 PZ.Sfl. IV b upper hul and details
C 52 Pzkw. IV OVM and pioneer tools
E 28 Pz.Sfl. IV b fenders and hull details
D 44x2 Pz.Sfl. IV b interior racks and fender details
D 24x2 Pz.Sfl. IV b suspension and wheels
G 79 Pz.Slf. IV b 10.5 cm gun and turret
L 130 "Magic Track" links - left hand
M 14 Clear styrene
R 130 "Magic Track" links - right hand
X 1 Pz.Sfl. IV b lower hull
Z 1 Twisted steel wire
MA 26 Etched brass
GA 64 German generic kit - helmets, canteens, gas mask canisters
GB 12 German generic kit - MP-38/40 ammo pouche/s
RA 9 German generic radios
RB 9 German generic radios
Thanks to Freddie Leung for the review sample.
---