Home > Reviews > German >

Dragon Models Limited 1/35 scale '39-'45 Series Kit No. 6593; StuG III Ausf. G Dec. 1944 Late Production - Smart Kit
StuG III Ausf. G Dec. 1944 Late Production - Smart Kit
Dragon, 1/35 scale
Reviewed by Cookie Sewell


Summary
Stock Number and Description

Dragon Models Limited 1/35 scale '39-'45 Series Kit No. 6593; StuG III Ausf. G Dec. 1944 Late Production - Smart Kit

Scale:

1/35

Media and Contents:
455 parts (411 in grey styrene, 31 etched brass, 10 clear styrene, 2 DS Plastic, 1 length of twisted steel wire)
Price:

pre-order price US$54.95 via Dragon USA Online

Review Type:

First Look

Advantages:
The penultimate StuG III as a kit; ready for easy(er) assembly or suitable for super-detailing; DS Tracks will be popular with modelers who detest single-link tracks
Disadvantages:
Again, some modelers not happy with DS Tracks (you can't win!)
Recommendation:

Highly Recommended for all German fans

FirstLook

Continuing the story of the DML Sturmgeschutz III Ausf. G kits thus far:
6229 cyber-hobby.com - StuG III Ausf. G with Deep Wading Muffler (2008)

6320 StuG III Ausf. G Early Production - Smart Kit (2008)

6365 StuG III Ausf. G Early Production w/Schurtzen - Smart Kit (2009)

6412 cyber-hobby.com - StuG III Ausf. G May 1944 Mid-Late Production - Smart Kit (2010)

6417 StuG III Ausf. G "Georg Bose" DX 07 Special Kit (2007)

6581 StuG III Ausf. G Dec, 1943 Production - Smart Kit (2012)

6607 cyber-hobby.com - StuG III Ausf. G Initial Production - Smart Kit (2010)

6658 cyber-hobby.com - StuG III Ausf. G "Black Knights" Comic Version (2010)

6598 cyber-hobby.com - StuG III Ausf. G Initial Production w/Winterketten - Smart Kit (2011)

6633 StuG III Ausf. G July 1944 Late Production w/Zimmerit
This is the nearly final version of the vehicle with no zimmerit, lat production features like the close-defense weapon and remote control machine gun mount, and the the iconic "Saukopf" (boar's head) mantlet. There are 32 different parts in this kit as opposed to the July 1944 kit with zimmerit (6633 on the above list).

What comes in the box provides a near final production version with "Saukopf" mantelet while retaining all of the features which were popular with the earlier kits.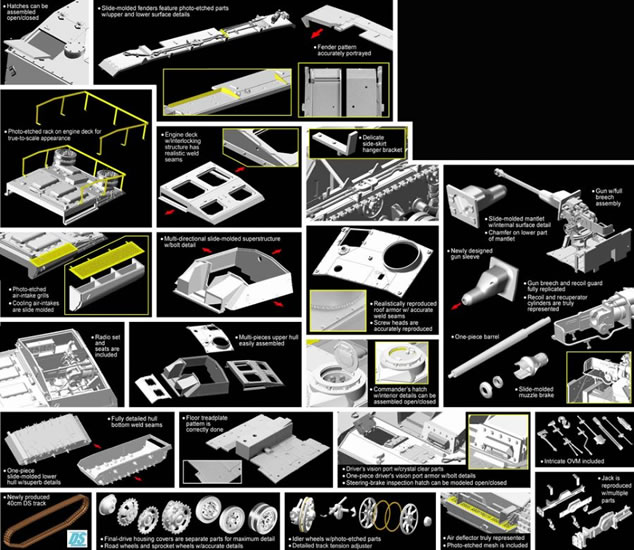 As it uses the "Smart Kit" it retains individual torsion bars and road wheel arms as well as all of the external details on the lower hull such as shocks and bump stops. Each idler wheel consists of five parts with twin brass inserts between the plastic castings. All wheels are detailed to the point of having the rubber tire manufacturer's data readable!

Brass is provided only for those bits where plastic cannot do the job, such as the aforementioned wheel rims and the air intake and exhaust grilles on the engine deck plus some non-slip gridding. All fender details are separate and go on in subassemblies. In point of fact, most of this model consists of subassemblies, which is how it gets its tremendous level of details.

The kit retains a high level of interior parts, including the gun, commander's cupola assembly, floor, and the radios and stowage racks for various bits on each side of the casemate. Likewise the engine deck consists of several subassemblies combined to form the deck. Note that every hatch on this vehicle can be opened for display of the interior, but there is no engine or transmission provided. This kit also now comes with the remote control mount for the machine gun and its reduced size gun shield.
Final assembly again has a number of different modules combined into one final assembly – lower hull, fenders, engine deck, interior, gun barrel, casemate, and tracks. Oddly enough, while the radios and antenna bases are supplied, no comment is made about the antennas for them!

The kit provides a full set of schurtzen racks but no plates for the side armor. It also retains the "luggage rack" at the rear of the hull as provided by a etched brass frame.

This kit comes with 40 cm tracks in DS Plastic but as DML does not note the proper length for them before installation as they do with their 1/72 "Armor Pro" series kits I have no way of telling if they will sag or be too taut. As the tracks in those kits vary by 3-5 mm in length either way, hopefully someone who has used them can give a good number for the proper length of the unfitted tracks.

Technical support was provided by Tom Cockle and Gary Edmundson.

Three different finishing options and a targeted Cartograf decal set are provided: Unidentified Unit, East Prussia 1945(sand with whitewash, no markings); 185th StuG Brigade, East Prussia 1945 (sand overall, black L 0); 185th StuG Brigade, Eastern Front 1945 (tricolor upper hull, sand lower, black crosses).

Overall, this should be the most popular version of this kit as it is the iconic Sturmgeschuetz and the inclusion of the single piece tracks will please many modelers who do not like single link tracks.

---
Sprue Layout:
A 12 Additional components for Late Production
A 54x2 Wheels and torsion bars (6 mini-sprues connected)
A 12 Ausf. G details
B 48 Road wheel arms and lower hull details
C 28 Casemate
D 31 Basic upper hull details
E 34 Interior and radio sets
F 16 Gun barrel and mantelet
F 31 Schurtzen frames, "saukopf" mantlet
G 55 Fender and upper hull details
G 24 OVM and hull details
G 15 OVM and light components
H 1 Lower hull pan
J 10 Clear styrene
L 15 Late production G components, engine deck
L 1 DS Track - left
P 4 StuG IV Late production casemate roof
P 7 Saukopf mantlet, remote control machine gun mount
Q 11x2 Late production final drives, driver face, return rollers
R 1 DS Track - right
TG 3 Close-in Defense Weapon
WC 4 MG34
Z 1 Twisted steel wire
MA 20 Etched brass
MB 11 Etched brass
Thanks to Freddie Leung for the review sample.
---