Home > Reviews > German >

Dragon Models Limited 1/35 scale '39-'45 Series Kit No. 6728; Ardel-Rheinmetall 8.8 cm Pak 43 Waffentraeger - Smart Kit
Ardel-Rheinmetall 8.8 cm Pak 43 Waffentraeger - Smart Kit
Dragon Models Limited '39-'45 Series, 1/35 Scale
Reviewed by Cookie Sewell
Summary
Stock Number and Description

Dragon Models Limited 1/35 scale '39-'45 Series Kit No. 6728; Ardel-
Rheinmetall 8.8 cm Pak 43 Waffentraeger - Smart Kit
Scale:

1/35

Media and Contents:

683 parts (670 in grey styrene, 13 etched brass)

Price:
Pre-order price US$45.95 via Dragon USA Online

Review Type:

First Look

Advantages:

Slick recombination of existing parts (as with the prototype) to create a unique little vehicle

Disadvantages:

Old-fashioned track links will be tedious; "Panzer '46" one off prototype; description and available references do not fully sync up (see text)

Recommendation:
Highly Recommended for very late war and "Panzer '46" What-If fans


FirstLook
Towards the very end of the war the Germans were trying to standardize items to permit large volume production of armored vehicles. To that end they wanted a light, multipurpose carrier capable of either mounting a 10.5 cm leFH 18 howitzer or 8.8 cm Pak 43 antitank gun, with consideration given to dismounting the weapon if needed. Four companies competed: Rheinmetall-Borsig, Krupp, Steyr, and Ardelt. While the Rheinmetall design used most of the components from the Pzkw. 38(t) tank chassis, the Ardelt one used those from the Hetzer. While all were similar they differed in many details. None got past the prototype stage, even though the Ardelt design was declared the winner. This vehicle was modified and underwent successful testing at the Hillersleben test range on 27 April 1945, but by then it was too late.

Many German modelers like the "What If?" or "Panzer '46" design vehicles so they have proved a popular modeling subject. That explains many of the E10, E25, E50, E75 and E100 models now in release. This is another one that would have joined those vehicles had the war gone on and the Germans had the ability to produce it. But somewhere along the line DML appears to have gotten the entries mixed up – Ardelt and Rheinmetall apparently did not combine their efforts. Looking at the old "Encyclopedia of German Tanks..." with Tom Jentz' update shows them as being completely different vehicles. This is a model of what looks to be the Rheinmetall-Borsig entry (Plate 157) and not any of the Ardelt ones (Plates 160-162).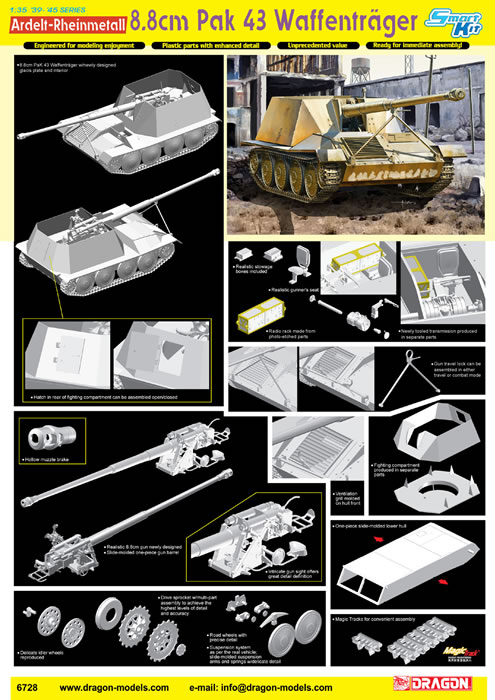 Once past the "Which one is it?" quandary the model uses bits from the DML Pzkw. 38(t), Nashorn, and Hetzer with new parts for the hull and some details. At least half of the parts in the box are not used, and most of those which are consist of the track links. One Nashorn sprue is provided for only five 8.8 cm rounds. The Praga engine is not used nor are most of the interior bits.

What is left builds up with a partial driver's compartment but few details. The two 8.8 cm guns alternate contributed parts but form a complete weapon with mount that attaches to the new turret base; however there is no interior under the turret nor is there anything for the two large hatches at the rear of the hull. The sole optional part on the kit is the etched brass gun shield part MA3; one set of finishing directions shows it not used and one in place.

Technical information was supplied by Tom Cockle and Gary Edmundson; these gentlemen usually get it right, but sometimes DML still does not translate their input to the model at hand.

Two finishing options are provided along with a tiny sheet of Cartograf crosses: Hillersleben 1944 (sand with white on the hull front, no gun shield) and Hillersleben 1945 (sand with white on the hull front with gun shield).

Overall while I am sure it will be popular it is an odd choice and rather esoteric.
---
Sprue Layout:
A 76 Pzkw. 38(t) Ausf. G - suspension
A 10 Waffentraeger- upper hull, fenders
B 16 Waffentrager - mantlet, gun modifications
C 44 Waffentraeger - suspension modifications, internal components
C 64x4 Hetzer – wheels, tracks
D 74 Pzkw. 38(t) Ausf. G - engine, internal components
D 8 Pzkw. 38(t) - drive wheels
D 69 Nashorn - 8.8 cm gun
F 69 Nashorn – ammunition, internal racks
P 37 Jagdpanther G1 - 8.8 cm gun and mount
Y 1 Waffentraeger - lower hull
MA 13 Etched brass
RB 10 German Generic Radio - accessories
Thanks to Freddie Leung for the review sample.
---