Home > Reviews > German >

Dragon Models Limited 1/35 scale '39-'45 Series No. 6730; Tiger I Early Production Pz.Kpfw. VI Ausf. E - Wittmann's Command Tiger - Smart Kit
Tiger I Early Production Pz.Kpfw. VI Ausf. E - Wittmann's Command Tiger - Smart Kit
Dragon, 1/35 scale
Reviewed by Cookie Sewell


Summary
Stock Number and Description

Dragon Models Limited 1/35 scale '39-'45 Series No. 6730; Tiger I Early Production Pz.Kpfw. VI Ausf. E - Wittmann's Command Tiger - Smart Kit

Scale:

1/35

Media and Contents:

805 parts (753 in grey styrene, 27 etched brass, 21 clear styrene, 2 DS Plastic track runs)

Price:

pre-order price US$79.99 via Dragon USA Online

Review Type:

First Look

Advantages:

First Wittmann Tiger I kit to come with a crew (see text); wide variety of parts included for different interpretations if desired

Disadvantages:

While DS Plastic tracks have as many fans as enemies, these are packed unprotected and arrive with crushed guide teeth

Recommendation:
Highly Recommended to all Tiger I fans


FirstLook

Michael Wittman is not everyone's favorite German tanker. He has a big following from many people who are impressed with his records and the fact he was an SS Tiger commander and company commander.

According to Tom Jentz, who found some of his administrative records in the US National Archives, the command views of him were quite different. They looked at him as a reckless "hot dog" tanker who rarely followed orders and was more into seeking personal glory than carrying out missions. But even they noted that for two big reasons he could not really be brought to heel - he was an NDSAP party member and he enjoyed a "rock star" popularity with the German press.

Like him or hate him, Wittmann's name sells books and model kits. This is something like the 15th Tiger I kit from DML and third one based on those used by Wittmann, but the first one to come with a new mold crew set of Wittman's full crew as seen in posing for propaganda photos. Wittmann and his gunner, "Bobby" Woll, are on the right and the remaining three crew men on the left in the box art.

I cannot confirm but initial release information from DML was that only the first run of these kits would include the figure set, and in point of fact they are not on the sprue layout sheet nor are they covered on the directions; a supplemental sheet is included for them. The review sample was happily one of the "with" kits.

What comes in the box is the "premium" grade version of the DML Tiger kits; their recent hybrid Henschel turreted variant (Kit No. 6683) had a hull and road wheel set that copied much of the 1/72 scale kits with "ganged" wheels and molded-in-place torsion bar/road wheel arms. Not so this kit, as it uses a wide variety of parts from generic Tiger kits, Early production kits, and Late production kits. Etched brass is kept to an absolute minimum with only 27 items of which four are the big screens for the radiator grills on the rear of the hull.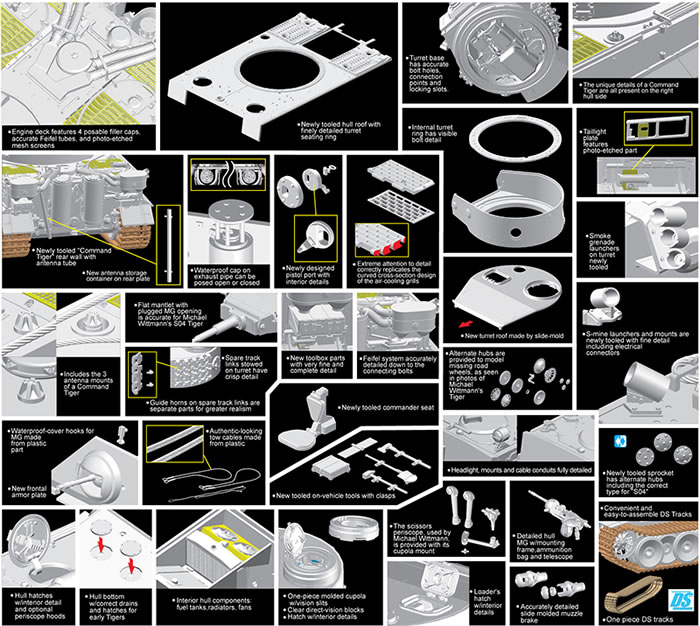 This kit has a large number of add-on fine details as well as things like 20 casting numbers to be carefully removed from the sprue runners. While a good guess is that around 200 parts in the box are probably redundant all of the rest are used.

Case in point: each one of the exhaust pipes consists of ten parts plus the shroud assemblies. It has the "premium" jack of six parts vice two as well as a variety of other details.

This kit goes back to the full road wheel set of 24 per side and all are single wheels, not the simplifed "ganged" wheels of the previous kit.

The kit follows most of the past kits in that the hull is completed and then assembly moves to the turret. The "spring" gizmo is long gone and some bits have been added to detail the inside of the turret a bit better. But care must be taken with the directions as some parts are provided three and four times over on different sprues and the directions are set for just one tank.

The tracks are the DS Plastic type, and while I continue to point out to DML it would not be a bad thing to provide BOTH DS Plastic and "Magic Track" single links in their kits so far that has not happened. But whereas in the past the tracks were packed in a cardboard sleeve to prevent damage to the guide teeth, these were found in the middle of the packing in the box and had a number of teeth folded over or crushed. Folded ones may come back but I am not sure about the crushed ones. Surprisingly the guides for the old "Magic Track" and single link tracks are included.

Twin antenna bases are provided for a command tank but no antennas are provided and the box art only shows a single whip.

Technical advice for this kit was provided by David Byrden, Tom Cockle and Gary Edmundson.

Two different finishing options are provided: s.SS.Pz.Abt. 101, 1st SS Panzer Division LAH, Zhitomir, Ukraine January 1944 (whitewash over tricolor, S 04, black crosses, divisional insignia); s.SS.Pz.Abt. 101, 1st SS Panzer Division LAH, Reggio, Italy September 1943 (tricolor, S 04, black crosses, divisional insignia). A small sheet of Cartograf decals is provided for the model.

Overall this should be a very popular kit, and I suggest those who want one (especially with the figure set) get it soon. These kits are very nasty purchases on eBay with prices easily going well over $200.
---
Sprue Layout:
6730 35 Five figures and uniform items
A 27 Tiger I - gun
B 40 Tiger I - drivers, idlers, exhaust bases, details
C 39 Tiger I Late - fenders, muffle guards, drivers, details
C 39 Tiger (P) - turret roof, cupola, hatches, details
D 14 Tiger I Early – hull roof, engine grilles
D 35 Tiger I Late - mantlet, AA MG ring, details, track forming guides
E 42 Tiger I Early - sides, cables, rear plate, spare track teeth
F 20 Tiger I - turret details
G 32x2 Tiger I Early - road wheels
G 26x2 Tiger I - driver faces, road wheel arms
H 3 Tiger I - turret shell and trim
H 26 Tiger I - turret race, turret roof, turret details
J 38 Tiger I - radiator bays, fans, hull details
L 12 Clear styrene
K 58 Tiger I - smoke grenade launchers, fine details
M 28 Tiger I - Feifel air cleaner canisters,
P 40 Tiger I Late - sides, front plate, cables, mud guards, details
P 28+20 Tiger I - torsion bars, small casting numbers, details
Q 1 Clear styrene
R 15 Tiger I - rear stowage bin
S 8 Clear styrene
T 1 Tiger I - lower hull
V 31 Tiger I - Feifel piping, details
V 29 Tiger I - turret race, upper glacis, details
Y 15 Tiger I - OVM
Y 14 Tiger I - Feifel tubing, air intakes
Z 2 DS Plastic track runs
MA 23 Etched brass
MC 4 Etched brass
Thanks to Freddie Leung for the review sample.
---