Home > Reviews > German > Dragon Models Limited 1/35 Scale '39-'45 Series; Sd.Kfz. 171 Panther G with Steel Road Wheels - Smart Kit (6370)
Sd.Kfz. 171 Panther G with Steel Road Wheels - Smart Kit
by Cookie Sewell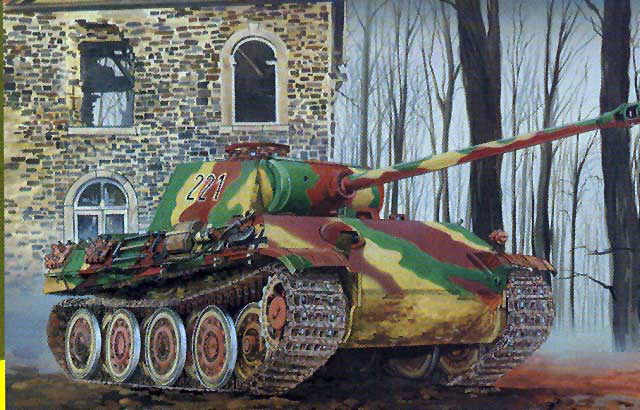 Summary
Stock Number and Description
Dragon Models Limited 1/35 Scale '39-'45 Series Kit No. 6370; Sd.Kfz. 171 Panther G with Steel Road Wheels - Smart Kit
Scale:
1/35
Media and Contents:
605 in grey styrene, 180 "Magic Track" links, 14 clear styrene, 13 steel wire, 8 etched brass, 2 twisted steel wire)
Price:
USD$44.98
Review Type:
First Look
Advantages:
The Panther G "Smart Kit" with some tweaks and a set of steel wheels to boot!
Disadvantages:
Probably not enough etched brass for some modelers
Recommendation:
Highly Recommended for late-war German and Panther fans


Dragon's 1/35 scale Panther G Steel Wheels is available online from Mission Models

FirstLook

Following hot on the heels of their now very popular Panther Ausf. G "Smart Kit" is a new model of the later variant with all steel road wheels. This new kit is a slightly "tweaked" version of that kit but now adds a complete set of the steel road wheels – only two were provided in the first version. Since this one also comes with the complete rubber rimmed wheel set as well, it is actually a better deal than the original!

All of the sprues in this kit are shared with the first one as well as the presence of two new "W" sprues with the steel wheel sets. It still provides the same track arrangement as the Ausf. D and earlier G – eight "wrap around" separate links with separate guide teeth for the drive wheels and the same "Magic Track" links that snap together for assembly. Note that ten more "Magic Track" links are provided for the sets to be hung on the turret as extra protection as well.

My remaining comments pretty much echo that of the first G kit. It makes more use of "slide molding" than any previous DML kit, and the goal seems to be to permit modelers to get "multimedia" kit finish and part definition with a minimum of actual multimedia parts – here being only 8 etched brass parts, all grilles for the engine deck, and two steel tow cables (large and small).

The lower hull is a one-piece "slide mold" part with all of the torsion bars complete and separate parts. Fine details such as "bump stops", "pin knockers" and braces are all separate. The kit provides the aforemention two complete road wheels sets, so the modeler has an option of which ones to use or to mix them judiciously per good references. The model may be built with or without the small return roller wheel on the final drives, and both types are provided in the kit.

The hull rear plate comes with the late production regular exhaust pipes, so the "flame dampers" appear to be gone. Ah, the joy of molding gates!

On the hull top braces, locks and handles are provided for the "flip up" style of crew hatches. The engine deck – or "decks" as there are two with a choice of where to place the lifting lugs – is/are very complete, with radiators, radiator fans, screens, louvers and a large number of separate access ports and lids provided. All grilles replicate full castings and are separate parts as well. No engine or interior are provided with the kit, but the interior is set up for relatively easy installation.

The hull side trim is all plastic, but comes with "slide molded" mounts and access holes for pins or attachment in order to permit track links to be hung in a prototypical fashion on their racks. The same goes for the tools and OVM.

The turret comes with either the early (rounded) or late ("chin") mantelet with a one-piece plastic barrel and a three piece muzzle brake. The gun does have a minimal breech assembly but no other interior parts are provided except for the self-defense weapon (mine thrower) in the turret roof. The commander's cupola comes with clear vision blocks and two interior sections that fit inside the "slide molded" cupola to give it the right thickness.

Four finishing options with Cartograf decals are provided – Pz.Rgt. 1. LAH SS Division, La Glieze, 1944 (tricolor); Pz.Rgt. 2, East Prussia 1945 (no clue – DML left out the color match to the flags!); Pz.Rgt. 24, Eilendorf, Germany 1944 (tricolor); Pz.Rgt. 24, Aachen 1944 (tricolor). Two decal sheets are provided.

Overall, this is even better than the first one given the choice of wheel sets. But as nice as it is unfortunately there are still some who miss the point and will loudly complain about hte lack of etched brass – still have not figured out what "Smart Kit" means.
Highly Recommended.
---
Sprue Layout
A 52x2 Engine deck details and fine details
A 3 Hull and engine hatches
B 55 Turret
C 55 Hull details and sponsons
D 27 Radiators and hull rear details
E 47x4 Road wheels, torsion bars, individual "wrap" track links, wingnuts
F 4 Mantelets
G 37 Drivers, final drives, steel wheel sets
H 1 Commander's cupola
J 8 MG-34 bow gun
K 30 Tools and OVM
L 14 clear styrene
R 1 twisted steel wire
S 1 twisted steel wire
W 46x2 Steel wheel sets and track hangers
X 1 Lower hull
Y 170 "Magic Track" links
Z 1 metal wire
MA 8 Etched brass
MB 11 preformed metal hooks
Thanks to Freddie Leung for the review sample.
---