Home > Reviews > German > Dragon Models Limited 1/35 Scale '39-'45 Series Pz.Kpfw. III Ausf. J 2-in-1 Smart Kit (6
394)
Pz.Kpfw. III Ausf. J
2-in-1 Smart Kit
by Cookie Sewell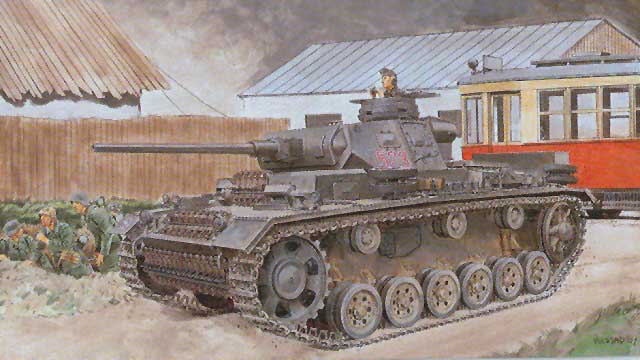 Summary
Stock Number and Description
Dragon Models Limited 1/35 Scale '39-'45 Series Kit No. 6394; Pz.Kpfw. III Ausf. J 2-in-1 Smart Kit
Scale:
1/35
Media and Contents:
747 parts (486 in grey styrene, 216 "Magic Track" links, 26 etched brass, 19 clear styrene)
Price:
price about US $45
Review Type:
First Look
Advantages:
May be built as either an early (KwK L/42) or late (KwK L/60) Pzkw. III Ausf. J; many options to match specific tanks at set points in the production run; "Smart Kit" minimizes the amount of etched brass required
Disadvantages:
Kit does not come with DS tracks, which will disappoint a few modelers
Recommendation:
Highly Recommended for WWII German fans


Dragon's 1/35 scale Sd.Kfz. 234/4 is available online from Mission Models

FirstLook

If you ask noted German armor researcher Tom Jentz which German tank he prefers, he answers immediately with the Panzer III series. The true "workhorse" of the German army, it served in all theaters and in many different forms, always rising to meet the needs pressed upon it and showing a tremendous amount of "stretch" in the chassis. It was only at the very end of the war that it was no longer capable of performing as a counter-armor vehicle and could not effectively deal with late war US and Soviet tanks.

First entering production in 1937 under the aegis of the term "Platoon Leader's Vehicle" the Pzkw. III had progressed through five different version before the war started in September 1939, with the Ausf. E being the latest variant. Armed with a 37mm gun and two machine guns, the Pzkw. III was easily able to cope with Polish armor and resistance. Joined by the Ausf. F it then moved into France in June 1940, but even at this stage of the war only about 600 Pzkw. III had been built. Production did not begin to increase until the Ausf. G model in April 1940, which also added the short-barreled 5 cm KwK L/42 gun to increase firepower.

While the Germans were learning in the desert that the Pzkw. III was a good and reliable tank they also found it did not have sufficient armor protection, and thus began adding applique armor to the tanks with the Ausf. H in October 1940. More than 950 Pzkw. III tanks were in service when the Germans began their invasion of Russian in June 1941, but once again they received very rude shocks to find out that the Soviet 45mm gun could penetrate their tanks, making even obsolete tanks like the T-26 and BT series dangerous opponents: they also found out very quickly that the new and very deadly T-34 and the monstrous KV tanks were invulnerable to their short-barreled 5 cm gun but could easily dispatch the Pzkw. III tanks with their powerful 76mm weapons.

The result was the creation of the Pzkw. III Ausf. J. The first 1,569 were built with the short KwK L/42 gun found on their predecessor, but at Hitler's personal directive (and pleas from the front) the tank was later upgraded with the KwK L/60 gun; 1,067 were produced new. While it boosted their armor penetration capabilities against British tanks in the desert, it was still not a wholly effective weapon against the increasing numbers of T-34 and KV tanks. (A later AP40 shell with tungsten core solved that problem, but it took a while to get it into production. This gun was ballistically identical to the PaK 38 5 cm antitank gun.) The J was also uparmored to 50mm frontal armor protection and also later received spaced armor arrays to provide additional frontal protection. Note that surviving early model Pzkw. III tanks from the Ausf. E onward were also rebuilt with either the KwK L/42 or L/60 guns as available.

The Pzkw. III Ausf. J has often been selected as a favorite for modelers due to its well-balanced shape and the wide number of options that the tank could use over the course of a career. That was one of the reasons behind the choice Tamiya made in 1971 to produce the similar Pzkw. III Ausf. L/M as one of their first new generation 1/35 scale armor kits. When DML picked up the line of Gunze Sangyo kits some 15 years ago, they also used them to create an entire line of late-model Pzkw. III kits under their "Imperial" series (9xxx kits.)

Now they have released a brand-new kit of the flexible little Pzkw. III Ausf. J version, based in large part on their excellent StuG III "Smart Kit" molds. The kit shares five sprues and the "Magic Track" links with the StuG kit and also borrows a few sprues from the Pzkw. IV Ausf. F "Smart Kit" as well (mostly the cupola and clear ones.) The rest – some 196 plastic parts and 26 etched brass ones – are new to this kit.

The hull pan is similar to that from the StuG but has the side hatches and other detail changes. It retains the full torsion bar suspension from the other kit and the detailed suspension components and muffler assembly. As with the StuG all hatches are separate with some interior details and can be positioned as the modeler chooses. All engine deck ventilators are spaced and mounted on separate frames to get the correct appearance and "lift" needed to give an accurate representation of the original.

The kit provides a number of options to include the complete spaced armor array as well as the choice between the L/42 and the L/60 guns, with four different possible combinations; both barrels are "slide molded" with hollow bores and, as with the original, share the same breech and fittings internally. Options also include blackout or clear headlight lenses and the "kugel" mount for the bow machine gun. All viewports and viewers may be positioned open or closed as well.

The kit includes the rudiments of an interior, but unlike many Russian or Ukrainian kits the details they provide are highly accurate as far as they go. This should please the "after market boys" as there is more than enough room for a nice resin interior here and enough ports and hatches to see it.

Some modelers are now learning to love the new DML DS plastic tracks, but this kit was not a beneficiary of that technology so the modeler will have to use the excellent if tedious "Magic Track" links. As the old curse goes, be careful of what you wish for as you may get it! Also the kit only comes with a modicum of etched brass - mostly grilles, brackets and the track guides for the idler wheels. I am sure that "boutique" upgrade kits are on the way for those who believe one can never add enough brass!

The kit provides eight different finishing options: 5/Pz.Regt. 24, 24th Panzer Division, Stalingrad 1942 (gray with L/60); 1/3rd Panzer Grenadier Division, Stalingrad 1942 (whitewash with L/60 and spaced array); 2/Pz.Regt. 18, 18th Panzer Division, Russia 1942 (Panzerbraun with L/42 and spaced array); 23rd Panzer Division, Eastern Front 1942 (gray with L/42); 5/SS Pz. Regt. 1, 1st SS Panzer Division LAH, Kharkov 1943 (whitewash with L/42); 3/Pz. Regt. 7, 10th Panzer Division, Tunisia 1943 (Panzerbraun with L/60 and spaced array); 1/SS Pz. Regt. 5, 5th SS Panzer Division "Wiking", Russian 1943 (gray with L/60); and 3/Pz. Regt. 8, 15th Panzer Division, Tobruk 1942 (Panzerbraun with L/60 and spaced array.) All markings are targeted and from Cartograf.

This is another excellent choice and nearly completes the basic family of German WWII tanks newly molded and offered by DML (only the Pzkw. II is missing), and based on other kits, it is likely more new-mold Pzkw. III and Pzkw. IV kits will be coming as well.

Highly Recommended.

---

Sprue Layout
A 91 Pzkw III J hull details and turret mounting
A 61x2 StuG III Wheels and torsion bars (7 mini-sprues connected)
B 14 Pzkw III J upper hull and fenders
B 46 StuG III Road wheel arms and lower hull details
C 41 Pzkw III J applique armor and details
D 35 Pzkw III J gun and barrels
D 31 StuG III basic upper hull details
E 15 Pzkw III J turret and mantelet details
F 15 Pzkw IV F - turret cupola
G 52 Pzkw IV F - turret and hull details
G 15 StuG III OVM and light components
H 1 Lower hull pan
J 8 Machine guns and muzzles
L 144 Magic Track - Left
15 Pzkw IV F Clear styrene
P 4 Clear styrene
R 144 Magic Track - Right
MA 26 Etched brass

Thanks to Freddie Leung for the review sample.
---