Home > Reviews > German > Dragon Models Limited 1/35 Scale '39-'45 Series; Sd.Kfz. 251/17 Ausf. C (6395)
Sd.Kfz. 251/17 Ausf. C
by Cookie Sewell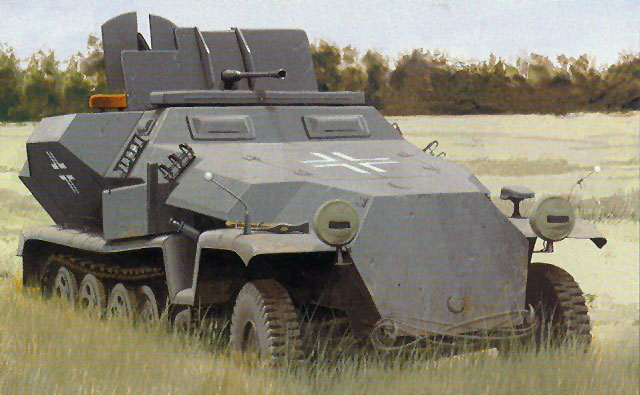 Summary
Stock Number and Description
Dragon Models Limited 1/35 Scale '39-'45 Series Kit No. 6395; Sd.Kfz. 251/17 Ausf. C
Scale:
1/35
Media and Contents:
782 parts in grey styrene, 71 etched brass, 16 clear styrene, 5 DS plastic, 4 paper stickers, 2 turned brass
Price:
USD$44.98
Review Type:
First Look
Advantages:
First kit in styrene of this popular version of the 251 series; combines two great kit series with conversion bits
Disadvantages:
Comes with two-piece single link original track; sides must be fixed in one of several positions
Recommendation:
Highly Recommended for all German armor and "Duck Hunter" fans


Dragon's 1/35 scale Sd.Kfz. 234/4 is available online from Mission Models

FirstLook

The Germans found themselves getting more and more desperate for tactical air defense assets as the war progressed, and as such began to term to armored platforms to keep up with their units. Armored formations began to turn to Pzkw. IV based chassis, but the Panzergrenadiers, in the interests of commonality and simplicity, turned to their trusty Sd.Kfz. 251 series halftracks for suitable platforms.

The Sd.Kfz. 251/17 was one such platform, offering a 2 cm Flak 38 gun inside an armored hull with sufficient clearance and functionality that it could also be used with light armor protection against ground targets. The result was the conversion of existing vehicles into the "Stroke 17" platform and by October 1943 there were conversions of the Ausf. A and B in service. Three different versions of the "Stroke 17" appeared on the Ausf. C chassis, but later more rational thinking took charge when the Ausf. D chassis were converted. Little information is available about the number of conversions that were made, especially with the major rebuilding required for the first three variants.

Due to the fact that this variant is more striking than many other 251 types, it's always been popular with modelers. I recall a beautiful version done by Dave Armstrong back in 1973 out in California, as most of this model had been scratchbuilt. DML has now provided an Ausf. C variant of this kit, using its now tried-and-true 251 modular kit assembly system.

The 251/17 basically uses two kits – the baseline 251/1 Ausf. C kit with some changes in the basic sprues to create a new hull upper and lower section, and the 2 cm Flak 38 mit Sd.An. 51 kit. To this are added 80 new styrene parts and 71 etched brass parts.

I'm not sure if DML is advertising or getting paranoid about some of the sniping it takes on the Internet, but this kit comes with a four-page flyer that describes what is new about the generic moldings and what is specific to the kit. Counting bits on the sprues, I do have to point out that there are subtle changes to them and the number of parts on each one has changed slightly, so it appears DML may have a point about indicating what has been altered.

In specific, however, this kit provides the new base for the Flak 38 in the center of the fighting compartment along with the fold-down sides. These are nicely detailed but do not work; the modeler is provided with several different settings and options to have them closed or cracked open. The braces that hold the sides in specific positions are included, along with the external rifle racks for the crews' personal weapons.

As this is considered to be an "older" chassis, it only provides the original kit's two-piece single link tracks, which are tedious to assemble. Some people do not care for the "Magic Tracks" but they do make this chore much easier!

Three finishing options are provided, all for the "Herman Goering" Division (remember these weapons are served by Luftwaffe flak personnel, not Wehrmacht men.) These are for the flak regiment of the division, 1942 (panzergrau overall); East Prussia 1944 (panzergelb overall); or the 6th Company of the regiment, Tunisia 1943 (panzergelb with green overspray.) A "targeted" set of vehicle decals and generic license plate sheet are provided from Cartograf.

Overall this should be a popular model, and adds to DML's stable of 251 variants.
---

Sprue Layout
A 27 (251-17 C upper hull details)
A 98 (Flak 38 mount and details)
B 39 (251/17-C body)
B 45 (Flak 38 Sd.An. 51)
C 58 (251 series front details and machine guns)
C 6 (Flak 38 elevation braces)
D 42+43 (251generic details )
E 153 x 2 (251 wheels and early tracks)
E 6x2 (251 drive wheels)
E 6x2 (251 road wheels)
F 33x2 (251/17 fold-down sides and details)
F 14 (251/17 body conversion mounts)
J 8 (Flak 38 2 cm gun)
T 9 (251 seats)
W 8x2 (clear)
X 1 (251 belly pan)
WA 4 (MG34 machine gun)
a 5 (251 driver figure DS)
MA 27 (251/17 etched brass)
MB 40 (251/17 etched brass)
MC 2 (251/17 etched brass)
MD 2 (251/17 catch baskets - preformed etched brass)
ME 2 turned brass
a 4 (silver paper)
Thanks to Freddie Leung for the review sample.
---