German WWII Tool and Clamp Sets
Pt. 1
Eduard 1/35 scale
Reviewed by Brett Green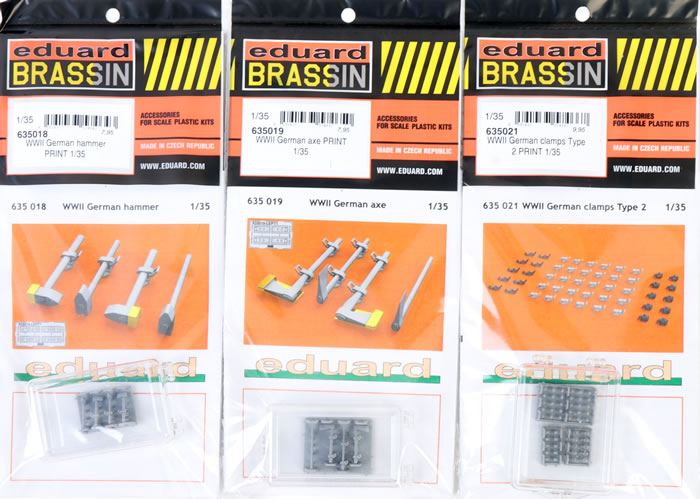 Summary

FirstLook
Eduard's latest accessory offering is the PRINT series. These are 3d printed resin parts, sometimes with additional photo-etched enhancements.
Eduard has now expanded its PRINT series to include military subjects.
This time we will take a look at three recent sets aimed at 1:35 scale German WWII on-vehicle equipment.
Each of the sets is packed inside a clear plastic box. The resin parts are attached to the bottom of the box with double-sided tape to make sure the delicate resin parts do not rattle around and break.
The 3d printing is perfectly done for all sets. Removal and clean-up will be fast and easy.

Instructions are supplied.
---
Item No. 635018 - WWII German Hammer
The first in this selection is a set of four hammers with one flat end and the other end being a block splitter.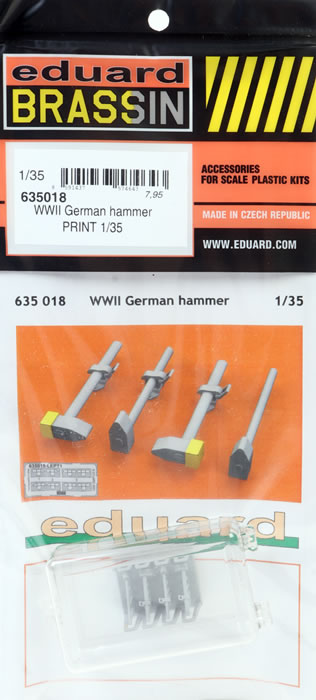 Three of the hammers are depicted in clamps and mounts while the fourth is free from any encumbrances and can be used as a general accessory off the vehicle.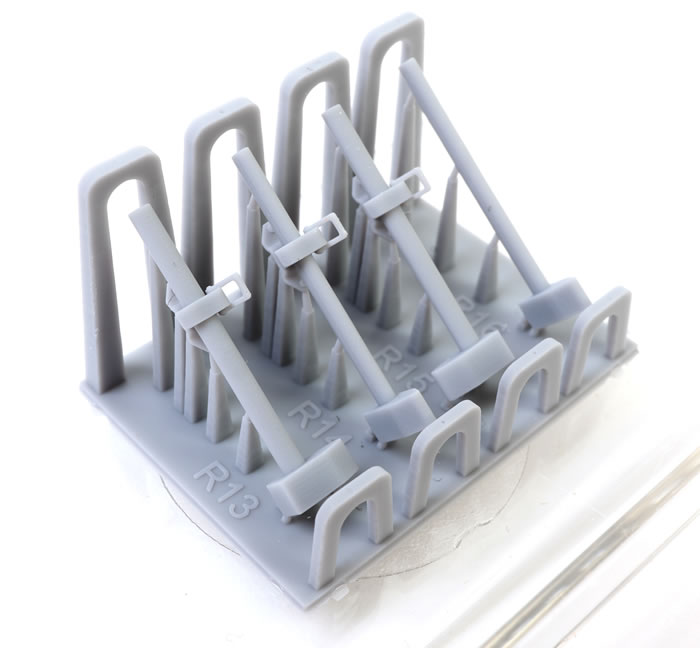 The clamps are printed directly on the hammer handles. Detail looks fantastic.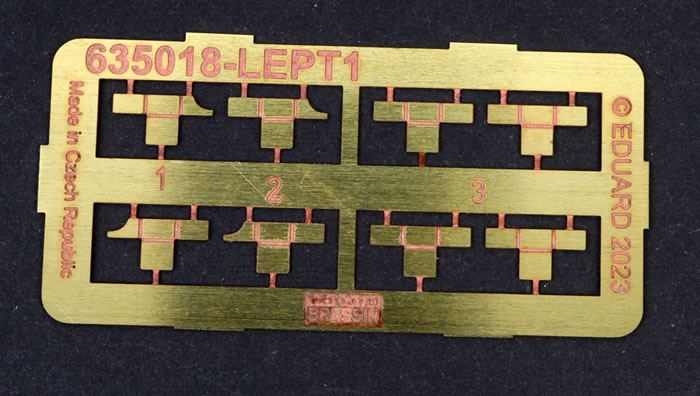 A small photo-etched fret is supplied. This offers two styles of mounts for the hammer head.
Item No. 635019 – WWII German Axe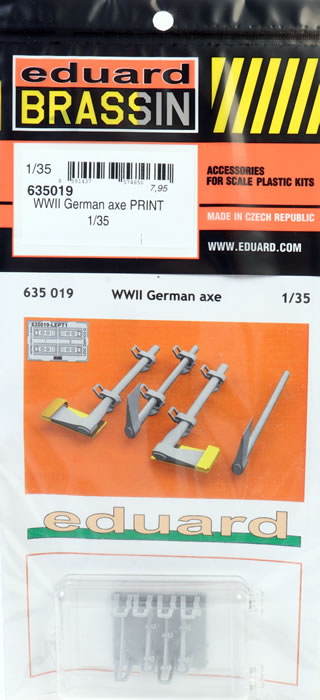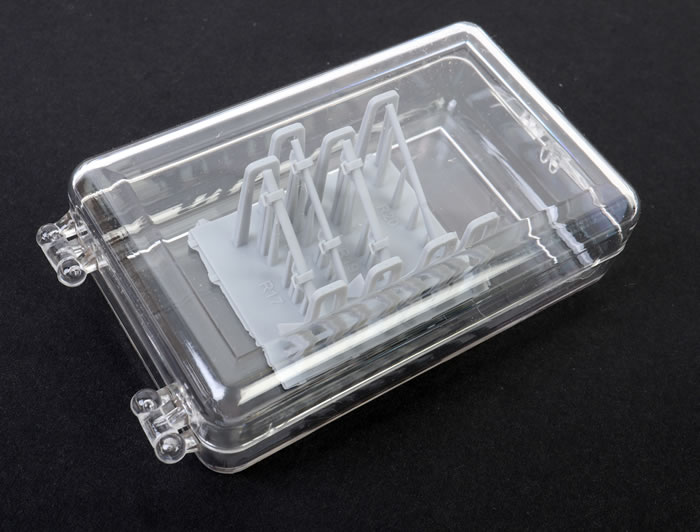 Similar to the hammer, there are four axes in this set – three in clamps for use on vehicles and a fourth free.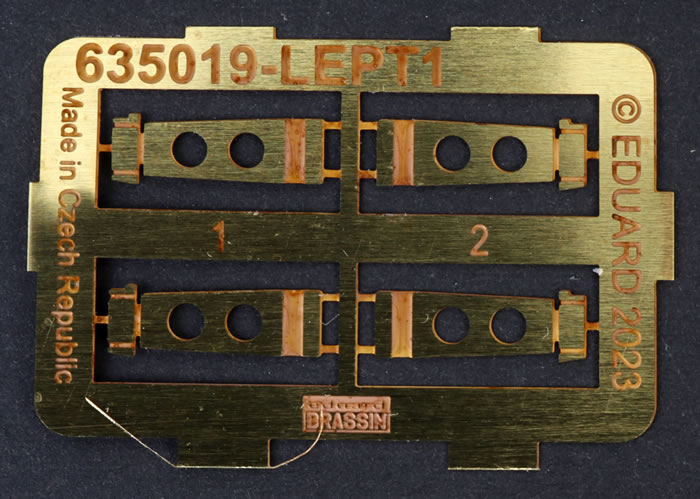 A photo-etched fret delivers four mounts for the axe heads.
Item No. 635021 – WWII German Clamps Type 2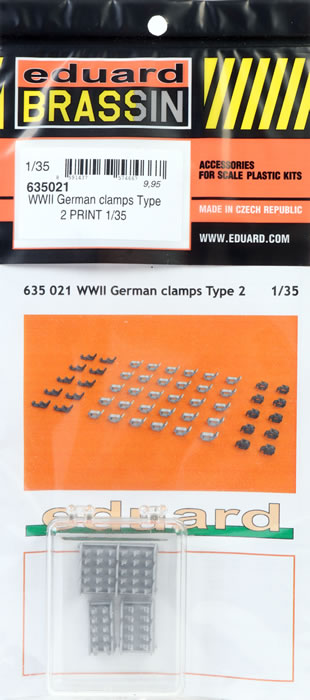 Finally, we have a set of 50 3d printed resin clamps.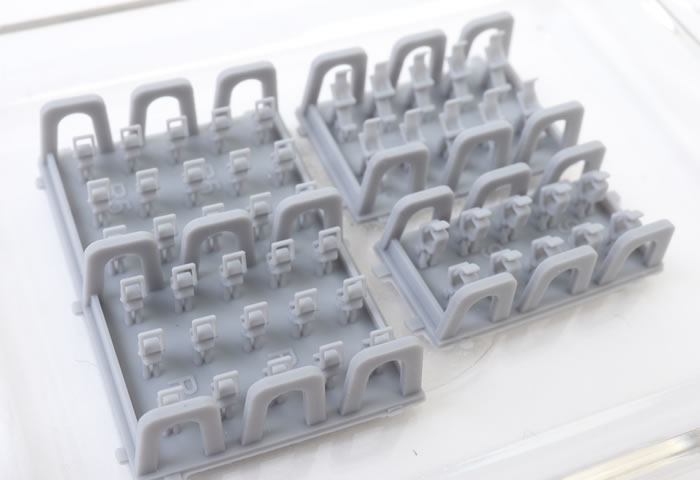 Three different resin parts are offered. Two styles are open and one is closed.
---
C o n c l u s i o n
All of these accessories will be very useful to military vehicle and diorama builders.
Recommended.
Thanks to Eduard for the samples www.eduard.com
Text and Images by Brett Green
Page Created 4 August, 2023
Page Last Updated 4 August, 2023