Jagdpanzer 38 Hetzer Model File
Reviewed by John Prigent

Summary
| | |
| --- | --- |
| Publisher and Title | Jagdpanzer 38 Hetzer, by Vladimir Francev and Miroslav Bily, Model File series, Publications MBI, Kocianova 1588, 155 00 Praha, Czech Republic |
FirstRead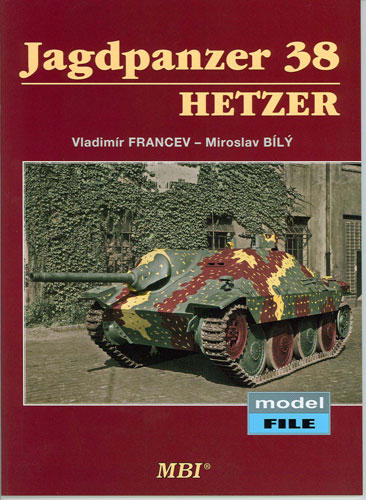 Publications MBI are already well-known for their excellent books about Czech-built armoured vehicles, but this is their first book specifically for modellers. It has dual English/Czech text and captions, and begins with a short historical introduction which sets out the changes introduced during production and also the changes made in the postwar versions built for Czech and Swiss service. These paragraphs repay close study, as some points have never been described before.
After this there are page after page of photographs, in colour, of details of surviving examples of both Hetzers and Swiss G13s. They are backed up by a few wartime monochrome photographs chosen to show specific points that havenít survived on any vehicle. The newly-taken photographs include captions clearly pointing out any postwar features, so thereís no risk of confusion. First is an eight-page walkround of the only remaining Hetzer from the first production batch, showing all the early features as well as details that continued throughout production. Then thereís a single page showing a postwar Czech ST-1, another page showing a G-13 restored to wartime configuration, and a final single page showing another G-13 which has also been restored very closely to the configuration of Hetzers from the second production batch. Then there are 21 pages of detailed exterior shots, showing everything from wheel details (including their inside faces) and the two types of track used to the periscopes and radio aerial base. Next is a 12-page section with external and internal views of the main gun, noting the distinguishing points of the original Pak 39 and the Stuk 40 used in postwar production, details of its carriage, closeups of the gunsight, and even detailed views of the remote-control machine gun mount, its controls and sight, and its MG 34. After this there 9 pages showing the driverís area, fighting compartment, ammunition stowage and radio equipment.
To back up all of this there are two full-page colour cutaway plates showing the fighting and driving compartment arrangements from both sides. Then there are eight pages showing the engine and its compartment, its hatches and the hull underside. The book ends with a five-view colour plate reconstructing one of the factory camouflage finishes and a single view of another unusual colour scheme, plus four-view 1/35 scale plans of Hetzers of the 1st and 3rd-series.
This is an essential reference for any Hetzer model, and especially so for anyone adding an interior or building the Eduard kits with their internal details.
Highly Recommended.
Thanks to Czech Six Publications for the review sample
---
Available from Czech-Six Publications, 17 Goodwyns Place,
Tower Hill, Dorking, Surrey, RH4 2AW, UK (international mail order possible), tel: 01306 889584, markt135-csp@yahoo.co.uk
---