Sd.Kfz. 140 "Gepard" Flakpanzer 38(t)
Reviewed by Cookie Sewell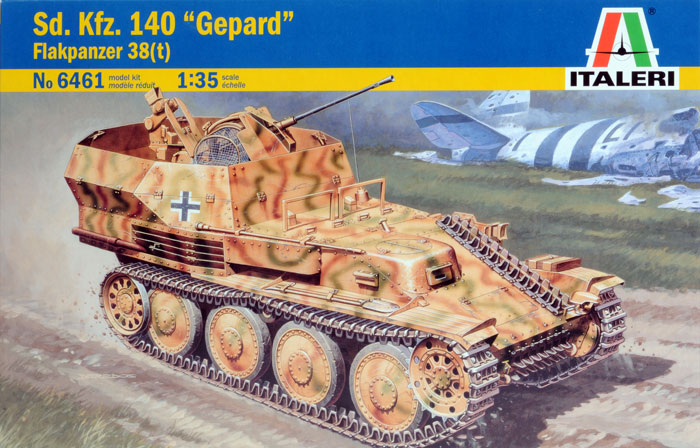 Summary
Stock Number and Description
Italeri 1/35 scale Kit No. 6461; Sd.Kfz. 140 "Gepard" Flakpanzer 38(t)
Scale:
1/35
Media and Contents:
319 parts (317 in tan styrene, 1 length of silver twine, 1 section of nylon mesh)
Price:
estimated price US $60.00
Review Type:
First Look
Advantages:

Simple, easy build of this popular vehicle; only kit with "link and length" tracks

Disadvantages:
Third kit of this vehicle in the last year to appear may be iced out of the market; higher price than competitors will hurt
Recommendation:
Highly Recommendedfor all German and Praga tank fans

FirstLook

When I heard this kit was going to be released I was curious as it was going to the third one in a relatively narrow market, and based on how other companies do things I was afraid that all they would do is the old Tamiya trick of adding one new sprue and upping the price. While there is one small section of the 30+ year old Praga kit from Italeri in the box (sprue A) only a handful of parts are used from it, and this kit boasts a totally new suspension with details on both sides of all parts. The Italeri kit also is the only one of the three (DML and Tristar being the others) to come with "link and length" tracks and not individual link tracks. Again, however, Italeri also calls this the "Gepard" (Cheetah) which so far I have had no luck in confirming anywhere.

As kits become more and more complex there seems to be a subtle backlash against some of the overly technical kits (a Tiger I kit can now come with as many as 1,300 parts) and as such modelers seem to want to find projects they can complete. (I have the same problem, generally referred to as AMS for "Advanced Modeler's Syndrome" and now seek out simpler things myself!) This kit is the answer to that sort of approach and will satisfy the modeler who will accept a slightly lesser amount of detail for getting the project done in a reasonable amount of time. The model car fans have what they call "slammers" – simple car kits without any interior bits other than the passenger compartment that they can get together in a weekend. This isn't one of those (!) but it looks to be an easy build.

The model has a new mold hull and partial interior which covers the parts most modelers are likely to detail and show. This includes a basic transmission, drive shaft, seat and controls in the driver's compartment and some basic interior firewalls. Care will be needed in installing the exhaust pipe (part 39D) as it has to be snaked through the side of the hull to fit in the interior bulkhead behind the vents (part 36D).
The suspension is new and from what I recall of the other two kits much easier – a bogie assembly consists of five parts: spring, road wheel arms, and two road wheels. The road wheels are detailed on both sides and come with a tire in place. Oddly enough Italeri shows the drivers being secured by assembling them and installing the drivers with a small ring in the back (part 4B) which is then sealed with a hot screwdriver.

There are a number of holes on the underside of the main hull roof (part 33D) which must be opened up before installation and which are shown in step 6. Step 7 shows the installation of the "link and length" track; there are a few small ejection pin marks on the long lengths but nothing really objectionable or visible and I suspect most people will simply ignore them. With small pitch/small width tracks like this, this is a much easier proposition for installation, and having done the Tristar tracks I wish they had used this option as well.

The fenders on this kit go on in step 8 and go in flat. This appears to be correct for "as built" but as most modelers have figured out the fenders for these vehicles were quite flimsy and bent easily. There is no detail on the bottom of the fenders, so they will actually be easier to bend that the stiffened ones in the other kits so this may be an advantage.

Most of the details that go in in step 10 are a bit thicker than the competing kits but look reasonable enough so that they will suit the modeler's purpose.

In step 13 two gas mask canisters (parts 45D) are installed but these look wimpy; if you have some from a DML "Gen2" figure set I suggest you use them.

Steps 16 and 17 cover the installation of the folding armor plates around the casemate. Ergo plan ahead as to which one you want and use the appropriate step.

The gun is assembled in steps 19-21. Sharp-eyed modelers will note that this gun is identical with that provided in kits 371 (Demag D7 with 2 cm Flak) and 380 (Maultier with 2 cm Flak.) This dates from 1999 and apparently is not related to the older ESCI 2 cm Flak which Italeri purchased from ESCI when they went under. As such it is a nice little weapon and simpler than the ones in the other kits, but comes with similar details. Instead of an etched brass "catcher" cage for the 2 cm casings this kit comes with a nylon mesh section that must be cut and fitted into place on the brackets (parts 11A, 14C, 12A). Apparently the kit went "final" before somebody got the size of the patterns, as while the patterns are provided life-size the dimensions are listed as question marks. Well, I've seen worse flubs in directions lately!

There are four finishing options provided: 26th Panzer Division, Italy 1944 (tricolor stripe); 29th Panzergrenadier Division, Italy 1944 (green splotches over sand); 90th Panzergrenadier Division, northern Italy 1944 (sand overall); and Unknown Unit, 1944 (white 13, tricolor stripe). A small sheet of targeted decals is provided.

Overall this would be a great kit if it was offered at about $40 or so. When I found out the high price, I queried MRC and they glumly noted the prices here are pegged to the Euro (which is trading at $1.58 to 1 Euro as of yesterday.) This is unfortunate as it is the most expensive of the three. But on the other hand, this is a kit more modelers are likely to assemble and enjoy than the other two, which take a totally serious approach to modeling and a commitment of more time.

Thanks to Bob Lewen of MRC for the review sample.

Cookie Sewell

Sprue layout:

A 40 Pzkw. 38(t) engine deck and details
B 48x2 Pzkw. 38(t) suspension and tracks
C 53 Sd.Kfz. 140 rear section and details
D 66 Sd.Kfz. 140 front section and hull parts
E 62 2 cm gun and ammunition (371/380)
– 1 silver twine
– 1 nylon mesh

---