Sd. Kfz.173 Jagpanther Ausf. G2
Meng, 1/35 scale
Reviewed by Andrew Judson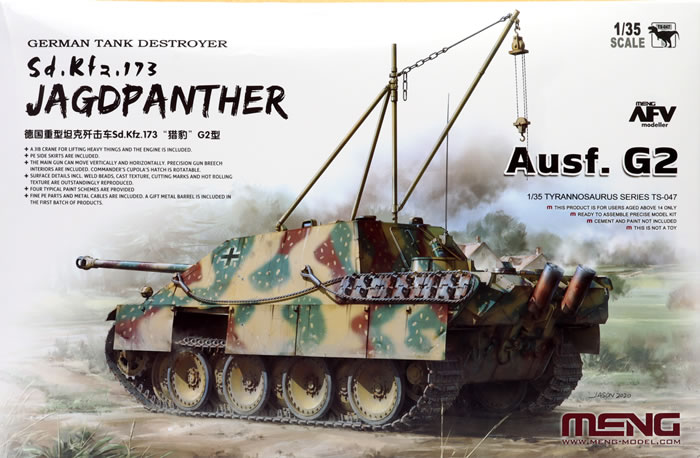 Summary
Stock Number and Description

Meng Kit No. TS-047 - Sd. Kfz.173 Jagpanther Ausf. G2

Scale:
1/35
Media and Contents:

1,079 sand colored plastic parts are included over 10 sprues, together with a 3 photo-etched parts over two frets and one small sized decal sheet together a length of chain and two strands of wire.

Price:
TBA
Review Type:
First Look
Advantages:

Innovative approach; lovely rolled armour plate and cast texture; many options and spare parts; high level of detail; simpler track attachments.

Disadvantages:
Recommendation:

This is a welcome kit to the Meng range and will be a popular one. I like that the build is not overly complicated, while retaining a good level of detail.

F i r s t L o o k
The Sd.Kfz. 173 Jagdpanther was a highly-successful tank destroyer built by Germany during World War II based on the chassis of the Panther tank.
It entered service in 1944 during the later stages of the war on the Eastern and Western Fronts.
The Jagdpanther combined the 8.8 cm Pak 43 cannon, similar to the main gun of the Tiger II, and the armour and suspension of the Panther chassis.
A total of 415 Jagdpanthers were produced from January 1944 by three manufacturers: MIAG in Braunschweig produced two-hundred seventy from January 1944 until the end of the war, Maschinenfabrik Niedersachsen-Hannover (MNH) produced one-hundred twelve from November 1944, Maschinenbau und Bahnbedarf (MBA) in Potsdam produced thirty-seven vehicles from December 1944. Planned production was between a hundred and two-hundred a month, but the disruption to German manufacturing made this goal unachievable.
Jagdpanther equipped heavy antitank battalions and served mainly on the Eastern Front. In the West, they were encountered in very small numbers late in the Battle of Normandy; the German 654 schwere Panzerjäger-Abteilung deployed about twelve Jagdpanthers against the British armed forces. Later, significant numbers were concentrated in the West for the Ardennes Offensive.
During the last stages of the war, limited German production resulted in small production numbers, shortage of spare parts, and shortened crew training periods of younger operators.
The last 'production' Jagdpanthers were produced at the factory by German staff just after the end of World War II under the supervision of the Royal Electrical and Mechanical Engineers (REME). Nine Panthers and a dozen Jagdpanthers were produced then shipped to England for evaluation. A complete Panther and a complete Jagdpanther produced this way are displayed at the Bovington Tank Museum, Dorset, with brass plates on them explaining their history.
Meng has really been very active of late, and here we have another new kit to have a look at, being the G2 Jagdpanther.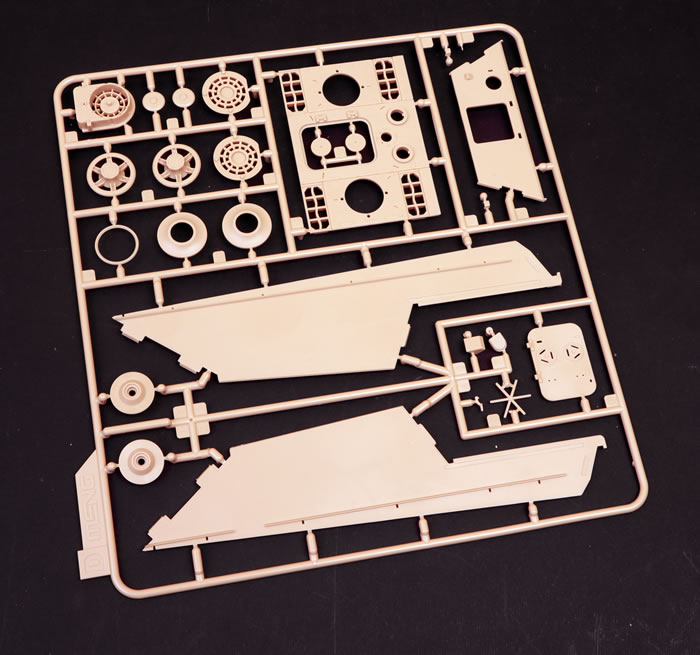 I won't go into the history or stats of this vehicle as I am quite sure as modellers, all are pretty familiar with this beast.
The boxing is the usual Meng type with very impressive box art, on both the cover and the sides, including a paint guide from AK Interactive and a mention of what is now known as Meng AFV Modeller magazine.
Looking inside the box, you will find 11 plastic sprue in a tan colour, two etch sheets, on brass the other stainless steel, poly caps, a small decal sheet, a length go cable, a length of chain and a 25 page instruction booklet. Total of parts, 1079, taking into account 640 are track parts. Main link and then separate guide horn, gaarrrrrrr!!!!
Going through the instructions, the build looks to be quite straight forward, starting with the assembly of the lower hull and drive line. make sure to read everything as the suspension can be built as workable or fixed, a nice option.
With the lower done , it then goes onto the upper structure, taking care to ensure all is aligned, otherwise you will have issues further on as you go.
Some nice touches are the hatches with inner detail allowing one to have them open, and the sighting and ventilation unit.
Next is putting the gun breech together, which has a nice level of detail to be seen if hatch left open. All of this is then placed in the mantlet, and the barrel glued in place. It's nice that the barrel is slide moulded, so no sanding of horrible seam lines.
With all of this done, one can pretty much call the kit complete, though there is also the option of a crane and lifting assembly, if one desires to add. A nice extra touch.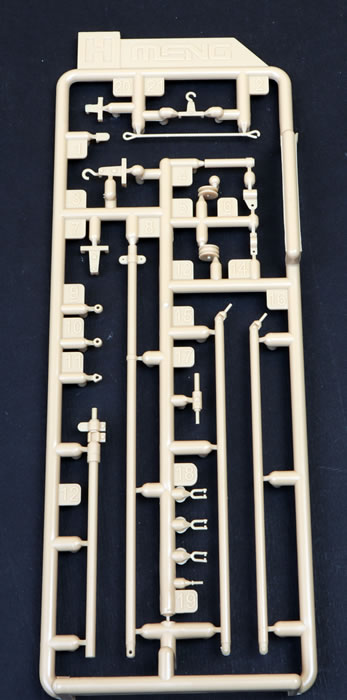 Once complete, and its painting time, there are three options to go with. One of these is with the crane , the other two without.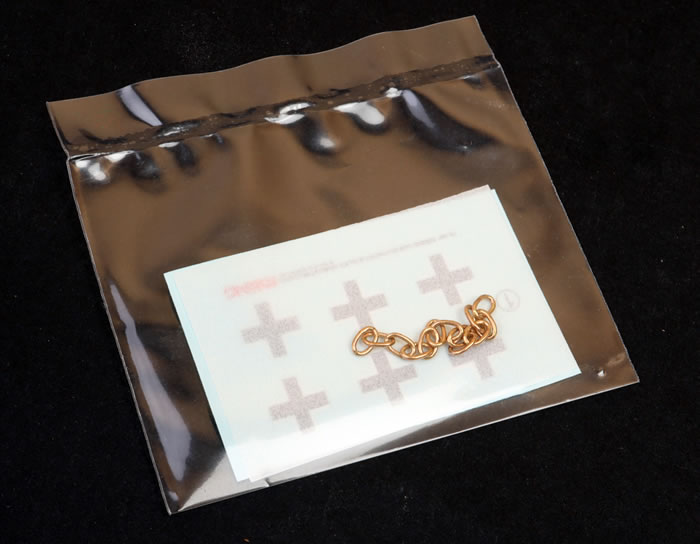 With the crane is in an ambush scheme, the other two in different variants of tri colour.All look to be very nice.
---
C o n c l u s i o n
In summary, I would say this is a welcome kit to the Meng range and will be a popular one. I like that the build is not overly complicated, while retaining a good level of detail.
Thanks to Meng for the sample

Text by Andrew Judson
Images by Brett Green
Page Created 29 July, 2018
Page Last Updated 9 August, 2020