FirstRead

The Tiger I has been always been a favourite amongst armour enthusiasts.

Its powerful 88mm gun and thick armour made it a formidable weapon both on the Western and Eastern Fronts. With over 1300 vehicles completed from July 1942 to August 1944, the Tiger went through many changes. Naturally with such a long life span, there were many modifications and improvements done, all of which have fascinated the aficionado.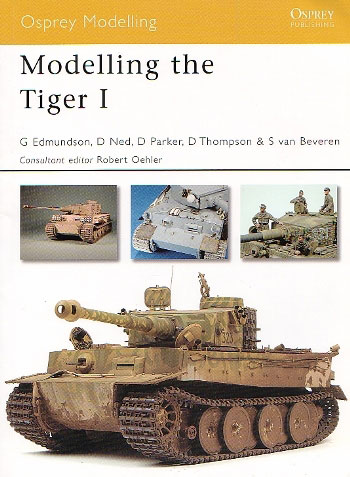 In the last few years, kits of the Tiger I have set new standards. To take advantage of the recent flood, Osprey has released this title which shows the reader how to get the most out of their cherished subjects.

Five authors are behind this publication with each contributing a chapter or two on their chosen vehicle. This allows an interesting comparison between the ideas, styles and techniques of the various contributors.

Six different vehicles are showcased, all representing diverse stages of the Tiger I's development. Each of the 1:35 scale variants are centered on the Dragon kits with Tamiya contributing the 1:16 scale behemoth.

The earliest vehicle to be modeled is Tiger I "121" from s.Pz.Abt.501 and this starts off chapter 1. Steve van Beveren takes us through his treatment of the Cyber-Hobby kit and the author does well to explain his convincing weathering technique.

The Tigers of s.SS.Pz.Abt.101 are always popular subjects and Mark Edmundson tackles "321" in the next installment. Two kits are combined to produce this mid-production example and special emphasis is placed on how Gary produces his zimmerit finish.

Zimmerit is also featured in two more examples, a late-production Tiger from s.Pz.Abt.507 built by Dinesh Ned and "F05" from Darren Thompson. The latter is an early Tiger with refitted "late" features and served with Gruppe Fehrmann during April 1945.

For those not inclined to try their hand at applying an anti-magnetic coating, Mark returns with Wittmann's "1331" from 13./SS-Panzer Regiment I at Kursk, 1943.

In the final installment, David Parker tackles Tamiya's 1:16 scale monster. Armed with the "Aber Exclusive Edition Upgrade", he goes about transforming this kit into a fine replica of "323" from Pz.Abt.502 in Russia, 1943.

All of the featured models are extensively detailed with various after market items and skillful scratch building. The variety of authors allows the reader to view a number of different styles and techniques, each arriving at a pleasing and impressive model.

There are close to 230 colour photographs contained with the 80 pages. All are of a very high quality and relate well to the ideas expressed in the text.

Rounding out the publication is a small section that provides information on the various kits and references that would be useful to the budding Tiger fan.
---

Conclusion
The reader will be quick to note that all of the 1:35 scale builds have used the Dragon product as a basis. This is not a problem as the detailing and modeling techniques can be applied to any of the other brands on the market.

It's not a publication that spells out all the differences between each months manufacturing batch and it's not supposed to be. Other books on the market adequately cover that aspect of the vehicles development.

This manuscript is to give the modeller an insight into what can be achieved when talented modelers get together and share their ideas. In this it succeeds admirably.

After reading it, you feel as if nothing in the modeling world is impossible to do. As such it will prove to be an inspirational book to all lovers of the Tiger I.

Recommended
Thanks to Osprey Publishing for the review sample

Text and Images by Rob Baumgartner
Page Created 28 October, 2007
Page Last Updated 28 October, 2007