Nuts & Bolts Vol.29
Raupenschlepper Ost RSO
Reviewed by Luke Pitt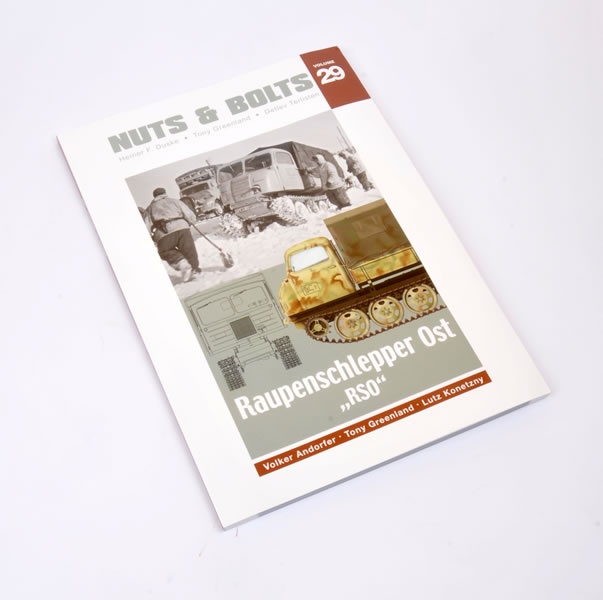 Summary
Title and Publisher:
Nuts & Bolts Volume 29 - Raupenschlepper Ost RSO
ISBN:
Not quoted
Media and Contents:
Soft cover, A4 format, 176 pages
Price:
Euro 27.50 available online from Nuts & Bolts' website
Review Type:
FirstRead
Advantages:
An excellent publication that strikes the right balance between historical fact, photo coverage and high quality colour profiles.
Disadvantages:
Recommendation:
Highly Recommended
FirstRead
This German publisher really needs no introduction. What they offer is a one stop reference source for the student historian and modeller.
This new reference book from them has some 176 pages. prepared, with the aid restored examples It offers a rare example of a complete history of the vehicle and all the details that go along with it.

The book is logically broken down into a number of segmented parts. The first 83 pages are devoted to the development and history of the vehicle in German service. Within this section selected subsections discuss the development and technical description, followed by the differences between the prototype and production vehicles. A very useful chart describes these changes and modifications and is aimed at the modeller. The next subsection covers all the units that operated this vehicle. This first section is lavishly illustrated with a little over 170 black and white war time photos.
The next 16 pages are devoted to what in essence, are very well drawn 35th scale plans of all the known versions of the vehicle, John Rue has really captured the essence of the vehicle in these drawings. Sixteen colour profile drawings follow over the next 8 pages and are wonderfully executed and presented. Then follows, 61 pages of walk around photos from the various restored examples. Almost the entire vehicle is covered from the interior and engine through to a detailed study of the running gear. The last 18 pages are devoted to a number of model builds and are of a very high standard.

In my opinion, this is the best references source I have come across for this particular vehicle. It strikes the right balance between historical fact, photo coverage and high quality colour profiles. This is a great publication and comes highly recommended. Some may be put off by the price of this book, but really, if you want one reference source for this vehicle, then this is the one to purchase no question about it.


Highly Recommended.
---
Nuts and Bolts publications are available online from their website.
Text by Luke Pitt
Page Created 30 September, 2007
Page Last Updated 30 September, 2007