Home > Reviews > German > Nuts & Bolts Vol. 32 - mittlere geluandegangige Lastkraftwagen (o) – The Medium Cross Country Lorries 3 ton (6x4) of the Reichwehr and Wehrmacht by Heiner Duske, Detlev Telisten and Tony Greenland
Nuts & Bolts Vol. 32
mittlere geluandegangige Lastkraftwagen (o) – The Medium Cross Country Lorries 3 ton (6x4) of the Reichwehr and Wehrmacht
by Heiner Duske, Detlev Telisten and Tony Greenland
Reviewed by Luke Pitt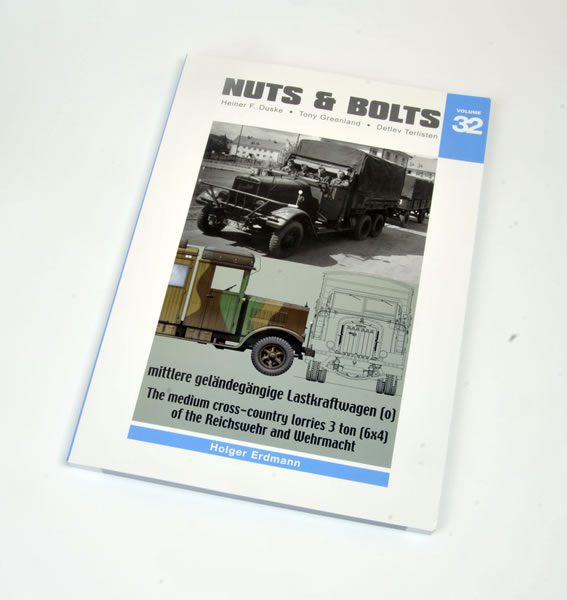 Summary
Title and Publisher:
Nuts & Bolts Vol. 32 - mittlere geluandegangige Lastkraftwagen (o) – The Medium Cross Country Lorries 3 ton (6x4) of the Reichwehr and Wehrmacht by Heiner Duske, Detlev Telisten and Tony Greenland
ISBN:
Not quoted
Media and Contents:
Soft cover, A4 format, 224 pages
Price:
Euro 28.90 available online from Nuts & Bolts' website
Review Type:
FirstRead
Advantages:
An excellent publication that strikes the right balance between historical fact, photo coverage and high quality colour profiles.
Disadvantages:
Recommendation:
Highly Recommended
FirstRead


This title looks like a regular Nuts & Bolts reference book, but it marks a milestone. It is, in fact, the very first Nuts & Bolts title that focuses exclusively on wheeled trucks.
The trucks in question are commercial lorries in service during the 1930s with the Reichwehr and later with the Wehrmacht. Although these vehicles were never designed for the torturous trials of war, many laboured on until 1945 or, more likely, until their own destruction beforehand.
This title is presented in the usual useful Nuts & Bolts format with bilingual German and English text, glossy high quality paper and 224 pages plus covers.
A historical and technical development section is followed by special bodies, camouflage and markings and modelling.
Bussing-NAG, Henschel and Krupp 6x4 trucks are covered in detail with hundreds of wartime photos, walk around pictures, plans and colour profiles.
The concluding Modelling section contains several inspiring builds covered in text and coloured photos.
This is another excellent production by Nuts & Bolts, and it is great to see them expanding their analysis into the realm of wheeled vehicles.
Highly Recommended
Thanks to Nuts & Bolts for the sample http://www.nuts-bolts.de
---
Nuts and Bolts publications are available online from their website.
Text & Images by Brett Green
Page Created 8 February, 2015
Page Last Updated 8 February, 2015