Home > Reviews > German > Nuts & Bolts Vol. 34 - Sd.Kfz.7 8 ton Zugkraftwagen Krauss-Maffei and Variants by Dr Nicolas Hettler
Nuts & Bolts Vol. 34
Nuts & Bolts Vol. 34 - Sd.Kfz.7 8 ton Zugkraftwagen Krauss-Maffei and Variants by Dr Nicolas Hettler
Reviewed by Luke Pitt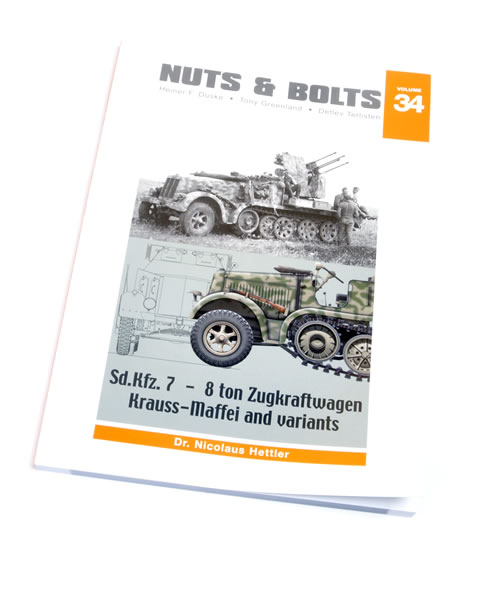 Summary
Title and Publisher:
Nuts & Bolts Vol. 34
Sd.Kfz.7 8 ton Zugkraftwagen Krauss-Maffei and Variants
by Dr Nicolas Hettler
ISBN:
Not quoted
Media and Contents:
Soft cover, A4 format, 185 pages
Price:
Euro 29.90 available online from Nuts & Bolts' website
Review Type:
FirstRead
Advantages:
An excellent publication that strikes the right balance between historical fact, photo coverage and high quality colour profiles.
Disadvantages:
Recommendation:
Highly Recommended

FirstRead
The German 8 ton half track has been a perennial favourite amongst modellers for as long as I can remember. I think this is in part the result of its many variations and the availability of it in kit form. There is no denying the appeal of the type; the armoured cab version for example looks purposeful. This new reference work has some 185 pages prepared with the aid of restored examples and backed up by impeccable research and period photos.
This reference work is logically broken down into segmented parts. The first 89 pages are devoted to the development and history of the weapon's use. Selected subsections discuss the development and technical description of the many variations of the vehicle itself. A very useful chart describes how all the units operating this vehicle - be it artillery, anti tank or flak - were set up in the field together with their accompanying support vehicles. Toward the end of this section a complete list of available kits is supplied. The book is jammed packed with little details like this and shows a great attention to detail.
This first section is lavishly illustrated with a little over 188 black and white period photos. The great thing about these is that they all in one place and not scattered over several sections of the books.
The next 29 pages are devoted to a selection of very well drawn 1:35 scale plans of all the common versions of this vehicle. John Rue has again captured the essence of the vehicle in these drawings.
Twenty colour profile drawings follow over the next 10 pages and are wonderfully executed and presented. What I like about these profiles is that within the profile itself is a small black photo is included on which the profile is based. I believe this should be the industry standard.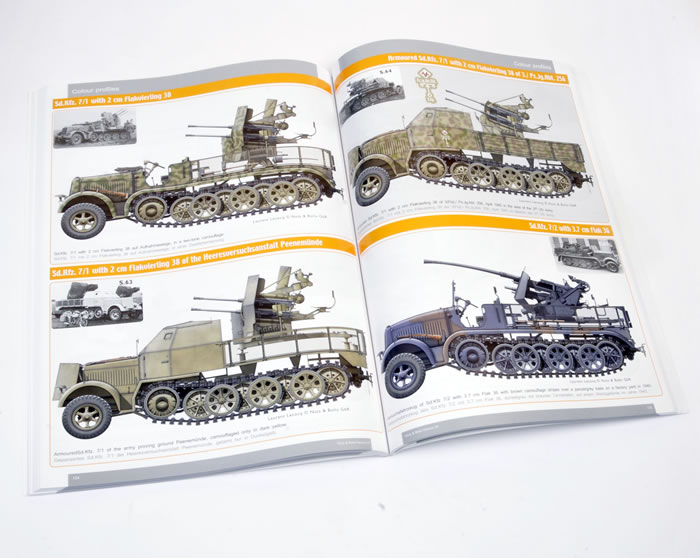 The next section is 37 pages of walk around photos from various restored examples. Almost the entire vehicle is covered from the interior and engine through to a detailed study of the running gear.
The last eight pages are devoted to a number of model builds and these are generally to a high standard.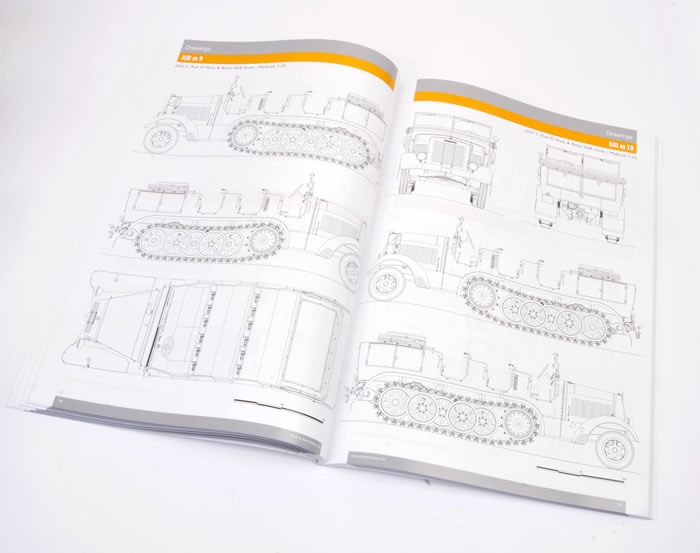 In my opinion, this is the best reference source I have come across for the Sd.Kfz. 7. It strikes the right balance between historical fact, photo coverage and high quality colour profiles. For me, it is all I would ever need, reference-wise. It includes information that was both easy to digest and presented in a logical manner. It is almost as if this was three traditional books in one. Modelling reference doesn't come much better than this.
Thanks to Nuts & Bolts for the sample
Nuts and Bolts publications are available online from their website.
Text by Luke Pitt
Page Created 14 June, 2015
Page Last Updated 14 June, 2015