Home > Reviews > German > Nuts & Bolts Vol. 40 -Bussing's schwere Pz.Spähwagen Part 3: schw. Pz.Spähwagen (Sd.Kfz. 234) 8-Rad Tp. and variants
Nuts & Bolts Vol. 40
Bussing's schwere Pz.Spähwagen Part 3: schw. Pz.Spähwagen (Sd.Kfz. 234) 8-Rad Tp. and variants
Reviewed by John Prigent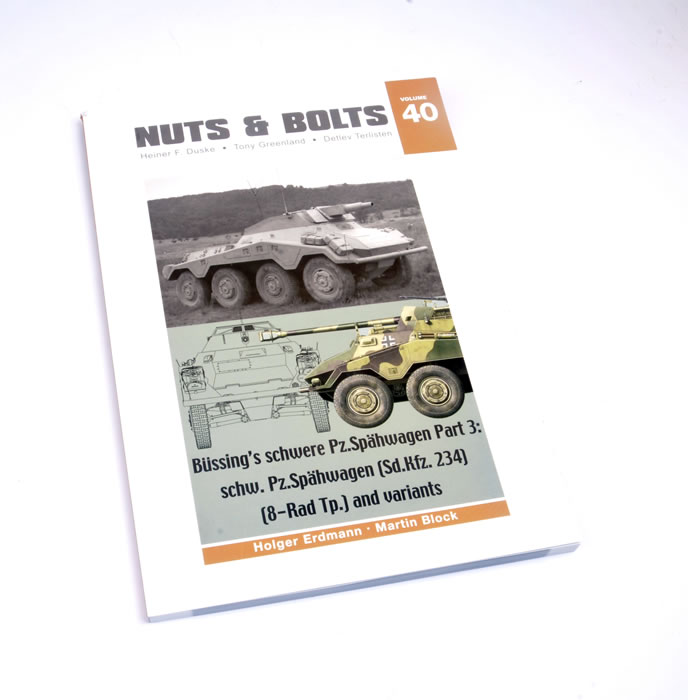 Summary
Title and Publisher:

Nuts and Bolts Volume 40
Bussing's schwere Pz.Spähwagen Part 3: schw. Pz.Spähwagen (Sd.Kfz. 234) 8-Rad Tp. and variants
by Holger Erdmann and Martin Block

ISBN:
Not quoted
Media and Contents:
Soft cover; German and English text
Price:
Euro 29.90 available online from Nuts & Bolts' website
Review Type:
FirstRead
Advantages:
An excellent publication that strikes the right balance between historical fact, photo coverage and high quality colour profiles.
Disadvantages:
Recommendation:
Highly Recommended

FirstRead
This is the one that Puma fans have been waiting for, and they won't feel let down – not will those interested in the other versions of Germany's last 8–wheeled armoured car.
As always, the book is bilingual English/German and everything is translated, though those who know both languages will notice differences and oddities here are there. It begins with a history of its development and descriptions of the variants – the Sd.Kfz. 234/2 that we know as Puma, with its 5cm gun, the 234/1 with a 2 cm and an MG in an open-topped turret that was actually the second version into production, the 234/3 with a short 7.5 cm, and the 234/4 with its 7.5 cm anti-tank gun – almost as popular a modelling subject as the Puma. There's a full technical description of the common chassis and engine, and of the basic armoured body, followed by great details of the different turrets and gun mounts and the changes made to carry them. After those come descriptions of the radio outfits used and the tool stowage changes.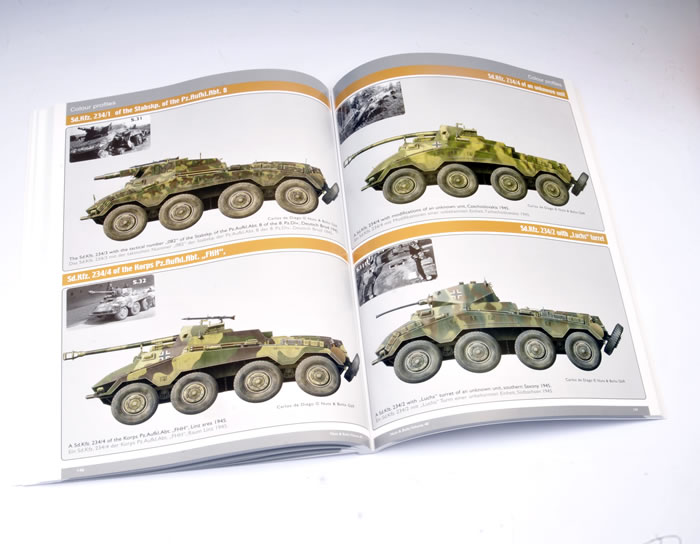 Production charts, unit Tables of Organisation, and allocations to units are accompanied by potted histories of use by all the Werhmacht and SS units that received any variant. Next are notes about camouflage and markings, and there are sections about trial active-service use by a special unit and subsequent experience reports from user units plus an Allied report on the test of a captured 234.3 plus a brief note about Czech use of captured 234s after the war. The final text section describes model builds by Tony Greenland and Vinnie Branigan and gives a comprehensive list of 1:35 scale kits and aftermarket sets, plus acknowledgements and a very good list of references.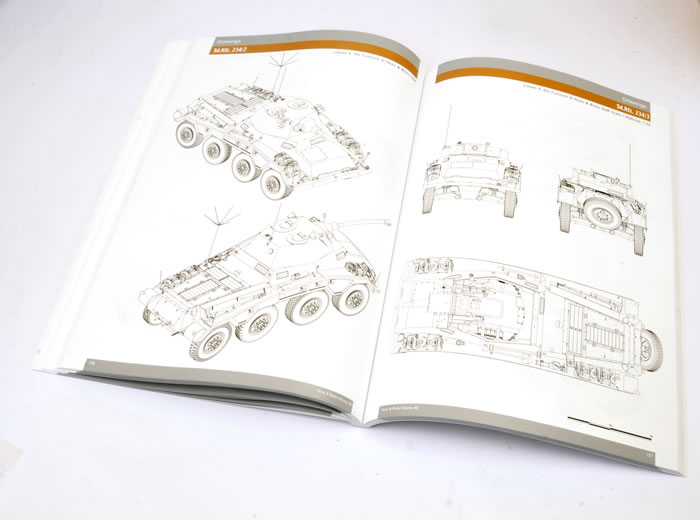 And all this only gets the reader to page 57, there's plenty more to come! There are period photos scattered among the text pages, but the main collections of WWII photos start on page 58 with some of the prototypes and test vehicles. Yes, I did say 'collections' in the plural because the historic photos are shown in separate sections for each type, and chronologically within each section. Most pages have at least two good-size images, and extracts from service manuals are included to cover the areas that soldiers didn't photograph such as turret interiors. The 234/1 section runs up to page 71, and the Puma one gets 22. Next are the 234/3 with10 pages, and the 234/4 with 7 – fewer because fewer of those were built. A final page has photos of two unit conversions that would make interesting models for scratch builders.
Now we come to the plans section. 27 pages of 1:35 plans and isometric drawings of all versions including trials vehicles, prototypes, and early and late production changes – plus those unit conversions and two proposed variants that were never built. The plans reappear in colour plate form to show known camouflage schemes and markings, all based on photos in the book with their page number noted by each except for a reconstruction of the 'factory scheme' of the 234/4 which is based on multiple photos.
The section of modern photos shows details of the three lone survivors of the 234 series, a 234/3 at Bovington and two 234/4s at Fort Benning and Munster, but also the 234/1 used the same turret as the Sd.Kfz.250/9 so that has been covered with photos of the example at the Kubinka museum. The engine is shown by 8 photos of one at Munster, and radios and individual parts are included from other collections, so this is a quite comprehensive 46- page coverage despite the lack of a surviving 234/2. Finally, there are 14 photos of models by Tony Greenland and Vinnie Branigan to show what can be built from various kits.
Thanks to Nuts & Bolts for the sample
Nuts and Bolts publications are available online from their website.