Home > Reviews > German > Nuts & Bolts Vol. 42 - Einheitsdiesel l.gl.Lkw., off.mit Einheitsfahrgestel full l,Lkw The standard 6 x6 cross –country lorry of the Wehrmacht by Holger Erdman
Nuts & Bolts Vol. 42
Einheitsdiesel l.gl.Lkw., off.mit Einheitsfahrgestel full l,Lkw
The standard 6 x6 cross –country lorry of the Wehrmacht
Reviewed by Luke Pitt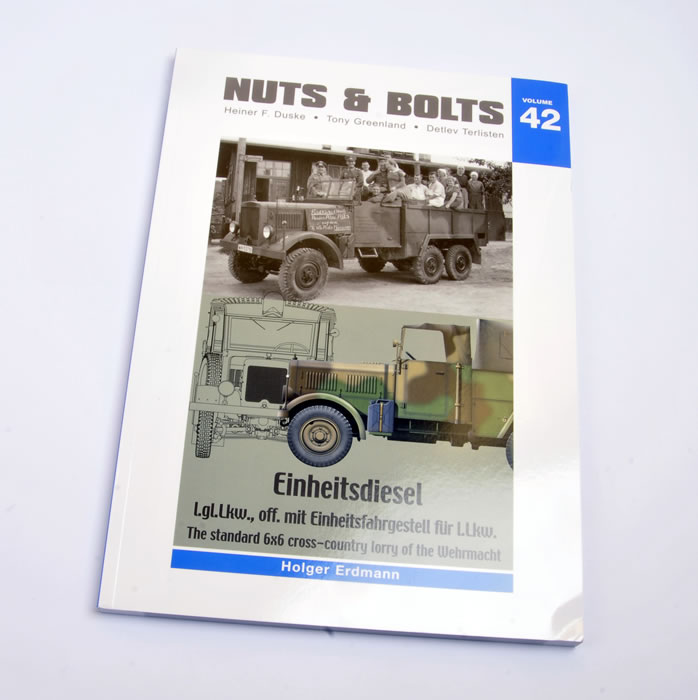 Summary
Title and Publisher:

Nuts and Bolts Volume 42
Einheitsdiesel l.gl.Lkw., off.mit Einheitsfahrgestel full l,Lkw
The standard 6 x6 cross –country lorry of the Wehrmacht
by Holger ErdmanVolume

ISBN:
Not quoted
Media and Contents:
Soft cover; German and English text; 209 pages; 243 black and white photos; 132 colour walk around photos; camouflage schemes; model section and more.
Price:
Euro 29.90 available online from Nuts & Bolts' website
Review Type:
FirstRead
Advantages:
An excellent publication that strikes the right balance between historical fact, photo coverage and high quality colour profiles.
Disadvantages:
Recommendation:
Highly Recommended

FirstRead
The Nuts and Bolts hardly needs an introduction. What they offer is a one-stop reference source for the particular vehicle they cover.
I like the convenience of these books. For me, it is is so much easier to just grab them, open to the section I want and, basically getting on with it.
In reality, these books are like five traditional books in one - a development history, wartime photos, line drawings and colour profiles and a comprehensive walk around.
This new reference work has some 209 pages and is logically broken down into segmented parts. The first 43 pages are devoted to the development and technical specification of this truck in German service. Within this section, selected subsections discuss the development and technical description in detail. I was surprised to learn how long this truck remained in service and the large number of variations based on the same chassis.
The book is jammed packed with details like all these variations and how they were used in the field.
The next section is lavishly illustrated with a little over 243 black and white wartime photos. The clarity and captions on these photos are noteworthy as they cover an infinite number of additions and modifications adopted in the field.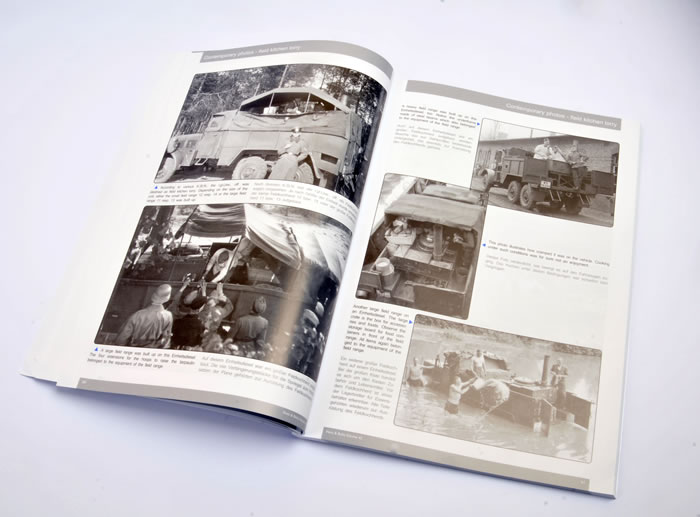 The next 27 pages are devoted to 1:35 scale plans of all the known versions.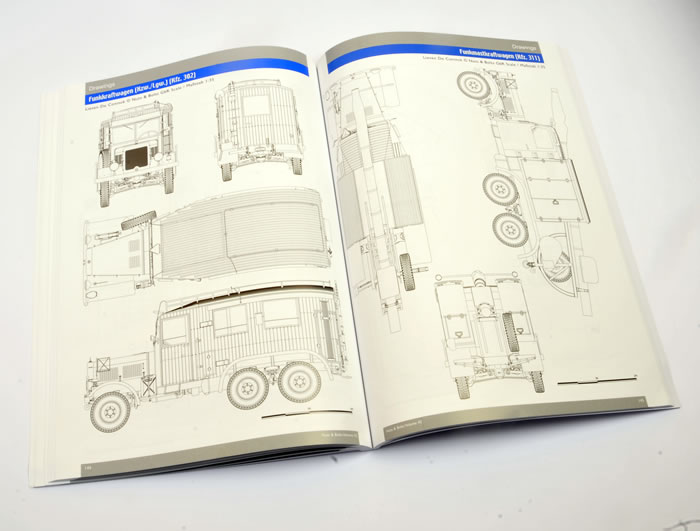 The illustrations and three-dimensional drawings by Lieuen De Coninck are wonderfully done. Sixteen colour profile drawings follow, over the next eight pages and are wonderfully executed and presented. What I like about these profiles is that within the profile itself, a small black and white photo is inserted to which the artist has given his interpretation. This, I believe should be the industry standard.
The next 39 pages comprise 132 colour walk around photos of restored examples. The entire vehicle is covered from the interior; engine through to a detailed study of how all the various hatches opened.
The final 13 pages are devoted to three model builds by Tony Greenland and Vinnie Branigan. This is complemented inside the front cover by a build of an old vacform kit by David Nickels.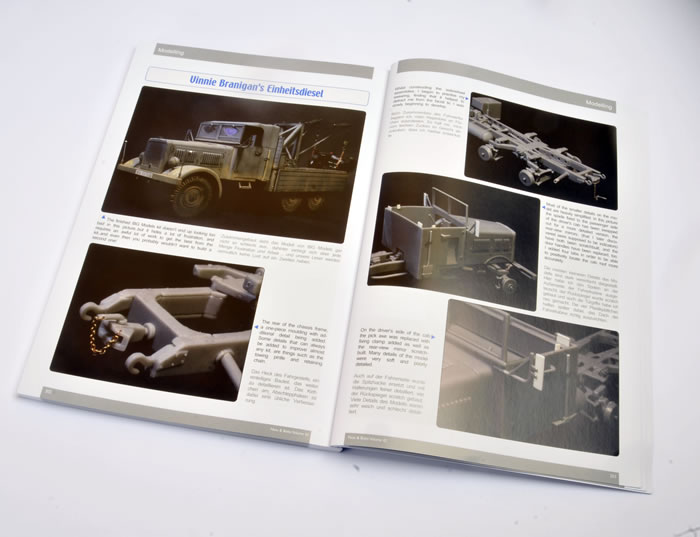 In summary, if you plan to build this particular vehicle then you really can't go past this new title. It has everything you could possible need reference-wise, with lashings of inspiration as well.
Thanks to Nuts & Bolts for the sample
Nuts and Bolts publications are available online from their website.