Home > Reviews > German > Nuts & Bolts Vol. 44 - 15CM S.i.g.33 AUF Fgst. Pz.Kpfw. II, Pz.Kpfw III and Sturminfanteriegeschutz 33
Nuts & Bolts Vol. 44
15CM S.i.g.33 AUF Fgst. Pz.Kpfw. II, Pz.Kpfw III and Sturminfanteriegeschutz 33
Reviewed by Andrew Deeley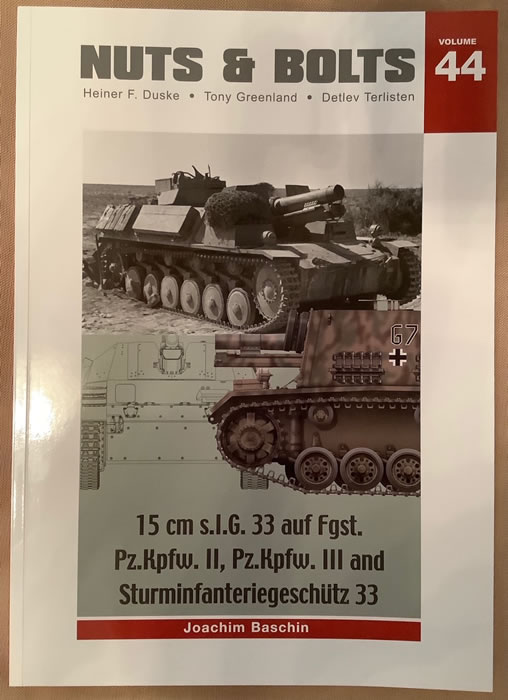 Summary
Title and Publisher:

Nuts and Bolts Volume 44
15CM S.i.g.33 AUF Fgst. Pz.Kpfw. II, Pz.Kpfw III and Sturminfanteriegeschutz 33
by Dr Nicolaus Hettler

ISBN:
Not quoted
Media and Contents:
A4 Soft back, 200 pages. Dual English/ German text
Price:
around £30.00 GDP / €32.90 / $44.95
https://www.bookworldws.co.uk/
https://www.nuts-bolts.de/
Review Type:
FirstRead
Advantages:
Excellent coverage of these vehicles in one volume.
Disadvantages:
Modelling section weaker than past volumes
Recommendation:
Highly Recommended

FirstLook
This is the 44th volume in the Nuts & Bolts series covering rarer subjects as per the 'mouth full' of a title.
The book follows the successful format introduced and used since volume 19, namely the development of the weapon, its deployment and unit history, camouflage, and markings with supporting text and photographs. Scale plans to 1:35, artist colour illustrations and a short modelling section complete the book.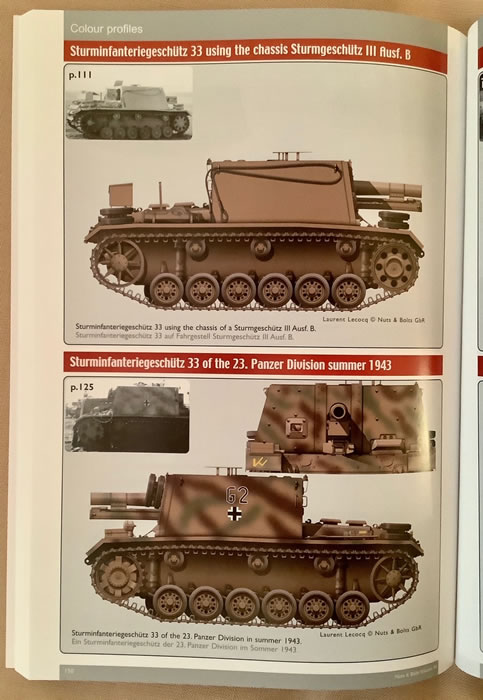 One huge advantage of this book is the publishers have collected a large number - if not most of the known photos of the AFV subjects into one volume. Generally the photos are arranged two per page resulting in decent size for viewing with the reproduction quality of these just adding to its excellence.
Rather than break the review down book by chapters as I normally do, I have broken it down into subject as I believe this will give a better overview of the contents.
1. s.I.G.33 gun
A six-page concise history of this weapon is given and 24 period photos of the gun in service along with 3 photos from museums. Scale plans by John L. Rue are provided. \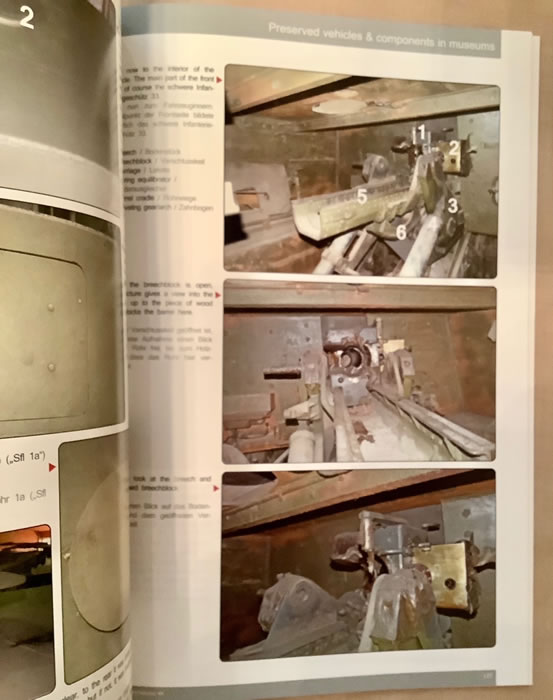 Important to note that although the s.I.G. 33 has been covered previously by N&B the photos, after a briefly cross checking, all appear to be new and not merely duplications from the earlier vol 19 and 26.
2. s.I.G. 33 B (Sfl)
For such a rare subject the authors have managed to cover this vehicle with text and 95 period photographs and spread over 53 pages. The writing gives details of the operational deployment and use of this AFV using maps and official documents as support.
All photos are from WW2, except for two being of the vehicle captured by the Israelis in 1948 from the Egyptians.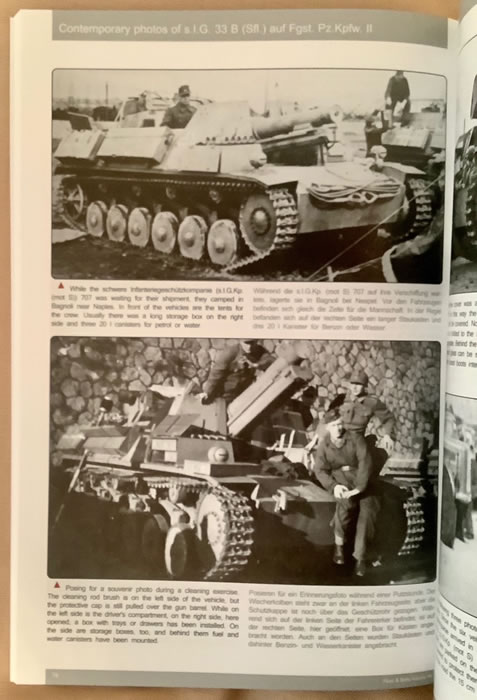 Generally, photos are arranged two per page resulting in decent size for viewing. Five of the photos are of the single Pz III modified in Africa to mount the s.I.G 33 gun off the PzII.
Five view plans to 1:35 scale of the Pz II and three view (front, left and right side) drawings of the African Pz III along with three quarters drawing are spread over 6 pages.
Colour side views for five Pz II chassis and one Pz III chassis vehicles round off the material.
3. Sturminfanteriegeschutz 33
A total of 45 pages of text and 52 WW2 photos are devoted to the Stu.I.G. 33. A comprehensive history of deployment and use is given, as before, sections from official documents and strength reports are included.
Most of the WW2 photos have been seen before which is not surprising for an AFV of which only 24 were built. However, these are printed to the customary standard and to my knowledge have not been brought together prior to this book, which is a major plus.
The walkaround chapter provides 39 colour photos of the sole surviving sample in Kubinka. Photographs of the standard Pz III are numerous, so the authors have sensibly kept the vast majority of images to features specific to the Stu.I.G 33, covering both inside and outside with the interior ones being particularly useful. Layout and flow are reasonable but could be improved by having the photos layout pan in a strict clockwise or anticlockwise orientation. This would avoid flicking between pages on certain areas such as the gun mount.
Plans to 1:35 scale are provided. These comprise six view drawings and four three quarter views general arrangements for both the Stu.I.G 33 Ausf B and Ausf E by Lieven De Coninck.
Artists side view illustrations for five vehicles in colour are included. One nice touch by N&B is printing a thumb nail photo (of a larger one in the book) used as reference by the artist with the side view. I wish all books followed this idea.
4. Modelling
This is spread over two different areas for a total of 5 pages text and 10 of colour photos of models by Roland Greth. As these are mainly painted and finished models, I feel they don't aid the modellers as much as the usual unpainted 'under construction' type photos, although I understand the limitations in this area for these kits.
---
Conclusion
Overall, this is a much welcome book on unusual but popular subjects. Even with my slight misgivings on the modelling section I am more than happy to add this to my library because the core subjects are covered to the usual high N&B standard.
Recommended – Highly recommended.
Privately purchased by reviewer from Bookworld WS
Nuts and Bolts publications are available online from their website.