Home > Reviews > Germany > Bookworld Publishing. Panther – Panther and Jagdpanther Units - The Eastern Front from Operation Bagration to Berlin Pt 2 by Dennis Oliver
Panther – Panther and Jagdpanther Units - The Eastern Front from Operation Bagration to Berlin Pt 2
Bookworld Publishing
by Dennis Oliver

Reviewed by Al Bowie
Summary
Title:

Pen and Sword Publishing
Panther – Panther and Jagdpanther Units - The Eastern Front from Operation Bagration to Berlin Pt 2
by Dennis Oliver

ISBN:

978 – 0 - 987601384

Media and Contents:

Soft Cover A4 portrait style Pictorial guide in 33 Pages well supported by B&W photos, Colour plates and tabular information. 11 pages of colour plates.

Price:

GBP£14.99 plus shipping available online from Bookworld Publishing's website

Review Type:

First Read

Advantages:

A good but brief history of the Panther and Jagpanther Units that served on the Eastern front in the last year of the war.

Disadvantages:

Recommendation:

Modellers should find many an interesting scene to depict within its pages and information where these fought. Another great title.
FirstRead

Disclaimer: In the interests of fairness, openness and objectivity the reviewer declares up front that he is a personal friend of the Author. Despite this I hope you find this a factual and objective review.
This is another excellent title in Dennis Oliver's stable, now with Bookworld Publishing. This is a series of books aimed at the modeller/historian covering the German Tank Formations and users of World War Two, in this case, the Panther and Jagdpanther and their employment on the Eastern Front from Operation Bagration until VE day.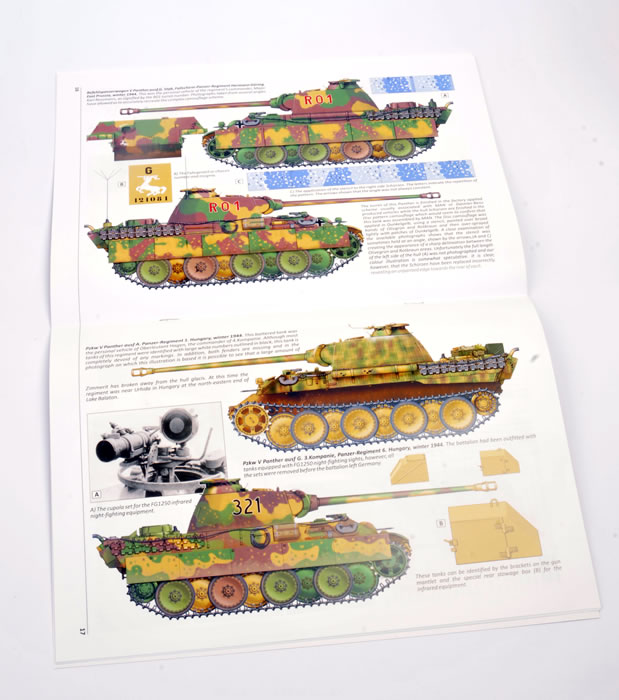 This title follows the format of its successors and is a great concise history of the Vehicles employment in the Eastern Europe campaign 1944-45. It covers both the Panther and the Jagdpanther Heavy Tank Destroyer units trying to stem the Soviet offensives in the closing year of the war in Europe. This title is the second instalment on the subject with the other title covering Western Europe operations of these vehicles and like other titles by the authors they really fit a lot in a small space.
The book is broken into sections as follows:
Introduction
Building the Panther Battalions
The Panther Battalions of the Heer
Vehicle Profiles
Uniform Plates
The Jagdpanther and the Jagdpanther Battalions
The Jagdpanther in panzer units
This title is packed full of useful information such as listing of all units that used these vehicles on the Eastern front with time periods of deployment. The colour plates are what we have come to expect from the Author and cover almost exclusively the Panther in a variety of the schemes carried. Additionally excellent colour plates by Stephen Andrew of the Crew are also included.
For such a small title there is a lot of information and this is an excellent primer on the subject of units that fought on the Eastern Front and the deployment and disposition of Panthers and Jagdpanthers on the Eastern Front. This book will appeal to fans of German armour, Eastern Front armoured warfare, modellers, wargamers and historians alike.
Modellers should find many an interesting scene to depict within its pages and information where these fought. Another great title.
Highly Recommended as are the other titles in this series.
Review Sample supplied by Bookworld Publishing
---
---