Home > Reviews > German > Moscow 1941, Hitlerís first defeat, by Robert Forczyk, illustrated by Howard Gerrard, Osprey Publishing Ltd
Moscow 1941,
Hitlerís first defeat
Reviewed by John Prigent

Summary
| | |
| --- | --- |
| Publisher and Title | Campaign 167, Moscow 1941, Hitlerís first defeat, by Robert Forczyk, illustrated by Howard Gerrard, Osprey Publishing Ltd |
FirstRead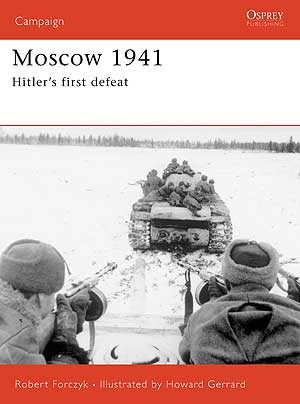 Here is a very good account of what went wrong after the success of the initial invasion of Russia.
Mistakes were made on both sides, and Hitlerís diversion of forces to Kiev may or may not be one of them but Stalin also made mistakes. The German army was at its peak, but Russiaís reserves of men coming from the eastern provinces and the sheer distances involved weighed against German success. Although the Germans did get very close to Moscow they had insufficient strength to drive any further and became bogged down in the harsh Russian winter without proper preparation. Men froze without adequate winter clothing, and tanks and trucks also froze unless given constant attention.

All this may be familiar ground, but here the story is set out clearly and very readably with some twists and turns that most non-specialists are unaware of. Thereís a good selection of photographs and the plates are very good too.
This book isnít intended to give you details of tank markings, but if you want to get your Panzer bases right for this part of the Eastern Front fighting you will find it very useful.

Recommended.
Thanks to Osprey Publishing for the review sample
---