Home > Reviews > German > Osprey Publishing "Fall Gelb 1940 (1) – Panzer Breakthrough in the West" by Douglas C Dildy
Osprey Publishing
"Fall Gelb 1940 (1) – Panzer Breakthrough in the West"
by Douglas C Dildy
Reviewed by Alex Dutt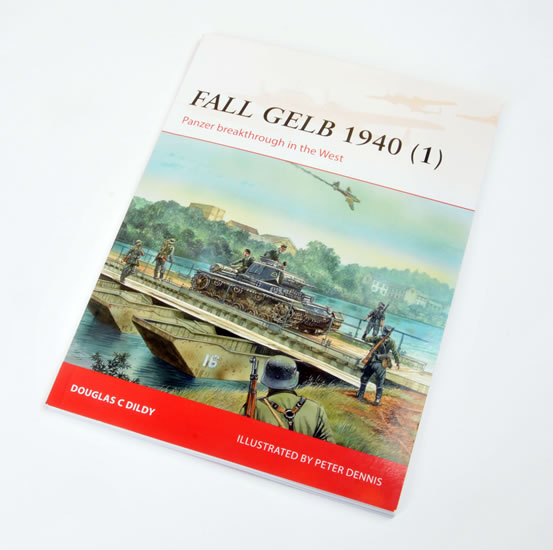 Summary
Title and Publisher:
Osprey Publishing "Fall Gelb 1940 (1) – Panzer Breakthrough in the West" by Douglas C Dildy
ISBN:
9781782006442
Media and Contents:
Soft cover, 96 pages
Price:
£14.90 available online from Osprey Publishing's website
Review Type:
FirstRead
Advantages:
A solid introductory overview of the Fall Gelb campaign.
Disadvantages:
Recommendation:
Recommended
FirstRead
Fall Gelb (or 'Case Yellow') was the codename given to the major German Army offensive on opposing forces within northern France, Belgium, Luxembourg, and the Netherlands during WWII. Launched in May 1940, the aim of Fall Gelb was to cripple the Western European democracies that were considered to be a threat by the Third Reich. Viewed by many as one of the most skilfully devised and successfully executed campaigns in the history of modern warfare, Fall Gelb put the 'Blitzkrieg' tactics to devastating use. Within just four weeks the German forces had achieved their campaign objective and in the process delivered an irreparable blow to the French arsenal.
This soft cover book spread over 96 pages features an array of B&W period photos, contemporary colour photos, battlefield maps, and colour illustrations. As Fall Gelb was such a huge offensive there is a lot to cover, however the author has a done a good job of breaking down the story into a logical order, comprising campaign background, key dates, the military commanders involved, the strategies employed by the opposing forces, the forces themselves including weaponry used (ground & air), and of course how the conflict unfolded. The book also features an 'order of battle' chart listing the various military divisions that took part in the campaign, and also an interesting look at the battlefield today.
The book provides a solid introductory overview of the Fall Gelb campaign, and offers a good starting point for those interested in this pivotal conflict. An easy and relatively quick read, "Fall Gelb 1940 (1)" represents a handy and inexpensive addition to the military modeller's bookcase.
Recommended
Thanks to Osprey Publishing for the sample www.ospreypublishing.com
---
Text by Alex Dutt
Page Created 29 June, 2014
Page Last Updated 29 June, 2014