Home > Reviews > German > Osprey Men-at-Arms 434, World War II German Police Units, by Gordon Williamson, illustrated by Gerry Embleton
World War II German Police Units
Reviewed by John Prigent

Summary
| | |
| --- | --- |
| Publisher and Title | Men-at-Arms 434, World War II German Police Units, by Gordon Williamson, illustrated by Gerry Embleton, Osprey Publishing Ltd |
FirstRead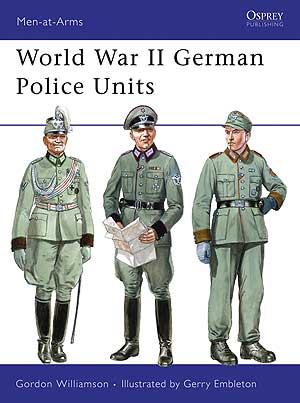 Most of us know about the German armed police units in Occupied Europe, but this book shows that there's a lot more to be learnt.
The entire German Police Force was militarised under the Nazis, with Party membership a prime consideration, and there were a whole host of different units.
Apart from normal police functions some men were transferred into rifle battalions and used as infantry, and some of these were even converted willy-nilly into SS battalions.
This is a very good description of the different units, their organisations and functions, with good photographs and excellent colour plates.
Recommended

Thanks to Osprey Publishing for the review sample
---