Modelling the Tiger Tank
in 1/72 scale
Reviewed by John Prigent

Summary
| | |
| --- | --- |
| Publisher and Title | Osprey Modelling 28, Modelling the Tiger Tank in 1/72 scale, by Alex Clark, Osprey Publishing Ltd |
FirstRead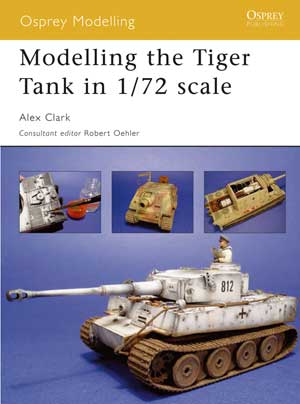 This new book for small-scale tank modellers begins with a short introduction and a section about tools and materials Ė from which Iím glad to see that Iím not the only one who rarely picks up a power drill.
The first build is at Intermediate level, of the Revell Tiger II with ďPorscheĒ turret incorporating some parts from Dragonís kit of the same tank and using Atak add-on Zimmerit, the Part etched fender set and an Aber turned metal gun barrel. Here there is very clear guidance on the order of assembly, using the kitís link and length tracks and fitting the Atak zimmerit set as well as on dealing with etched brass parts.
Next is a second Intermediate build, this time combining the Dragon Elefant kit with parts from the Trumpeter one and the Atak Zimmerit set that includes the complete upper and lower hull. A Part etched set and Aber turned metal barrel are also used, and some simple scratchbuilding to replace the engine deck vents which are incorrect in both donor kits.

The third model moves to Advanced level by building a correctly asymmetrical turret to go on Revellís early Tiger I. Again, Part etch and an Aber barrel are used. Here thereís a very good guide to building the new turret, not as difficult to do as you might think and clearly described. This chapter also give hints on airbrushing a worn white camouflage finish. Following it is another Advanced level model, Dragonís Sturmtiger built using parts from Revellís Tiger I, Atak Zimmerit, Part photoetch and an Extratech engine set. Here we are shown how to modify the hull to display the engine and make extra improvements. The final model is at Master level, Dragonís Porsche-suspension Jagdtiger with parts from Revellís Henschell-suspension Tiger II, tracks from Dragonís Elefant, Part photoetch, an Aber turned metal barrel and the Extratech Panther engine. Thereís quite a lot of work in this one, not just modifying the sprockets to fit the Elefant track and fitting the engine but also scratchbuilding the driving and fighting compartment interiors and the engine bay. All the work is shown and described briefly, but it is assumed that anyone tackling a project at this level will already know how to scratchbuild and will be capable of assessing dimensions and shapes. A Gallery feature includes several other modellersí work as well as the authorís, and is followed by sections on references and available kits.

All this is very well described and illustrated, and itís a refreshing change to find that the author has concentrated on how to build the models rather than on how to achieve fancy paint effects.
Highly Recommended!
Thanks to Osprey Publishing for the review sample
---