Home > Reviews > German > Panther Tank – Panzerkampfwagen V Panther (Sd.kfz. 171) Enth

u

siast

s'

Workshop Manual - Haynes Publishing
Panther Tank – Panzerkampfwagen V Panther (Sd.kfz. 171) Enthusiasts' Manual
Haynes Publishing

Reviewed by Al Bowie
Summary
Title:

Panther Tank – Panzerkampfwagen V Panther (Sd.kfz. 171) Enthusiasts' Manual
by Mark Healey
Haynes Publishing

ISBN:

978 1 78521 057 0

Media and Contents:

156 pages in A4 sized hardback format

Price:

USD$29.99 plus shipping available online from SABOT Publications

Review Type:

First Read

Advantages:

A fantastic treasure trove of information and images.

Disadvantages:

Recommendation:

Highly Recommended.

FirstRead
Regarded as one of the greatest tanks to see action in WWII, the Panther is probably Germany's finest medium tank of the war and one of its most numerous tanks with over 7,000 manufactured. Its combination of armour, firepower and mobility (the holy trinity of tank design) was unmatched by any other tank of the period it was introduced.
This book in the expanding range of Haynes Enthusiast Manuals is devoted to the Panther tank and is produced in conjunction with noted experts on the vehicle and with the cooperation of the Bovington Tank Museum. The title is a fantastic general history and photographic presentation of the panther family and is a fantastic budget price title that will suit many a modeller and historian alike.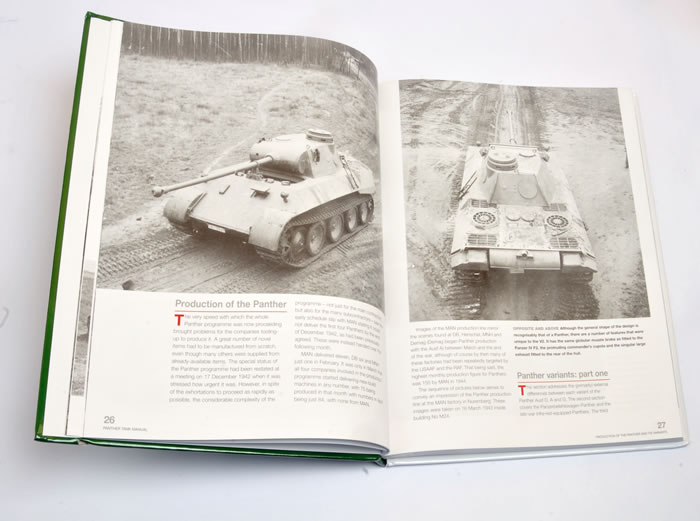 The Panther is widely regarded as one of the most important German designs of WWII and its genesis was in direct response to the threat of the Russian T-34 and KV-1 tanks that overpowered the mainstay German medium of the period, the Panzer III armed with a 50mm gun.
Most people of a certain age who have owned a car at one time would have bought a Haynes (or similar) manual to aid in the service and maintenance. These were immensely popular, however the complexity of modern vehicles has seen much less demand for such titles and the publisher has rather imaginatively branched out offering owner's manuals on a diverse range of subjects from tanks, aircraft, trains through to Sci Fi.
The reader should not think less of these titles given the publisher and this title is an excellent example of what quality publications most of these are. This title is packed with well researched information and backed by an excellent collection of photographs from a variety of sources including Bovington, NARA and the Thomas Anderson collection. It provides production, development, in action and detail walkaround photographs within its pages making it a great modeller's resource.
The book is 172 pages in A4 sized hardback format and printed on high quality glossy paper with numerous high quality images in black and white and colour. The book has eight Chapters covering the Panther and its family members such as the Jagpanther and BergePanther and an extensive Bibliography:
The Panther Story
Production of the Panther and it's variants
Anatomy of the Panther
Panther Walkaround
Panther at War
Panther Ausf G Specifications
Bibliography and Sources
Index
This book is a fantastic treasure trove of information and images with a broader insight into the development of this significant tank. It is aimed at a broad range of readers and I would recommend this to serious students of the AFV/MBT, armoured warfare historians and modellers.
This is not Mark Healy's first book in the series and I look forward to more. He has presented an excellent balance of information and pictures in the 172 pages which makes for a superbly good value Reference on the Panther Family and I am sure this will be a popular title.
Do not be fooled by the novelty of the format being an Owner's Manual. This is thoroughly researched and high quality. For the price, it is an absolute bargain. I will state that if you are a nuts and bolts enthusiast seeking the complete ins and outs of Panther Production covering every separate design change and modification this title may not be what you are looking for but if you are a modeller, history or armour enthusiast then this title be very welcome on your library shelf or workbench. I cannot recommend this enough due to the high value for money it offers. I will be adding a lot more of this range to my library.
Highly Recommended
Al Bowie
Thanks to Haynes UK for the sample www.haynes.com
---
Text and Images by Al Bowie
Page Created 1 September, 2019
Page Last Updated 1 September, 2019