Home > Reviews > German > Panzer Tracts No 2.2 - Panzerkampfwagen II Ausf. G, H, L and M by Thomas Jentz and Hilary Doyle
Panzer Tracts No 2.2
Panzerkampfwagen II Ausf. G, H, L and M
By Thomas Jentz and Hilary Doyle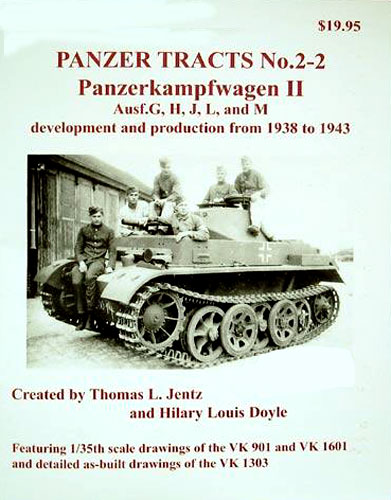 Reviewed by Luke Pitt
Summary
Title and Publisher:
Panzer Tracts No 2.2
Panzerkampfwagen II Ausf. G,H,L and M
By Thomas Jentz and Hilary Doyle
ISBN:
0977164381
Media and Contents:
Soft cover, portrait format, 56 pages
Price:
Available by email from Platypus Publications cldkrau@yahoo.com.au or online from Mushroom Model Publications
Review Type:
FirstRead
Advantages:
Comprehensive production history of the type; includes rare interior shots; 18 pages of excellent scale plans
Disadvantages:
Recommendation:
Highly Recommended
FirstRead

The Panzer Tracts line of books has until recently, only been available from overseas. It is welcome then, that a local importer has seen fit to include them in their catalogue. The line of books are basically production histories of German vehicles used in the Second World War. They are considered by many to be the last word in any accurate investigation into a particular type of German vehicle.

This soft cover book covers the Panzerkampfwagen II and is 56 pages in length.

It contains 41 black and white photographs with some quite rare interior shots. There is a complete sequence of shots of the famous "4121" Luchs which include both side, front, rear and an overhead shot. In the latter half of the book photos of the extremely rare "VK29" Luchs (which looks like a mini Panther Tank). The book includes 18 pages of scale plans in 1/35th;1/24th and 1/10th scales that contribute and enhance this factually rewarding book.

This book impressed me and I'd recommend anyone with an interest in either building the Tasca "Luchs" or the Alan Panzerkampfwagen II in 1/35 scale to obtain it for a more accurate and concise build.
Highly Recommended.
Thanks to Ley from Platypus Publications for the review copy.

Text by Adam O'Brien
Page Created 15 December, 2007
Page Last Updated 15 December, 2007