Home > Reviews > German > Panzer Tracts No 3-2 Panzerkampfwagen III Ausf. E, F, G und H created Thomas Jentz and Hilary Louis Doyle
Panzer Tracts No 3-2
Panzerkampfwagen III Ausf. E, F, G und H
created Thomas Jentz and Hilary Louis Doyle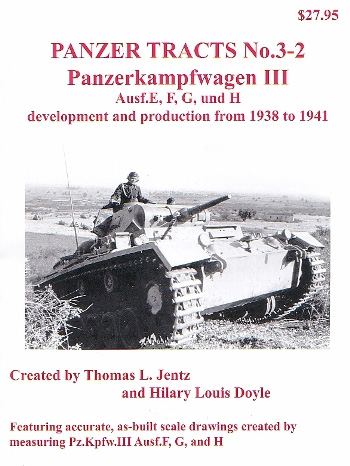 Reviewed by Rob Baumgartner
Summary
Title and Publisher:
Panzer Tracts No 3-2
Panzerkampfwagen III Ausf. E, F, G und H
created Thomas Jentz and Hilary Louis Doyle
ISBN:
0977164381
Media and Contents:
Soft cover, portrait format, 84 pages
Price:
Available by email from Platypus Publications cldkrau@yahoo.com.au or online from Mushroom Model Publications
Review Type:
FirstRead
Advantages:
Primary sources used for assembling the book. Superb scale drawings in 1:35 scale with many additional detail views. Concise explanations for all the Ausfuehrung.
Disadvantages:
Recommendation:
Highly Recommended
FirstRead

The best reference books are the ones that rely on original source material. This is one such book.

Thomas Jentz and Hilary Doyle are well known to armour modelers and this is part of a series dealing with a multitude of German WW II subjects. Their goal is to set the record straight regarding these vehicles and provide the enthusiast with sufficient information to model a subject correctly.

To do this the authors have used surviving records from many areas, including component lists, D652 series manuals, and where possible, from the design/assembly firms.

Along with the text, there are 60 black and white photographs contained within the 84 pages. Each has been carefully selected to show the version under discussion and the large format allows the viewer to get maximum benefit when studying the images.

One of the highlights of the book are the drawings. These feature detailed general arrangement views of each Ausfuehrung in the popular 1:35 scale. Combined drawings of these tanks invariably hide some areas so where necessary, enlarged 1:10 scale views are provided of selected components. These are printed on separate pages.

Accuracy shouldn't be a problem as the prints are a result of hundreds of hours of careful measuring.

As expected, the text deals with the known facts only and doesn't delve into assumptions or rumor. The "matter of fact" way in which the data is presented will daunt the uninitiated. Not to worry…some careful re-reading of the affected passages will soon bring everything into perspective.

There are many German abbreviations and military terms used throughout this publication and the glossary at the rear of the book will help explain most of them.
---

Conclusion
Thanks to what's contained in this publication, the reader can now look at any appropriate Panzer III photograph and determine if it is the Ausf.E, F, G or H.

With only primary information used, guesswork and hearsay have been taken out of the equation.
Whether the book is used for general study purposes or to build your next Panzer III, it is highly recommended material for anyone interested in the facts.


Highly Recommended


Thanks to Ley from Platypus Publications for the review copy.

Text by Rob Baugmartner
Page Created 19 January, 2008
Page Last Updated 19 January, 2008