Summary
| | |
| --- | --- |
| Publisher and Title | Panzerwrecks 2 |
FirstRead

I first came across William (Bill) Auerbach's books over 20 years ago in a hobby shop. I bought a book called 'Last of the Panzers' and was very impressed with the quality of the captions and the unique photos contained therein. One in particular that stuck in my mind was of a Jagdpanzer 38 with a baby elephant marking. The crew may have been veterans from the StuG III unit with Elephants painted on their Topfblende which all books called Boars (perhaps since they erroneously called the cast mantlet armor a Saukopfe).

Bill is the co-author of the new Panzerwrecks series along with Lee Archer.
Lee is a master modeler with many unique items in his portfolio based on photos from his collection. This team has brought about a series of books covering the remains of the German army as found by the victorious armies.

This is their second volume and it follows the first book's format of landscape with perfect binding and high quality gloss soft covers. It measures 8.125 inches tall by 11 inches wide and has 96 pages within. Page 96 is mislabeled as 95. A great thing about the binding is the added creases to allow the covers to open further without stressing the binding.

The front inner cover has a table of contents, acknowledgements, and a brief introduction by Mr. Auerbach. The contents are called features and the outside edges of the pages repeat the feature title in a vertical format.
This is a quick and easy to use design for realizing the photo's location.
The 96 pages are on a very good quality semi-matte paper which can reproduce details in a photo quite well.

On to the photos! There are 119 black and white photos of varying detail quality. I am aware the rear cover states 118 photos but I counted twice!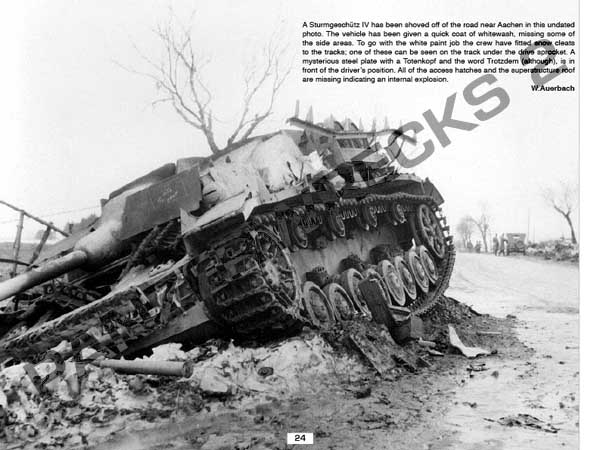 Click the thumbnails below to view larger images:
---
Some of the photos are blurry but are included for their rarity and I totally agree with this decision. There are so many photos, most of which are one to a page, that the inner rear cover has four. Of all these photos, only a dozen are of collections with the rest focusing on a vehicle.
These include:

1. PzIV/L70(V) 4 photos (A) 1 photo which is repeated on
the rear cover

2. Hummel

3. Panther 21 including Panzerstellung, and some Ausf D in 1945

4. Panzer IV 7 including 2 Panzerbeobachtungswagen

5. Sturmmörser 3 of which one is repeated on the front
cover

6. Jagdtiger 3 photos

7. StuG 6 of which two are large photos of an example
disguised as a Jagdpanzer IV

8. StuH

9. SdKfz. 251 12 photos which include /21 and /22 variants

10. Flakpanzer 3 38 (t), one Möbelwagen, one Wirbelwind

11. Halftracks SdKfz 10 (2 photos), SdKfz 7 (4), Panzerwerfer 42 (5 photos of which one is 8cm and another of the launcher alone)

12. Borgward B IV 2 photos

13. SdKfz 231 1 photo of a late production in camouflage

14. Pz.Kpfw. M42 (i) 12 photos

15. StuG M41 mit 75/18 850(i) 1 photo

16. Pz.Kpfw. II with Holzvergasser 2 photos (but appear as background in others)

17. Jagdpanzer 38 1 photo

18. RSO 1 photo

19. 28/32cm Wurfrahmen (Sf) auf Infanterieschlepper UE (f) 1 photo

20. 7.5cm PaK40/1 auf Sfl. Lorraine-Schlepper 1 photo

21. Marder II 3 photos

22. Marder III Ausf. M 1 photo

23. Wespe 1 photo

24. Panzer III 3 photos

25. Sd.Kfz.223 1 photo

26. Tiger I 2 photos (in the background of many more)

27. Panzer I Ausf. B with a StuK 40 mounted 1 large photo

I particularly love the oddball stuff such as the masquerading StuG III and the field expedient tank killer on the Panzer I chassis. However, the captions are quite detailed and it is a pleasure when the authors really know their vehicles, locations, units, and details. Since the focus is on the German AFVs, no mention is made of the Shermans in seen some photos, or the Allied trucks, or the short wing Junkers Ju-87 D series in the background.

This is an excellent reference book and an inspiration to modelers who want to see the unusual, such as the captured vehicles. Diorama enthusiasts will also learn a lot from the damage caused to the buildings which is evident in many photos.

This book, like its predecessor, will be a classic and is highly recommended to get one before they sell out. My thanks go out to William Auerbach for the preview sample.

Highly Recommended
---