Panther Project
Volume 1: Drivetrain and Hull
Published by The Research Squad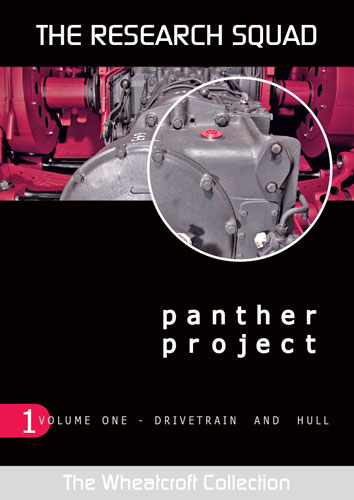 Reviewed by Jay Laverty
Catalogue Number and Description:
Panther Project
Volume 1: Drivetrain and Hull
Published by The Research Squad
Contents and Media:
88 page book
ISBN:
Price:
GBP £15.99 available online from The Research Squad website
Review Type:

FirstLook

Advantages:
High production values; ncredible detail
Disadvantages:
Recommendation:
Highly Recommended
FirstRead
Charged by Kevin Wheatcroft with chronicling the efforts his team are putting into restoring Panther FG. No. 158 134, The Research Squad and bring us this beautifully bound compilation presented in a magnificent format.

It is the dedication and passion of benefactors like Kevin Wheatcroft that keep vehicles like this one alive and in such good condition, as museums tend to let these historical artefacts fall into disrepair and rot away unfortunately, and personally I think it is a fantastic idea to compile the efforts of Mr. Wheatcroft and his team in this printed format.

I have found it impossible to find any fault in this book, finding it a fascinating read, and it will quite obviously be an excellent resource for modelling projects due to its unprecedented and thorough examination of the components of the Panther during painstaking restoration.

I am an analogue being at heart, and I much prefer the format of a book, as it is much easier to sit back, relax, and enjoy the contents within in a suitable setting, rather than staring into a monitor. There are a great many things that the internet and CD-Roms are fantastic for, and no doubt provide endless amounts of information in an instant, but nothing can substitute the gratification that comes from reading something that has been crafted with care, pride and expertise, on a subject that fascinates.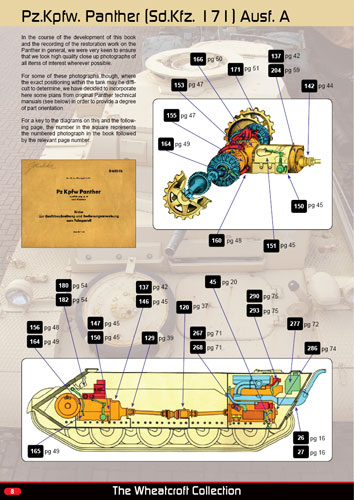 Click the thumbnails below to view larger images:
The layout and graphic design are superbly carried out by Lee Lloyd which perfectly compliments the highly professional and well lit photography. Page after page of intensely detailed and thoroughly captioned photographs portray the various stages of the restoration work carried out on the drivetrain and hull to perfection. Following a logical progression throughout, the end of the book leaves us ready and anxiously awaiting the release of the second part, the Engines and extras.

The history of the particular Panther covered in this volume is covered and is laid out in an article prepared specifically for the Research Squad by Paul Anderton and Yann Jouault, which is a fascinating read unto itself, and nicely rounds out the thorough nature of the publication.

As previously mentioned, the Panther will be divided into a few volumes, and I can imagine that each volume will be as thorough and as interesting as this one, so I will be anxiously awaiting that. But what is also very exciting is the revelation on the inside back cover that there is to be a companion book covering the Tiger that currently resides at the Wheatcroft Collection.

There is no doubting the fact that this is a spectacular book, and one that will provide all of the reference detail a modeller could want as well as a fascinating read for any fan of Armour, German Armour, or Panthers in General.

Highly Recommended.
Text by Jay Laverty
Page Created 01 September, 2007
Page Last Updated 31 August, 2007